2022 Top 10 Yoga Destinations
The go-to resource for planning your yoga retreats & holidays. Find all you need to know about destinations and take your practice to the next level.
Discover Yoga Retreats now
2022 is certainly looking brighter with more and more countries opening their borders for international visitors. This means one thing for us: yoga retreats are back along with our yearly rankings for top yoga destinations!
We've looked through statistics and trends to come up with our predictions for which are going to be the world's best destinations for a yoga holiday in 2022. Next year could very well be an ideal time to make your dream yoga retreat a reality!
So, roll out your mat, start practicing your downward dog and check out out list of the top yoga destinations for 2022:
Disclaimer: At the time of writing, some countries are still subject to travel restrictions. We strongly advise staying up to date with the latest COVID-19 restrictions and information from official government sources.
Compare last year's ranking: Top yoga destinations for 2021.
Image credit: FuerteXperience
Spain has always been part of our ranking and it's usually in the top three. So, there's no surprise here considering its many wonderful places to do yoga.
Off the eastern Spanish coast, the Balearic Islands are among the very best places on Earth for a yoga vacation. Ibiza is the jewel in the crown, full of sandy beaches, rocky coastlines, lively nightlife, and silent retreats. And Mallorca, with plenty of historic sights, first-class restaurants, and amazing cultural events is an excellent choice as well.
Further south, the Canary Islands are a paradise on earth, featuring astonishing landscapes and perfect weather year-round. With all its mountains, it's a perfect place to combine yoga with hiking.
Lastly, the secluded locations in the hills and valleys of Andalusia are ideal to go on a yoga & meditation retreat in Spain. And, on the other hand, the impressive architecture of the region gives a majestic and highly spiritual vibe making it a truly unique yoga experience.
READ MORE: The ultimate guide to Spain's best yoga destinations.
Image credit: The FrogS'House
Last year, France was first on our list for the very first time ever. It's been overtaken by Spain in 2022, but second place is still impressive!
It's easy to see why yogis are choosing this amazing country for a yoga retreat. With gently rolling hills in the north and west, the Pyrenees in the south, and the Alps in the east, La République offers such an amazing landscape where you can come and strike your best asanas in connection with Mother Nature.
The main regions for yoga holidays in France are the Auvergne-Rhône-Alpes, a place of beautiful mountains, crystal-clear lakes, rushing waterfalls and pristine forests. Nouvelle-Aquitaine with its gorgeous agricultural views, sunflower fields, pine forests and vineyards. And Occitanie, an exciting place where you can complement your yoga vacation with outdoor activities such as hiking, cycling, white water canoeing, kitesurfing, windsurfing, horse riding, paragliding and much more.
READ MORE: Affordable yoga retreats in France to live the good life on a low budget.
Image credit: 4elements retreat
With more than 200 days of sunshine per year, picturesque cities, natural beauty and a laid-back atmosphere, Portugal is a great destination for yoga holidays. Here, even the smallest towns have at least one yoga studio and it's common to find people practicing their asanas on the beach.
Also, Portugal is well-known for its surf and yoga retreats. Algarve and Ericeira are some of the top surfing destinations in the world, and if you've never surfed before, don't worry as you can find tons of surf & yoga retreats for beginners.
If you're looking for a bigger city, head to Lisbon where you'll get the magic of Portuguese culture and art scene with plenty of fascinating history and street art in all of its neighborhoods.
READ MORE: Why choose Portugal for your next yoga retreat?
Image credit: Walker Wellness Retreats
Those who have been followers of our ranking know that the USA has always been part of it, and no one can deny it deserves its place among the top 5. According to the Sports & Fitness Industry Association, 16.9% of the world's yoga practitioners (aged 18 to 24) are based in the US.
California is considered the world's capital of modern yoga. The laidback culture that characterizes the Golden State has created the perfect conditions for yoga to thrive. Also, you can feel a great awareness to live healthier across the state.
On the East Coast, Florida has no rival when it comes to nice weather, stunning coastlines and relaxed chic culture. And much like in California, there are plenty of wellness options to combine your yoga vacation like massage therapy, juice detox, or meditation.
Looking for chilled positive vibes without having to worry about anything else? Hawaii is your place. The Aloha spirit aligns perfectly with what yoga is all about: recognizing the divine in each other. Moreover, the location is marvelous, with beautiful nature to go hiking, snorkeling, scuba diving, surfing or just breathing the clean air on a meditation session.
READ MORE: Top rejuvenating weekend yoga retreats in the USA.
Image credit: Yoga on Kos
There are many reasons why visiting Greece should be on any yogi's bucket list. It features some of the most beautiful landscapes on Earth, it's blessed with over 260 days of sunshine per year and its cuisine is among the healthiest in the world.
Plus, here you can find tons of fun activities to complement your yoga experience, like its 18 UNESCO World Heritage Sites and many archaeological museums to visit.
Its capital, Athens, offers a mix of ancient treasures combined with modern delights, excellent entertainment, exciting activities and unique neighborhoods. Another popular destination is the Ionian Islands; Zakynthos is the biggest of them and one of the most beautiful places on Earth; it's also famous for being home to a large yoga community.
On the other hand, the Cyclades are the most beautiful islands you can find. With places like Mykonos, Santorini, and Paros, they're a paradise for a yoga holiday in Greece. The idyllic beaches and breathtaking landscapes around them are just perfect for a yoga session.
READ MORE: The best yoga retreats in Greece to bask in its richness.​
Image credit: Yoga Retreat Holidays
As you may know, Great Britain has had the privilege to interact with Hinduism and yoga for a long time due to its connection with India. Hence, yoga and mindfulness have gained popularity over the years and it has attracted great teachers who now run plenty of yoga retreats in the UK.
Moreover, the United Kingdom reunites multiple landscapes, which means there's a lot to see. Pretty close to London, on the southeastern shore of England, Kent is the perfect place for a quick getaway from the capital. Its quaint scenery with plenty of stunning castles will make your yoga holiday feel like a fairy tale.
On the other hand, Cumbria is famous for its Lake District National Park, a popular holiday destination where you can rediscover the joys of exploring nature and reconnecting with yourself. If you're looking for a place to rejuvenate and relax during the summer months, Cumbria's stunning scenery and abundant wildlife will make it happen.
Lastly, if you prefer beaches, beautiful cliff towns and surf spots, Devon is where you want to be. The weather here is pretty good for a summer yoga retreat and you'll get to practice your asanas listening to the wind whistling and ocean waves crashing.
READ MORE: Exclusive yoga retreats in the UK & Ireland to pamper yourself.
Image credit: Exhale Yoga Retreats
Mexico is the perfect destination to live out a unique yoga experience. Most retreats are held in paradisiacal places and it offers tons of different activities to inspire you to become a better yogi, relax and enjoy the moment.
You might find yourself participating in Mayan sacred ceremonies, singing in a Temazcal (a type of low heat sweat lodge), savoring the mouth-watering local cuisine, or just relaxing on its glorious beaches.
A yoga retreat in Tulum is anything you may dream of; it has a Zen atmosphere, some of the best wellness centers in the country, and a healthy lifestyle culture with lots of vegan restaurants around. On top of that, it offers tons of adventurous water sports.
Down to the Pacific Coast, Puerto Vallarta is one of the most popular holiday destinations in Mexico, offering beautiful beaches, abundant marine life, water sports, and yoga retreats. Whether you want to stretch out on the beach, do some snorkeling, go fishing, or spend the afternoon on a sunset boat tour, you'll find plenty of fun activities to complement your trip.
If you're looking for a place to mix yoga with surf, go south to Oaxaca, where you can find great waves, good vibes and tons of surf and yoga holidays.
READ MORE: Top yoga retreats in Mexico.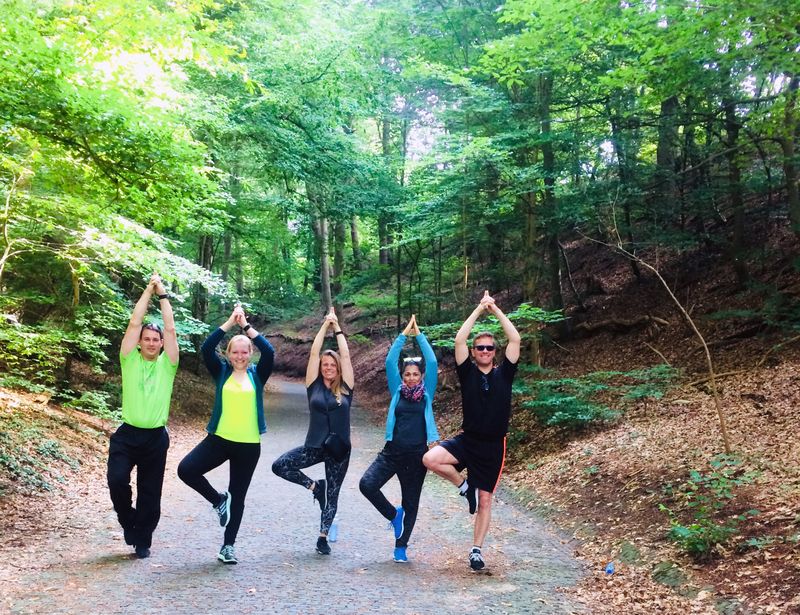 Image credit: Yogaschool Young
Historic, adventurous and refreshing, the Netherlands is a great place for a yoga vacation. Its vibrant cities, quiet beaches, and welcoming hospitality along with its unique landscapes and sophisticated culture make it a dreamy destination for yogis. The best part is that you can travel quickly and easily all throughout its territory within a two-hour distance.
Gelderland is Holland's largest province, it has a huge culinary offering with Michelin-star restaurants to reward your tastebuds after a good yoga session. The region is also well known for its numerous castles and the National Park De Hoge Veluwe, where you can see beautiful landscapes and wild animals.
North-Holland is probably most famous for Amsterdam, but here you can also visit cheese markets, go to the fishing village of Volendam, and explore the famous windmills on Zaanse Schans. But that's not all, North Holland is also home to beautiful beaches and attractive dune landscapes.
Lastly, in the province of Zeeland, you can find exquisite seafood, rich history, beautiful nature, and popular beaches to strike your asanas next to the sea.
Image credit: Imken Donde
Italy is, for good reasons, one of the most touristic countries in the world. But there are certain things that make it very special for yogis as well.
The mountain regions combined with charming coastlines make a yoga retreat in Italy an experience you won't forget. Plus, as you know, the food is among the best in the world, making it a great destination to combine yoga with a culinary vacation.
Home to the most famous Renaissance artists, green landscapes, and the best yoga retreats in Italy, Tuscany could be considered the place with the most cultural and scientific influence in human history. From the Apennine Mountains to the beaches on the Mediterranean Sea, there are tons of incredible options for a wonderful yoga retreat.
Sardinia is a favorite for both yogis and surfers since it provides plenty of good surf spots. That said, it also offers remarkable landscapes where you can meditate or do sun salutations.
Sicily is famous for its historical richness, cultural diversity, upscale shops, rustic neighborhoods, fantastic natural sights, exquisite wines and mouthwatering food. And, of course, there are tons of yoga retreats in Sicily to choose from.
READ MORE: Affordable yoga retreats in Italy.
Image credit: GypSea Yoga School
Costa Rica is home to some of the most amazing landscapes in Latin America. With stunning wildlife, pristine beaches and the Pura Vida mantra, it makes a perfect location for your next yoga holiday and it's also a favorite for yoga teacher training.
With stunning mountains, impressive volcanoes and pristine shoreline, Guanacaste Province is a tropical paradise that any yogi would enjoy. Tamarindo features some of the best surf breaks in the world and it's a good spot to learn to surf as it has good waves for beginners.
Limón Province is also an excellent place for a yoga & surf retreat in Costa Rica. Offering natural beauty, lush vegetation, mangrove swamps, pristine beaches and high mountain ranges, this region has everything a yogi could ask for.
With coast, mountains and jungle, Puntarenas Province is full of wonders and amusement. Its main city, Punta Arenas, is a cultural hub with lots of interesting places to visit, such as national reserves, museums and islands.
READ MORE: Top yoga retreats in Costa Rica to unwind.
Top 3 Yoga Destinations in Asia
You might be wondering, "where's India, the birthplace of yoga?" The truth is, India, and several other Asian countries are generally part of our top 10. However, due to the uncertainty regarding travel restrictions in this part of the world, it's difficult to predict things for next year.
Nonetheless, we didn't want to leave these three magnificent nations out of the list. Let's just keep an eye on how things evolve, but the good news is that some of them are already opening their borders to travelers from certain countries and hopefully yoga retreats will be available for everyone soon.
Here are the Asian three most popular yoga destinations:
Image credit: Siddha Yoga Peeth
Are you dying to live an authentic yoga experience in the place where it all started? India has been the number one destination on several occasions and it's the country par excellence for yoga travel.
One of the most popular choices for a yoga holiday in India is Goa. With golden sandy beaches, casinos and night markets, it has everything an adventure seeker needs to have a good time, combined with the inherent Indian spirituality.
Situated on the Malabar Coast, known as God's Own Country, Kerala is famous for its backwaters, palm trees and tea plantations. This area is home to many gurus who run plenty of Ayurveda retreats.
At the foothills of the Garhwal Himalayas and on the riverbank of the holy Ganges, Rishikesh is home to the very best programs for yoga teacher training in India. Here, everything seems to be related to spirituality and wellness. From Ayurvedic healing to meditation retreats and ashrams, you can breathe all aspects of yoga in every corner of this ancient town.
READ MORE: Where to do your yoga teacher training in India?
Image credit: Balitrees Retreats
Need some vitamin sea? Head to Indonesia, the world's largest island country and a wonderful place to visit. With unspoiled beaches, tons of natural landscapes and city skylines throughout the country you'll just love a yoga holiday here.
Bali is a health and wellness hotspot that attracts yogi travelers from all over the world. Indeed, some of the most qualified instructors hold retreats or teach classes here. There's an abundance of holistic spas and there's a vegan restaurant in practically every corner of the island.
On the island of Bali, you can find Ubud, the ultimate hub for health and wellness. From Ayurvedic centers to vegan restaurants to spas and saunas, you'll find something to pamper your inner yogi in every corner.
Canggu is a hipster paradise and it's the best choice if you prefer the beach over Ubud's jungle. With a laidback atmosphere, slick restaurants, street art and a laid-back vibe, it offers a more relaxed alternative to the beach resorts in other southern towns.
READ MORE: Top 5 yoga & surf retreats in Canggu, Bali.
Image credit: Mangosteen Ayurveda & Wellness Resort
Thailand is a land of pristine beaches, unspoiled islands, majestic Buddhist temples, spectacular Khmer ruins and quiet villages. Thanks to its high spiritual energy combined with kind people and warm weather, Thailand is one of the top travel yoga destinations in the world.
Koh Phangan is probably the most popular place for a yoga retreat in the whole country. It offers a good balance between relaxation and partying. Its all-night full-moon parties have become famous worldwide, while its temples and beaches have all the harmony you need to find peace and do meditation.
Koh Samui's green scenery and clear blue waters make it an idyllic place to find serenity on a short yoga trip. It's also a good option if you're looking to deepen your practice as there are plenty of yoga teacher training courses.
Phuket is another popular destination for yoga retreats. With over 30 beautiful beaches and dozens of luxurious resorts, it is ideal for a relaxing vacation where you'd have nothing to worry about but to enjoy yourself and do yoga.
READ MORE: Your guide to yoga retreats in Thailand.
Note: BookYogaRetreats offers a flexible cancellation policy. Should you not be able to travel as scheduled, we'd be happy to help you to alter your booking with the same organizer or with a different organizer.
*Cover image credit: Nomadikas
---
Can only escape for a weekend? Go on a short yoga break near you!