The Ultimate Guide to Mexico's Best Yoga Destinations
The go-to resource for planning your yoga retreats & holidays. Find all you need to know about destinations and take your practice to the next level.
Discover Yoga Retreats now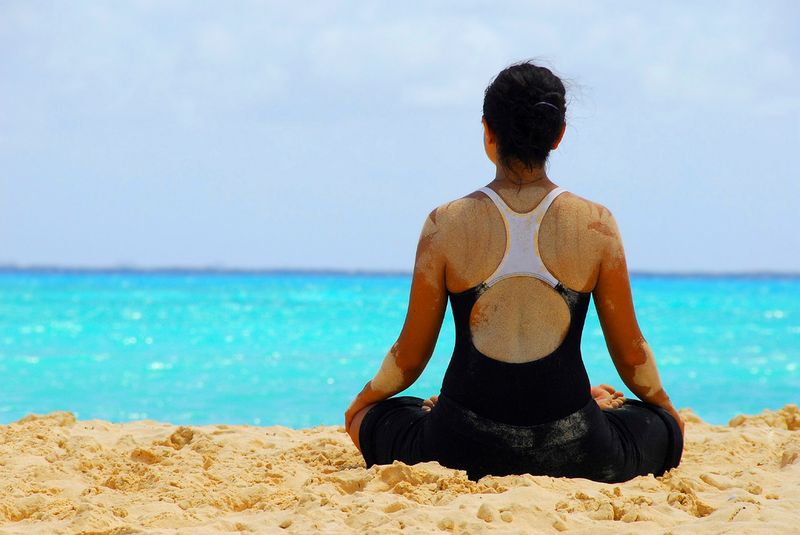 Do you feel the need to get away from your daily routine in an amazing place where you can focus on reconnecting with yourself through yoga?
Ideally, this should also be a place where you can explore and experience interesting things? Then look no further, Mexico should be on your top travel list!
Few other destinations are as colorful, complex and vibrant as this lovely country. Featuring mountain regions, plenty of beaches and seaside resorts (especially on its Caribbean coast); delicious food and drinks, charming music and festivals, ancient ruins and cultural heritage sites, Mexico seems to have it all.
And if all this wasn't enough to make it a perfect place for yogis, you should know that scholars who explored the ancient heritage of the Mayan civilization found some resemblance between its principles and those of yoga. The principle of the 5 elements is practically the same as the one in yoga philosophy.
And even though this isn't enough to claim the ancient Mayans had developed a form of yoga of their own, the similarity could explain in part why yoga has caught on so fast in modern day Mexico. They're the pillars that explain why Mexico has become one of the top destinations for yoga holidays.
Mexico at a Glance
Despite the popularity of traditional Mexican things (like the painted skulls or the glorious Mexican food which the rest of the world enthusiastically adopted), the country is far from being unified in what it offers. Each Mexican region has its own unique flavors, for food and art and music and beyond. You can't say you know Mexico and what it feels like to experience it by visiting just one region.
In my opinion, the best countries and destinations are like that: not something to be scratched off your travel list as soon as you land in them for the first time, but a place to come back time and time again. And it also depends on the time of the year that you visit. For example, if you manage to visit Mexico around the end of October or the beginning of November, it's a must to witness the special celebrations for Dia de Los Muertos.
Of course, for us yogis, the best part about going to a place where everything is worth exploring, is the added bonus of that destination being perfect for yoga, as well. It's a known fact that while a dedicated yogi can practice almost anywhere, doing your asanas and meditation in a particularly beautiful setting makes the experience even more delightful.
The Best Destinations for your yoga retreat in Mexico
Photo credit: Beyond Yoga Retreat
So where should you go if you want to practice yoga and find more peace, but also see some of the best sites in Mexico? Here are the top yoga destinations to be explored here, according to the popular vote.
Photo credit: Jennifer Schelter
The old town of Tulum offers anything you may dream of when it comes to yoga travel: it's located on the Riviera Maya, so you can't ask for a more heavenly place; it has a Zen atmosphere; and a healthy lifestyle culture with lots of vegan restaurants around. On top of that, you can also visit the complex remains of the famous seaside Mayan ruins.
In a few words, Tulum is just the place to be for any yogi!
If you're also open to the adventure of watersports beyond yoga, which you'll get to practice on the sandy beaches, then you should definitely explore the beautiful underwater caverns (cenotes) around the area.
A Mexican state located in the south of the country (bordering Guatemala), Chiapas is one of the most interesting destinations in the country, especially if you have an eye out for history. The famous ruins of Palenque, the ancient Mayan city-state, can be visited here, as well as a long trail of other archeological sites of mixed ancestry. You'll get to explore some Spanish colonial landmarks as well, especially in the city of San Cristóbal de las Casas with its church complex and quaint pedestrian zones.
Attracted to natural beauty and mind-boggling panoramas? Chiapas is home to some of the most amazing natural wonders in Mexico! Waterfalls everywhere, cenotes, lush rainforest, lagoons and, of course, the Sumidero Canyon. Just hop on a boat tour along the Grijalva River and you'll get to explore the majestic beauty of this national park. Stop for a charming afternoon in the Chiapa de Corzo town for more historic sites and delicious food.
Photo credit: Adam Jones via Flickr
This small beach town in the Oaxaca state is one of the most popular settings for yoga retreats in Mexico, and as soon as you set foot in it you'll understand why. The blue waters, the sandy beaches and the impressive diversity of wildlife (especially the turtles) will make you feel like you arrived in paradise.
Mazunte and all the coast in Oaxaca are ideal for a surf and yoga adventure, with great waves and lots of retreats where you can learn both practices. Admire the sunset from the vantage point of Punta Cometa and you'll wish you never have to leave Mazunte again. Where better to practice love towards yourself and towards all living beings, surrounded by the cute turtles and all conservations efforts made on their behalf?
You can't say you visited Mexico without spending a few days in its vivid capital city, bustling with life and energy. It has so many tourist attractions and things worthy of exploring that it should be on anyone's travel list. But, first and foremost, in spite of its high density and vibrant nightlife, it also offers plenty of secluded locations ideal for a yoga retreat.
Some of the yoga holidays available in the area are right at the heart of the city, some are just near it, but all offer you the opportunity to explore the urban vibes for part of the day, before returning to your yoga practice.
To complement your yoga holiday, some of my personal priorities to see in Mexico City, and which I would also recommend to anyone, are the following:
The National Museum of Anthropology (a plethora of fascinating Aztec artifacts);
The historical center, of course;
The Chapultepec Park (and its castle on a hill);
The Frida Kahlo Museum; the Great Pyramid of Tenochtitlán (Aztec ruins, wonderfully preserved);
and the Plaza Garibaldi, where you can listen to wonderful mariachi music almost every evening.
Playa del Carmen is a popular stop for many tourists who travel around the state of Quintana Roo. And while it can be very crowded during peak season, there are still many hidden places that are like well-guarded secrets.
This charming beach is just the perfect place for a yoga retreat since it gives you the best of both worlds: the relative isolation of some of its beaches makes it easy for you to connect with nature and your practice, and its bustling nightlife gives you a taste of the party spirit that made this region a paradise for spring breakers.
Our recommendations for yoga holidays in Mexico
So, what are the best yoga retreats to go to in Mexico in these recommended locations? Here's a yoga retreat and a yoga teacher training that we recommend:
The ultimate relaxation yoga retreat, this 6 day stay in Tulum will focus on pampering you while also allowing you to explore some of the best attractions in the region. You will enjoy a SUP yoga session in a gorgeous lagoon, dive into a jungle Cenote, and find your way around by bike during your free time. On the daily schedule, there are 2 yoga sessions and 2 meals included, but you will also get a one-time relaxing massage session and the chance to reconnect with yourself in an idyllic permaculture farm.
Yoga Teacher Training Programs in Mexico
Looking for a shorter stay? You can still get your 200-hour certification in only 14 days with this yoga teacher training program in Cancun. The daily schedule will be more intensive at times, but the entire experience will still be enriching, fun and relaxing overall. Learn more about the fundamentals of yoga and philosophy while also earning your international certification.
---
Craving more yoga in the colorful land of Mexico? Browse our selection of the best budget yoga retreats in Mexico and find your next adventure!