How to Go on a Yoga Retreat & Work Remotely
The go-to resource for planning your yoga retreats & holidays. Find all you need to know about destinations and take your practice to the next level.
Discover Yoga Retreats now
Remote work has been growing at a fast pace in the last few years; as of 2021, more than 4.3 million people in the USA work from home and this number is expected to keep increasing.
But working remotely doesn't necessarily mean working from home. You could take your to-do list to a sunnier and more exotic destination while also practicing your asanas on a yoga retreat.
Wake up to a delicious breakfast, get some work done during the day, spend the afternoon relaxing with a gentle yoga flow and finish your day by going out and exploring the place, socializing with other participants, or just chilling out.
Doesn't it sound like a dream come true? Just wait until you hear all the benefits that this type of vacation can give you, and discover 10 awesome work & yoga retreats around the world.
Note: BookYogaRetreats offers a flexible cancellation policy. Should you not be able to travel as scheduled, we'd be happy to help you alter your booking with the same organizer or with a different organizer.
Why go on a yoga retreat while working?
The benefits of combining your job activities with a yoga retreat are numerous. For instance, you'll get the opportunity to break your routine and change your surroundings. As a consequence, you'll be more productive and creative, and you'll also feel more inspired.
Plus, you'll have less on your to-do list as you won't have to worry about cleaning the house, cooking, or grocery shopping. With all that free time, you'll be able to clear your mind and get work done more easily.
Not to mention that you can join different types of fun activities you normally wouldn't during a regular workweek, such as surfing, doing yoga on the beach, hiking, or many other things that aren't available at home.
Another good reason for going on a work & yoga holiday is that you can travel and see the world without having to use up your vacation days.
>>READ MORE: Take a break with an online yoga retreat
How to combine yoga & work?
The first thing to know is that a work & yoga retreat will give you all the resources to comfortably work remotely. The facilities feature common areas with a good Wi-Fi signal, they offer a more flexible schedule that includes plenty of free time, and they last 5 days or more to make the trip worth it.
This will ensure that you stay productive and enjoy your time away at the same time. It could be easy to get distracted by the things to do. Being there for a longer time means you can plan to explore the place and indulge in all the wellness activities after you're done with work.
Working remotely means that you are able to customize your workday to some extent. Make sure you plan your meetings and projects according to the times of the retreat program, so you can have time for yoga and other activities.
Find out during which part of the day you are most productive and take advantage of that to wrap up your tasks faster. Use the rest of the day to enjoy your getaway and embrace the opportunity to do as much yoga as you can!
10 work & yoga retreats
Now that you know the benefits of work & yoga holidays, you're probably ready to trade the office chair for a beach lounge. Well, here are 10 suggestions all around the world!
Length: 8 Days
Location: Algarve, Portugal
Breakfast and 4 dinners included
Located in a family-style villa with a pool, a rooftop terrace and a poolside bar, this yoga retreat offers the perfect setting for working and relaxing at the same time.
Start your day with an energizing yoga practice tailored to your skill level, followed by some fresh homemade pancakes and plenty of free time to work, explore the town and engage in extra activities like surfing or hiking.
For your working hours, you can take advantage of the open-plan layout with tons of natural light. There, you can choose between the deck chairs, the hammocks, the balcony, or the pool to settle down and do your duties.
Finish your day with a sunset yoga session and a social evening dinner to unwind. The program includes 4 home-cooked succulent dinners prepared by the in-house chef.
Length: 10 Days
Location: Tulum, Mexico
3 vegan meals a day included
Looking for a beautiful location to unwind and relax while working remotely? The amazing sights in Tulum have no rival! White fine sand, turquoise water and jaw-dropping Mayan ruins overlooking the coast will serve as motivation to get work done and strike your best yoga poses.
This is the perfect retreat to learn how to cleanse your body, as you you'll get to know the principles of Ayurveda so you can keep healthy habits once you go back home. You'll only eat locally-sourced foods unprocessed and unrefined, and all meals can be cateredy to your specific needs.
In addition, you'll have a welcome ceremony with Mexican cuencos, the opportunity to visit local cenotes, an excursion to the ruins of Tulum, and, of course, daily yoga sessions at sunrise and sunset. And don't you worry about the transportation as there's complimentary pickup and drop off at Cancun's airport.
Length: 6 Days
Location: Barcelona, Spain
Daily vegetarian brunch included
Barcelona might be one of the most exciting cities to visit in the world and being here without having to use up your vacation days might sound just like a dream.
Take this opportunity to immerse yourself in the heart of one of the most iconic cities in the world, as this yoga retreat takes place right at the center of the city. The building was built in 1890 when the modernistic movement (Gaudi's movement) was at its peak – just in case you needed some extra inspiration during your work hours.
The retreat includes 2 hours of daily morning yoga, a daily sunset class on the rooftop terrace in the evenings and plenty of free time.
Length: 14 Days
Location: El Castillo, Costa Rica
Breakfast, lunch, dinner and drinks included.
Dreaming of packing your laptop and bringing your work with you on an epic adventure? On this retreat, you'll find a mix of yoga, adventure and relaxation. As you'll have unlimited access to the jacuzzi, swimming pool, rainforest trails, volleyball court and yoga/exercise deck.
The on-site restaurant is open daily to serve healthy, organic vegetarian/vegan meals locally sourced. You can also enjoy a daily 75-minute yoga class and one 60-minute massage, all included in the program.
Length: 7 Days
Location: Ubud, Bali
Daily breakfast included
Need some sort of encouragement to get your tasks done? Reward yourself with a Balinese massage, a facial rejuvenation and a candlelight dinner in this rejuvenation and yoga holiday in Bali.
While visiting this stunning destination, you'll also have access to daily yoga practice and plenty of free time to enjoy the amazing view of the valley. You can also go cycling from the rice terrace of Tegallalang or simply walk around Ubud's impressive landscapes.
Length: 8 Days
Location: Rawai, Phuket
Daily meals included
This yoga retreat takes place in a wellness resort located in southern Phuket on a private hillside, where you can find the peace and tranquility you need for staying productive at work.
On this yoga holiday, you can delight yourself with the spectacular ocean views and unwind with the many body treatments included in the program. You'll have 2 daily yoga sessions, as well as pranayama and soul healing meditation classes to help you relax even deeper.
The meals consist of a daily breakfast buffet, wholesome lunch and light dinner, all vegan. Plus, you'll get a booster wheatgrass shot with Triphala and an immune evening veggie drink.
As you can see, during this yoga retreat you'll be very well taken care of, so much that you won't even notice you're still working. However, to completely disconnect during your spare time, you can use the complimentary shuttle service to go to the many beaches nearby and to the local markets.
Length: 30 Days
Location: Kerala, India
Daily breakfast, lunch and dinner included
A detox program is all about helping the body activate its natural cleansing process. Anxiety, unexplained fatigue, allergies, poor sleep quality, chronic diseases, menstrual problems and painful bowel movements, are some signs which may indicate that you're in need of a detox.
On this retreat, you'll be provided with all the tools you need to detox. You'll follow a specific diet and a yoga routine designed by professionals. You'll also have a schedule that will allow you to continue working while detoxifying your body.
The program includes daily morning and evening yoga and meditation sessions with herbal drinks, 12 Ayurveda detox massage, one Kerala kathakali live performance, one Bharatanatyam dance, one Backwater island tour and one Cherai beach tour.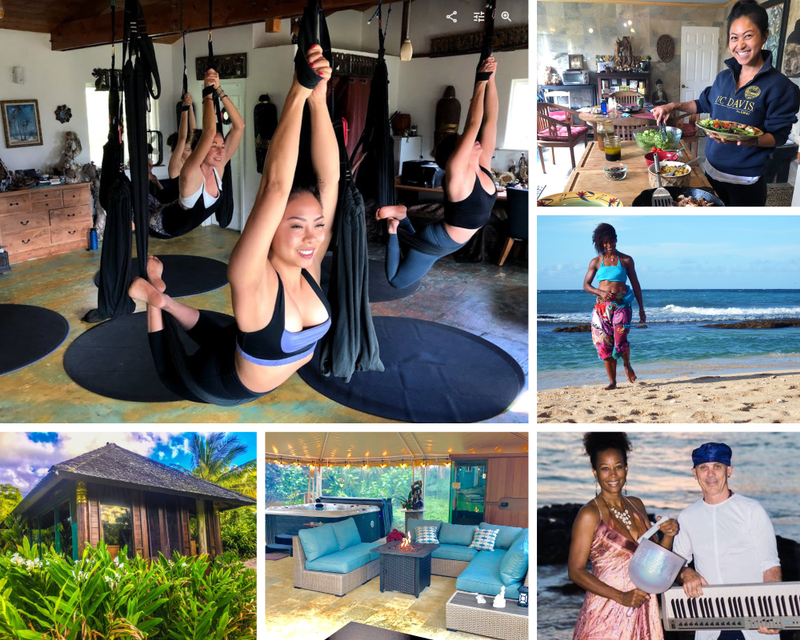 Length: 5 Days
Location: Maui, Hawaii
Daily breakfast and lunch included
If you´re serious about swapping the office for the beach and clock in from a tropical paradise, then you'll love this work and yoga holiday in Maui.
Imagine starting your day with a gourmet vegetarian breakfast, followed by a yoga and sound healing class, then relaxing in this nature sanctuary surrounded by gorgeous waterfalls, while you wait for lunchtime. And, after a morning of total relaxation, in which you can use the infrared sauna, the hot tub and the onsite mini gym, all the afternoon is yours to get to work.
Once you're done, you can choose to venture off on nature excursions to beaches, waterfalls, or book a complimentary personal healing session, a compassionate communication workshop, or a life coaching session available at an extra cost.
Length: 8 Days
Location: Boca Raton, Florida
Nutritionally balanced smoothies for breakfast and lunch included
This holiday in Florida offers you a great experience to relax with plenty of beautiful scenery and activities to explore nearby.
With the sound of the waves crashing on the shore, spending the day completing your tasks here won't really feel like work. Moreover, you'll get a 50-minute massage, one acupuncture session, breath empowerment classes on Wednesday, and Tai Chi on Thursday.
And if your work schedule is tight, don't worry because you'll get unlimited meditation and yoga sessions, which means that you can choose the times that better suit you.
Length: 7 Days
Location: Languedoc Roussillion, France
Includes breakfast and dinner
Break your routine and change your surroundings on this yoga retreat located in the historical coastal region of Languedoc Roussillion, in southern France. Starting every Saturday, you can stay for a week or even a month while you work remotely.
The day begins at 7:30 a.m. with warm drinks, coffee, and teas, followed by a guided yoga and meditation session. Afterward, you'll be served a delicious breakfast free from processed sugar and wheat.
If you want, you can do 2 hours of karma yoga and then you'll have the rest of the day to do your work tasks, until 7:00 p.m when dinner is served. If you're looking for fun activities to complement your experience, you can go swimming in Lac Montbel, explore the glorious walking tracks, or visit the close sites of historical interest.
The house where you'll be staying features a walled garden, where you can find hammocks and a labyrinth for walking meditation. The yoga shala is on the top floor of the house, overlooking the medieval rooftops nearby. Rest assured that with all of the perks this program has to offer, you'll definitely feel more productive and creative during your working hours.
Length: 15 Days
Location: San Juan del Sur, Nicaragua
Breakfast buffet and 3-course dinner
Pack your laptop and bring your work to this natural paradise in Nicaragua. During this retreat, you'll be staying in a luxurious eco-lodge in San Juan del Sur, a small town known for its astonishing Pacific beaches, nice restaurants and jungle adventures.
The program includes 14 nights of accommodation in a private wooden cabin, daily yoga sessions, a 1-hour full body massage, and a beach trip with sunset meditation and one surf or horseback riding lesson.
You'll also have unlimited use of internet, swimming pool, yoga space and outdoor gym. Plus, 2 daily vegetarian meals (breakfast buffet and 3-course dinner), coffee, tea and water.
Lastly, a percentage of your booking will be donated to a local charity that you can also visit during your time here.
---
Prefer to take a short yoga break instead? There are many weekend yoga retreats to provide you with a couple of days to relax.