Wholesome Long Yoga Retreats to Truly Disconnect & Recharge
The go-to resource for planning your yoga retreats & holidays. Find all you need to know about destinations and take your practice to the next level.
Discover Yoga Retreats now
There are many benefits that come with an extended vacation. Who doesn't love having as much time as possible to relax, have fun and reset before returning home?
Unlike short breaks, long holidays allow for more flexibility when choosing a destination and the extended time off lets you really forget about your alarm clock, deadlines, tasks, clients, etc. Plus, you're able to truly absorb the beauty and culture of a new place with no pressure whatsoever.
A vacation of 10 days or more will help you recharge after months of lockdowns feeling refreshed and renewed. Besides, choosing a meaningful trip is a wise idea to use those days off from work that you've been saving.
Add yoga to the equation and you won't find a better way to truly unwind. Can you imagine how you'll feel after allowing your practice to reset your body and mind for a longer period of time?
Make it happen on any of these long yoga retreats where you can indulge in yoga and wellness in a stunning destination!
Duration: 15 Days
Location: Pahoa, Hawaii
Includes breakfast, lunch and dinner
This rejuvenating long yoga retreat takes place in the small town of Pahoa, which is located on the eastern tip of Hawaii, famous for its peaceful and quiet atmosphere.
The yoga retreat center features an organic fruit orchard, a beautiful Balinese meditation pavilion for prayer and a yoga studio. For 15 days, you'll have access to daily yoga classes (27 in total), as much meditation as you want and a library where you can relax with your favorite novel or learn more about yoga.
The program includes 1 personalized yoga session, daily yoga sessions, and daily breakfast, lunch and dinner prepared by an experienced chef –using mostly locally grown organic ingredients–, as well as 14 nights of accommodation.
Since you'll be staying for about two weeks, you may want to try some additional adventures, such as visiting Lava Tree State Park or Volcanoes National Park, swimming at Black Sands Beach, surfing at Isaac Hale Beach Park, snorkeling at Kapoho Lagoon Reef or booking a spa treatment at an additional cost.
Duration: 15 Days
Location: East of England
Includes breakfast, lunch and dinner
Take a break from the city noise and urban sprawl on this yoga and wellness retreat. Located less than an hour away from Central London, this retreat offers you the opportunity to step into a different world of rolling hills, green fields and abundance of wildlife.
The program includes daily classes of yoga, Pilates, aqua aerobics, outdoor fitness, and HIIT, as well as motivational talks, dietary plans and full use of the gym facilities, swimming pool, Himalayan salt block sauna, steam room and an exercise studio.
The organizers recommend sticking to the program they've designed for you. However, if you feel like staying in the pool rather than taking a class, that's fine, too. Also, you can book additional treatments, private yoga lessons, guided meditation classes, or personal training sessions at an extra cost.
» READ MORE: The Top 10 Yoga Destinations for 2021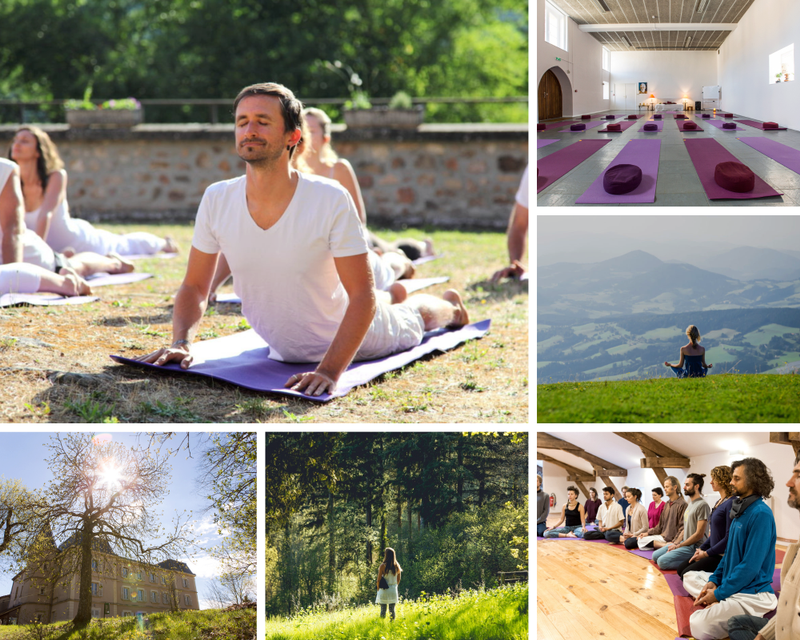 Duration: 12 Days
Location: Beaujolais, Saint-Just-d'Avray
Includes breakfast, lunch and dinner
Give yourself the gift of silence by learning how to still your mind and experience the eternal now on this yoga and meditation retreat in France.
During this retreat, you'll be gently guided through the self-inquiry method developed by Ramana Maharshi, as well as other complementary meditations and prayers. No previous meditation or yoga experience is necessary, but it's also suited for advanced practitioners.
The program includes 1 yoga class and 3 meditation practices every day, in addition to complementary lecture teachings and spiritual lectures. During your free time, you can walk in the beautiful surroundings, or get lost in the forest to unplug and connect with nature for a while.
Duration: 10 Days
Location: Abruzzi National Park
Includes breakfast and dinner
Immerse yourself in the authentic Italian lifestyle and enjoy the quiet and non-touristy countryside of Frosinone on this long retreat.
Wake up to a yoga class, followed by a vegetarian breakfast and a walking meditation session. From Saturday to Thursday, you can enjoy daily homemade organic dinner prepared by a passionate in-house chef. The program includes 2 massage sessions and the unique experience of a walking meditation session in Abruzzi National Park.
You'll stay in an old traditional stone house located in a very small Italian village, where you'll be surrounded by mountains, waterfalls, hiking trails, lakes, wildlife, ruins, churches, castles and many more interesting places to visit.
The rest of the time you can soak in the beautiful surroundings, or book an additional activity such as hiking, cooking classes, wine tours, or Italian language courses. You can also visit the local shepherd, a nearby organic farm or the town of Sora, which is just 6 kilometers away (about 4 miles) and offers great restaurants, gelaterias, coffee shops, bars, and shops.
» READ MORE: Top Luxury Retreats All Over the Globe
Duration: 21 Days
Location: Cullera Beach, Valencia
Includes breakfast, brunch and dinner
If you have plenty of leave days available and would like to use them to embark on a life-changing experience, then check out this 21-day meditation and yoga retreat in Spain.
Taking place in Cullera, a place famous for its fine sand and clear water beaches, this retreat is based on the principles of a yogic lifestyle. Here, the practice of yoga and meditation is seen as a balanced and healthy way of life, not just as an isolated practice that can be done once in a while.
But don't be intimidated if you're new to the practice, all the activities are voluntary and easily adaptable to your level. So, you can decide how far you want to go. The important thing is, no matter how experienced you are, the program will help you reconnect with your inner being, balance your mind, improve your self-esteem and boost your immune system.
Healthy snacks, fresh fruits and teas will be available for you during the day, as well as 3 daily flexi-vegan meals. And if you want to explore the beautiful surroundings of Cullera, there are some bikes you can use for free.
---
Looking for a career change? Get ready, there's a yoga teacher training program for you!