10 Weekend Yoga Retreats for a Rejuvenating Short Break
The go-to resource for planning your yoga retreats & holidays. Find all you need to know about destinations and take your practice to the next level.
Discover Yoga Retreats now
There's simply nothing like a good long yoga retreat to spend 10-15 days doing asana after asana, enjoying healthy food, taking care of our body and relaxing like a boss.
But we know that having such long vacations might not always be easy; especially for people who have to go to work, take care of their children, study, run a business, etc.
Thankfully, there are many weekend yoga retreats too, which offer busy yogis the possibility of getting all the benefits of a long holiday in just a few days.
At BookYogaRetreats.com we've put together a list of our 10 best short yoga breaks, available year-round, for you to spend a nice yoga weekend whenever you want!
Note: BookYogaRetreats offers a flexible cancellation policy. Should you not be able to travel as scheduled, we'd be happy to help you to alter your booking with the same organizer or with a different organizer.
Looking to restore and nourish yourself inside & out? This idyllic retreat in York is made for you! Take some time off from the hustle & bustle of city life and press pause on the daily grind. It's time to regain some calm and strength in your mind, body, and soul in a gorgeous setting.
Enjoy a nice long weekend where you can focus on you and make new like-minded friends. You'll be treated with plenty of mindful yoga sessions, nourishing healthy food, downtime, meditation, and ample time to connect with your inner self. Doesn't it sound just perfect?
Location: York, United Kingdom.
Cost: From 332 USD.
Learn how to live a fulfilled life on this yoga retreat in Maine. It has a great setting for a digital detox that will give you plenty of time to reconnect with yourself. You won't have Wi-Fi, but you'll have full access to a yoga shala, meditation temples, wood-fired sauna and miles of woodland walking trails.
With 2-hour daily yoga classes, morning and evening group practices and delicious meals, you'll be able to release negative emotions and rejuvenate. And if you want a little upgrade, you can get a Nadi Vaidyam yoga wellness consultation or several therapeutic treatments for an extra fee.
Location: Maine
Cost: From 299 USD.
Stay in a country-side hotel surrounded by forests and meadows on a yoga retreat that's a 3-day journey through the senses. It gives you 4 yoga classes, an Ayurvedic massage, a spa session and hearty 3-course meals for you to enjoy a truly pleasant weekend yoga retreat.
Additionally, the location is ideal for hiking or biking, there are numerous routes to explore the area and be amazed by the landscapes. There is also cross-country, skiing and sledding just outside the hotel door to add some adrenaline to your trip.
Location: Erzgebirge, Germany.
Cost: From 301 USD.
Feeling stressed out and need a weekend getaway? This zen weekend retreat in Mexico is what you were looking for. It's perfect for those who want to feel refreshed and rejuvenated while basking in sunshine and daily yoga sessions.
Located in the middle of a permaculture farm, during your yoga sessions, you will be surrounded by lush organic garden, a beautiful pond sprinkled with water lilies and beautiful Koi fishes. You will indulge in fresh, healthy and delicious meals that are sourced right from the farm!
Should you want some time off the mat, you can explore the renowned beaches of Tulum and enjoy a variety of water sports – or simply relax as you enjoy a good book. It's truly the perfect destination for a retreat!
Location: Tulum, Mexico
Cost: From 219 USD.
Find a deep connection with nature and yourself thanks to the sacred energy vortexes and temples at Machu Picchu.
During this active spiritual holiday, you will hike the short Inca Trail, visiting the Inca jungle and its waterfalls, as well as the therapeutic hot springs in Santa Theresa. You'll also get to spend an entire day among the ruins at Machu Picchu. Join a journey of self-discovery as you hike to the sacred temples of Machu Picchu, meditating, and doing yoga along the way, healing your body, mind, and spirit.
Location: Machu Picchu, Peru
Cost: From 555 USD.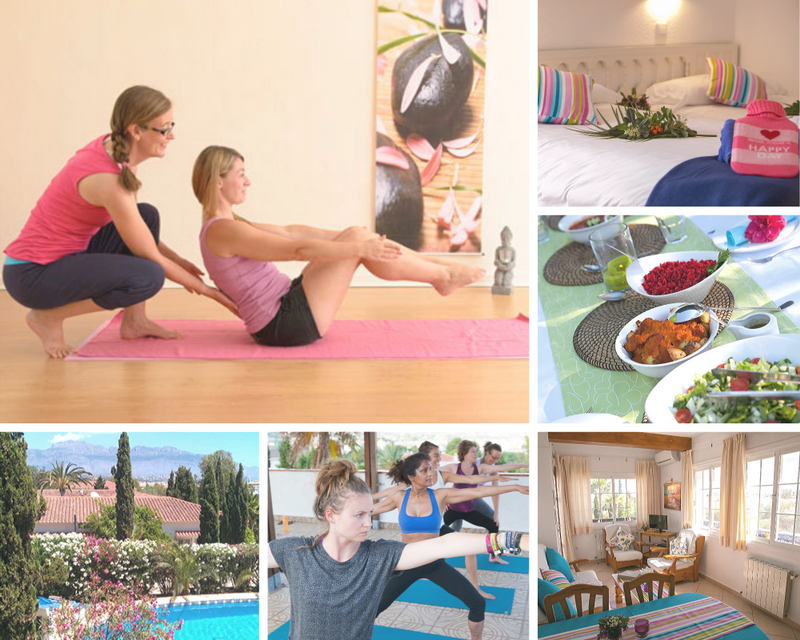 The main components of La Crisalida holidays are mindset classes and personal coaching for a true transformation. That's why this is a retreat designed to encourage people to take the first steps to start an internal process of change. And the magical warmth of Alicante, Spain is always something that can only aid this cause.
In addition to the coaching session, the program includes daily yoga sessions, morning walks and creativity classes and all the meals with fresh juices and fruits, along with herbal teas. Food is something really important on this short yoga break to support your body to cleanse and detox.
Location: Alicante, Spain.
Cost: From 579 USD.
This is an intimate short yoga retreat in California, perfectly suited to relax and unwind in Santa Barbara during one of those long weekends. It offers unlimited access to yoga classes of a large variety of styles like Kundalini, Iyengar, Power Flow and Pre-Natal.
And all these classes are complemented by meditation sessions, Ayurveda practices, Pilates and Qigong to help you have an amazing experience guided by some of the best instructors in the area.
Location: Santa Barbara, California.
Cost: From 640 USD.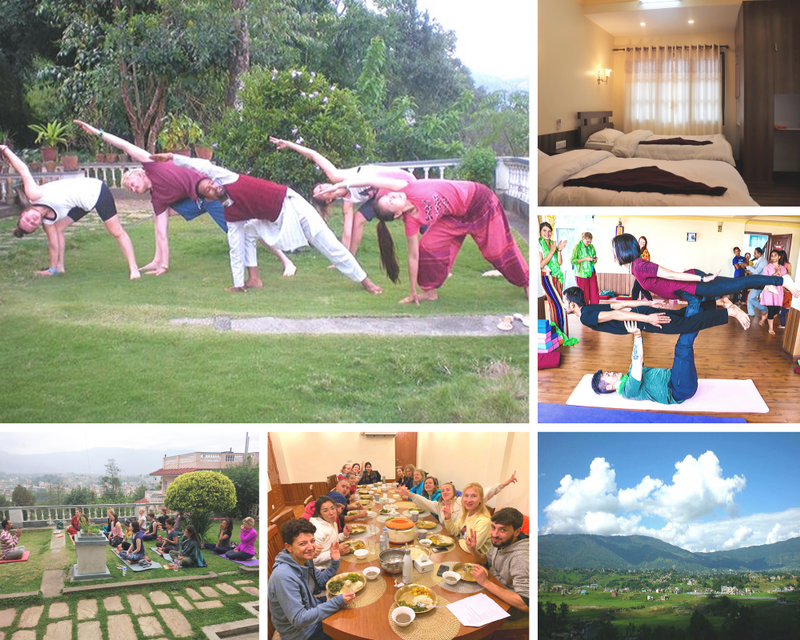 Nepal is perfect for yoga retreats. Its natural beauty is just astonishing and the Zen-like atmosphere is ideal to spend a weekend doing yoga. Located at a quiet and serene venue in Nagarjun National Park, this retreat has some of the most spectacular views that are enough to empty your mind and put you in the mood to meditate.
The program offers yoga and meditation classes for intermediate and beginner levels, daily healthy vegetarian meals and three cups of tea every day to keep you fresh. During your free time, you can either rest or go hiking to do some sightseeing in this stunning place.
Location: Kathmandu, Nepal.
Cost: From 50 USD.
*For Long Weekends
Join this revitalizing yoga retreat and let the amazing team of teachers and healers help reconnect your body, mind, and spirit.
Stay in a cozy beach bungalow and rejoice in the grace and tranquility of the open ocean. Melt into total peace and rediscover your bliss as you enjoy healing sessions on Cocoa Beach and in beautiful studios right across from the beach.
There will be multiple yoga classes each day. During your stay, you'll also get one private session of your choice. The retreat teaches a wide variety of yoga styles, from the popular Hatha, Vinyasa, Yin, Kundalini, and Restorative to Aerial, Transformational, Kriya, and more.
The retreat offers plenty of free time to enjoy the beach, surf, get a massage, hit the spa, or participate in a healing session.
Breakfast and lunch are included in the package. Water, coffee, tea, and detox juices are also included. The retreat caters for special dietary requirements, such as lacto-ovo vegetarian, gluten-free, organic, and others upon request. You'll also be served a green juice at breakfast and a smoothie at lunch.
Location: Cocoa Beach, Florida, USA
Cost: From 1,499 USD.
Taking place in a fantastic retreat center south of Goa, Lotus Nature Cure offers an architecturally exquisite location, with marble floors and beautiful terraces that allow the wind to refresh the rooms for a great yoga practice.
With a really complete schedule of two daily yoga lessons, meditation, Yoga Nidra, philosophy sessions, spa, Ayurveda therapies and even an Ayurvedic doctor to guide you through your transformation, there is no doubt that this retreat will push you to connect with inner self and balance your body and mind!
Location: South Goa, India.
Cost: From 222 USD.
---
Looking for more yoga holidays or yoga teacher training programs? Head on to BookYogaRetreats.com to search and compare among thousands of great options!