Are There Really Affordable Yoga Retreats in the USA?
The go-to resource for planning your yoga retreats & holidays. Find all you need to know about destinations and take your practice to the next level.
Discover Yoga Retreats now
The USA might not be the first destination you think of for an inexpensive yoga vacation. However, being such an important place for the development of yoga, it has seen tremendous growth since its arrival and, as a consequence, there are tons of retreats for all budgets.
Today, 36 million Americans practice yoga and there are up to 6,000 yoga studios in the country. In just four years, from 2012 to 2016, the number of Americans doing yoga grew by 50%. So, there's no doubt that the USA is a land where the seed of yoga has given the highest amount of fruits in a short period of time.
One can find all kinds of yoga retreats here, from luxury holidays to yoga teacher training and wellness retreats. And although it has the reputation of being an expensive country, you'll be surprised by all the affordable yoga retreats the US has to offer. After all, it's not called the land of opportunity for nothing!
So, if you aren't looking for a luxurious setting but still want to get a high level of instruction and an excellent program, you'll certainly find something that suits your needs in the United States. Want a few recommendations? Here are 5 where you probably won't get lobster for dinner, but you'll still get all the benefits of yoga, plus the amazing sights and the guidance of professional teachers.
Note: BookYogaRetreats offers a flexible cancellation policy. Should you not be able to travel as scheduled, we'd be happy to help you to alter your booking with the same organizer or with a different organizer.
» If you want to know more about yoga in the USA, take a look at this guide to yoga retreats in the USA.
Image credit: Sivananda Yoga Ranch
Cost per day: from US$90
Duration: 4 Days
Location: Hawaii
Discover the power of yoga and add some Aloha to your daily practice on this Hawaiian retreat. This one-of-a-kind experience is the best option for you to immerse in the world of yoga and get all its benefits. Located on the East side of the Big Island, this eco-conscious sanctuary is an excellent place to rest, recharge, rejuvenate and reconnect with mother nature.
People of all ages and skill levels are welcome to join this adventure. The package includes daily morning yoga classes, a variety of other in-house events like hula classes, permaculture lectures, karate, community dances, and more! You'll also get 3 nights of accommodation and delicious farm to the table breakfasts. Plus, you'll have access to the jacuzzi, luxury spa, red sauna and gym facilities.
Looking for a more luxurious setting? Maybe you should read all about luxury yoga retreats in the USA.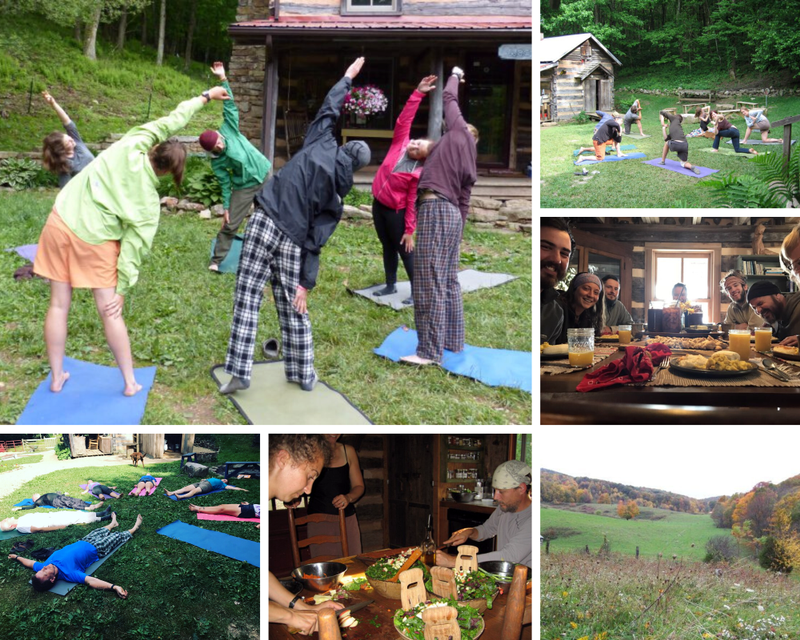 Image credit: Woods Hole Hostel​
Cost per day: from US$92
Duration: 4 Days
Location: Pearisburg, Virginia
Looking for a short getaway to unplug and reenergize? This retreat is a great option to elax in the woods and forget about the hustle and bustle of the city. It takes place in the Woods Hole Hostel, a farm in Southwest, Virginia, nearby the Appalachian Trail, where you can go hiking, immerse in nature and fill your lunges with fresh air.
The program includes a 90-minute massage to help you relax, yoga sessions to stay mindful, daily breakfast and two dinners, all made with organic homegrown food. Indeed, you'll also participate in the preparation of the feast. And don't worry about any restrictions you might have, upon request, there are plenty of options in case you follow a vegan, vegetarian, gluten-free or lactose-free diet.
Lastly, you also have the chance to do some extra activities like canoeing, biking joining an art class, blacksmithing, or even learning a little bit about organic gardening.
Image credit: Sat Manav Yoga Ashram
Cost per day: from US$100
Duration: 3 Days
Location: Industry, Maine
Learn how to live a fulfilled life on this yoga retreat in Maine. It has a great setting for a digital detox that will give you plenty of time to reconnect with yourself. You won't have Wi-Fi, but you'll have full access to a yoga shala, meditation temples, wood-fired sauna and miles of woodland walking trails.
With 2-hour daily yoga classes, morning and evening group practices and delicious meals, you'll be able to release negative emotions and rejuvenate. And if you want a little upgrade, you can get a Nadi Vaidyam yoga wellness consultation or several therapeutic treatments for an extra fee.
Image credit: Yogi Hari's Ashram
Cost per day: from US$100
Duration: 15 Days
Location: Miramar, Florida
If you feel ready to become a yoga teacher, then you should look no further and take advantage of this unique opportunity to study with Yogi Hari. A well-known master of Sampoorna Yoga and one of the few living yoga masters, he's also part of the reputable Sivananda lineage.
With 40+ years of experience teaching, Shri Yogi Hari has trained thousands of yoga teachers around the world and now is offering his acclaimed Sampoorna Yoga Teacher Training Courses at an incredible price; starting at USD 100 per day!
Sampoorna Yoga consists of an integration of the six main systems of Yoga - Hatha, Raja, Karma, Bhakti, Gyan and Nada Yoga. It works on harmonizing and bringing balance to the whole being, physically, emotionally, mentally and intellectually.
There are meditation sessions, asana and pranayama exercises, traditional teachings from a guru on Ayurveda, Hatha Yoga, Nada Yoga and Raja Yoga, plus Vedanta philosophy and Bhagavad Gita studies. After two weeks of training, you'll be equipped with the necessary knowledge, experience and confidence to teach yoga.
The Sampoorna Yoga™ Teacher Training Course is registered with Yoga Alliance at the 200-hour level. This means that once you complete the course, you'll get a 200 RTA certificate along with an extraordinary transformation.
There are plenty of options for teacher training in the USA. If you feel ready to take the big leap, here's this guide to yoga teacher training in the USA.
Image credit: Santa Barbara Yoga Center
Cost per day: from US$113
Duration: 14 Days
Location: Santa Barbara, California
If you're looking for a more personalized experience, this is the retreat for you. It offers a private appartment in the center of Santa Barbara just for you and maybe your partner or a friend. It has a spacious studio with bamboo floor to practice your best yoga sequences, a queen-sized bed for a restful sleep and a complete small kitchen to prepare whichever healthy food you want.
It includes unlimited yoga classes online guided by the teachers at Santa Barbara Yoga Center, or you can also go to their studios for a live session. There are many different styles you can choose from, including Vinyasa, Iyengar, Kundalini and Yin. Plus, the location is so convenient, that you can easily walk to the beach for an infividual yoga session or just be quiet and embrace the good vibes.
And if you prefer to stay just for a weekend, that's certainly a possibility. The minimum stay is two nights and you can also extend it longer if you want a full month of relaxation in California.
---
If you feel like pampering yourself, then nothing goes together better than wellness and yoga. Indulge yourself with a yoga and wellness retreat in the USA.