Your Guide to Yoga Retreats in the USA
The go-to resource for planning your yoga retreats & holidays. Find all you need to know about destinations and take your practice to the next level.
Discover Yoga Retreats now
Nothing like pancakes, fried eggs, a cup of coffee and a couple of Downward Dogs to start the day. Yes, yoga's popularity has increased so much in the USA that now this Indian practice feels as American as apple pie.
Yoga has become part of Americans' daily lives. There are around 6,000 studios all over the country where 36 million yogis practice their asanas. The number increases every year; indeed, one out of three Americans have tried it at least once. And with such beautiful locations in its vast territory, yoga retreats in the USA are among the very best in the world.
What makes the US so special for yoga?
One could argue that the USA is responsible for the boom of yoga in the 1960s. It's no secret that its evolution goes hand in hand with the American adoption of the practice. If it wasn't for Indra Devi's studio in California and the later visits of BKS Iyengar, Yogi Bhajan, Pattabhi Jois, and other renowned gurus, maybe yoga would have never seen its massive expansion.
However, its introduction in America is a bit older. Swami Vivekananda was the first one to talk about yoga in the late 1800s. He gave a speech at the World Parliament of Religions in Chicago, where he received a standing ovation and thus planted the first seed of modern yoga.
Half a century later, Indra Devi brought the knowledge that she had learned from Sri Krishnamacharya (the father of modern yoga), published a few books, opened her studio and started the first branch of a teaching tree that's still growing nowadays.
So, with all this history of brilliant gurus permeating the country with yoga, you can be certain that you'll find very good instructors on your retreat. Or maybe you want to take the next step and enroll in a yoga teacher training in the USA; in a way, you'd be inheriting their school.
Best time for yoga travel in the States
Summer in the USA is the time for yoga. Although California, Florida and other southern destinations have good weather all year, between June and September you'll find lots of outdoor activities anywhere you go. Plus, it's the festival season and it would be a perfect way to complement a yoga holiday.
The Sat Nam and Bhakti Fests in Joshua Tree are two of the most popular yoga festivals in the USA; they're held in August and September respectively. The Telluride Festival in Colorado takes place in July. Love Yoga Fest happens in September. And there are several Wanderlust Festivals throughout the summer in Atlanta, San Francisco, Seattle and more.
Top destinations for a yoga retreat in the United States
California has no rival when it comes to yoga. The laidback culture that characterizes the Golden State has created the perfect conditions for yoga to thrive. It's not only the sunny beaches, astonishing natural parks and picturesque vineyards that make it a nice place for a yoga retreat, but you can also feel a great awareness to live healthier all across the state.
California was the epicenter of the hippie movement. Its spiritual sense aligned with the philosophy that the gurus from India were preaching, which helped to spread this consciousness. As a consequence, California became the best place on Earth to be a yogi in style.
There's a myriad of options for vegans and vegetarians (it might even be harder to find beef steak than kale salad); eating avocado toast it's the norm, there's no alternative to organic food, a mat bag is part of everyone's outfit, there are more yoga studios than you can count, and everyone just seems to be fit.
Rishikesh may be the yoga capital of the world, but California is the world's capital of modern yoga.
When it comes to weather, Florida is the only true competitor to California for yoga vacations in the USA. Privileged with warm temperature year-round, stunning coastlines and a relaxed chic culture, the Sunshine State is a paradise for a yoga retreat by the beach.
Its Hispanic influence due to Puerto Ricans' big presence in the peninsula, gives Florida an exotic touch that allows you to feel an interesting combination of Hispanic and American flavors. And much like in California, there are plenty of wellness options. You can choose a retreat that combines yoga with massage therapy, juice detox, or meditation sessions.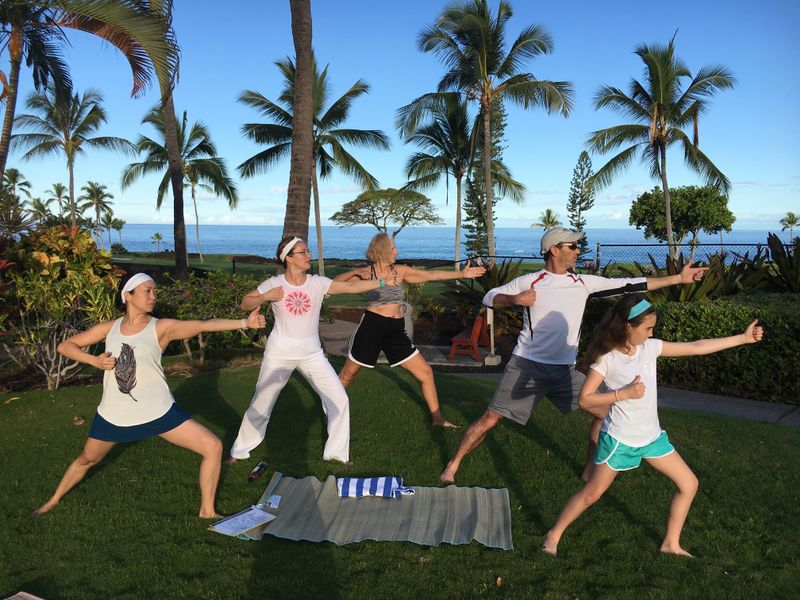 If you want chilled positive vibes without the superfluous aspects of yoga, Hawaii is your place. The Aloha spirit aligns perfectly with what yoga is all about: recognizing the divine in each other. No need to wear Lululemon or sexy yoga pants, the Big Island will inspire you to just enjoy the "here and now" without worrying about a thing.
Add the fact that its location is marvelous, with beautiful nature to go hiking, snorkeling, scuba diving, surfing or just breathing the clean air in a meditation session, and Hawaii is an excellent place to forget about the hustle and bustle of the routine and embrace yoga to its fullest.
Of course, this doesn't mean you can't find more upscale holidays in Hawaii. If that's what you're looking for, there are many luxurious yoga retreats in Honolulu, Maui and Kauai.
Want to add a little bit of adrenaline to your yoga trip? Colorado has lots of options to spice it up on an adventure retreat. The Rocky Mountains invite you to climb up and see some of the most magnificent views the US has to offer. The wildlife, lakes, vegetation and fresh air of the Rockies are splendid for an active yoga holiday.
In summer, you can combine the practice with camping, rock climbing, biking or trekking. If you don't mind a bit of snow, there are some holidays in the winter too, when you can ski down the best slopes of the country. You'll be surprised how well all these activities complement your yoga!
New York City might not be the quietest place for a retreat, but Upstate New York has great locations to find peace and soothe your mind from the busy streets of the Big Apple.
A couple of hours north of the city, the Catskill Mountains host a couple of tranquil yoga holidays where you can relax on a weekend getaway. And once there, you can visit the place where the famous Woodstock Festival took place and embrace the good vibes that this historical event left. Or if you want to see one of the most impressive natural wonders, go all the way north and feel the power of the Niagara Falls!
If you're visiting from another country or from another state within the US, a yoga holiday in the area could be a nice excuse to visit New York City. Schedule a stopover prior to your retreat and indulge in all it has to offer, knowing that you'll have some time to purge from all the clatter and delicious – but not quite healthy – New York-style pizza.
All the options in one country
As you can see, there are all kinds of options for yoga travel in the US. Whether you want a classic authentic retreat, a more adventurous one, or even a plush holiday, just choose the destination that better suits your preferences. The USA has it all!
---
Don't have too many days off to go on a long retreat? Go on a short yoga break in the USA!