20 Affordable Yoga Retreats for Any Budget All Yogis Should Take Advantage Of
The go-to resource for planning your yoga retreats & holidays. Find all you need to know about destinations and take your practice to the next level.
Discover Yoga Retreats now
We kid you not, it is true. You can actually go on a yoga retreat with no need to break the bank.
We know that there are many luxurious options out there that have framed the idea of a yoga holiday as an almost utopic concept exclusive to the wealthiest cream of the crop. That doesn't really sound like authentic yoga, does it?
Fortunately, there are still many decolonized yoga holidays that don't put profiting on top of their priorities list. It is possible to find a good amount of affordable yoga retreats all around the globe.
They keep the prices low and the simple yogic lifestyle up. And with that, here are 20 rejuvenating yoga retreats suitable for tight budgets, most with a price tag of well under USD 130 per night!
Note: BookYogaRetreats offers a flexible cancellation policy. Should you not be able to travel as scheduled, we'd be happy to help you alter your booking with the same organizer or with a different organizer.
Europe has its good share of inexpensive retreats and this one in Cascais is the perfect example. It is considered an exceptional destination for surfers, so the place is ideal to ride the best waves after a mindful yoga session. Or just to take a walk on the stunning Portugal coast.
But don't think that affordable equals low quality. This package includes 3 yoga lessons with meditation, as well as yoga mats and equipment.
While the meals aren't included, you have full access to the kitchen and barbeque area.
Looking for a place where you can truly purify your body and mind, but still staying within budget? Then this retreat in Mirissa is your best choice. It's a surf and yoga holiday that will help you connect with nature and learn a new activity on one of the most beautiful beaches of Sri Lanka. You'll not only improve your yoga, but you'll have lots of fun in the process.
The package includes 4 yoga sessions, 5 surf lessons and vegetarian breakfast. It's suitable for all levels; so, it doesn't matter if you've never stepped food on a surf board, a professional instructor will guide you with the very basics of surfing and help you to catch your first few waves.
Trust us, it's not a scam. With just 470 dollars you can enjoy 7 days of yoga at the peaceful and serene Yoga Shala house in Ko Pha Ngan, in the heart of Thailand. Its eco-friendly environment is an ideal destination for those looking for a peaceful ambiance for their daily yoga sessions.
If the price tag isn't good enough, it also includes 3 daily vegan meals, refreshing juices, and coconut water. It is a wonderland where you can replenish your strength, relax and come back with a better version of yourself.
Additionally, you can refresh in the swimming pool or the herbal steam sauna, enjoy the massages and the evening events. At $61 per night, this is definitely a great option for tight budgets.
This amazing ashram in Bali is located in a peaceful area of the Balinese islands in Indonesia, where your yoga practice can be perfect and your relaxation complete. You'll get to enjoy 2 daily yoga practices, All of this, of course, for only a fraction of the price you could expect.
During your stay at the sanctuary, you would enjoy daily vegan meals, made from fresh organic vegetables and fruits harvested in their own garden, as well as coconut water and a traditional health drink. You can also benefit from cooking classes that teach how to make this, and also dancing classes and a Balinese experience tour.
The conditions in here are perfect for everyone to maintain a flow of sadhana (spiritual practice) and experience personal and spiritual growth like nowhere else.
Yes, even in Spain you can find affordable options. And this is actually the first ever yoga retreat in Ibiza, with a unique and authentic environment to rejuvenate and relax at a very reasonable price in one of the most beautiful places on Earth.
It includes yoga sessions with world-class yoga instructors and daily vegetarian meals. Plus, you'll be left with enough free time to explore the surroundings, admire the ocean from the shaded rooftop, go to Benirras beach or simply relax.
If you're looking for a more personalized experience, this is the retreat for you. It offers a private appartment in the center of Santa Barbara just for you and maybe your partner or a friend. It has a spacious studio with bamboo floor to practice your best yoga sequences, a queen-sized bed for a restful sleep and a complete small kitchen to prepare whichever healthy food you want.
It includes unlimited yoga classes online guided by the teachers at Santa Barbara Yoga Center, or you can also go to their studios for a live session. There are many different styles you can choose from, including Vinyasa, Iyengar, Kundalini and Yin. Plus, the location is so convenient, that you can easily walk to the beach for an infividual yoga session or just be quiet and embrace the good vibes.
And if you prefer to stay just for a weekend, that's certainly a possibility. The minimum stay is two nights and you can also extend it longer if you want a full month of relaxation in California.
This is the retreat you're looking for if you want to reconnect with yourself and find harmony with nature. This retreat is held at an eco-farm where you can truly feel the magnificence of Costa Rica's biodiversity.
The unspoiled landscapes, birds chirping and lush vegetation, will help you purify your body and quiet your mind. In just a few days, you'll be able to learn sustainable practices and healthy habits to start a new more conscious lifestyle.
And even though it comes with a budget friendly price tag, it includes all meals, a private cabin and 4 yoga classes. A real bargain to live the pura vida!
Costa Rica is one of the most popular destinations for yoga holidays, which makes it a bit harder to find low-priced options. But if you look carefully, there are actually still plenty on offer, just like this wonderful package at Casa Zen Guest House! Located at the southern tip of Nicoya Peninsula, it is only 50 meters away from the beautiful beaches of Mal Pas and Santa Teresa.
With the 106 bucks that you'd spend for the whole stay, you gain access to unlimited yoga classes and the use of the studio and props. Also, a delicious hearty breakfast is included every day. Additionally, you can also go biking, hiking, fishing, horseback riding or many other activities available for all guests for an extra fee.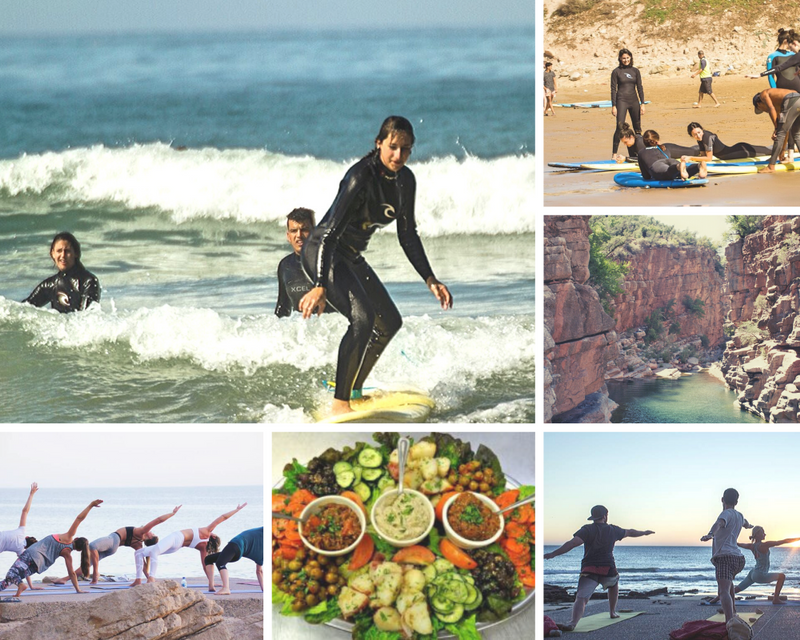 Located only a few steps from the ocean, surrounded by restaurants, markets and massage places, this charming surf house stands out for its chilled-out atmosphere.
The day starts with a Hatha Yoga session, followed by a breakfast buffet served on a beautiful terrace offering some of the best views in Taghazout.
This is the ideal retreat to learn how to surf. It offers daily 2-hour surf lessons specially designed for newbies. After lunch, depending on the day of the week, you either have another yoga session or free time to go to the traditional market or visit the hammam – a steam room where Moroccans usually go each week to bathe and socialize.
After dinner time, you're free to do whatever you want; you can either chill out on the lovely terrace, play cards with your new yogi friends, go party into Agadir's popular nightclubs or just rest for the next day.
Located in a secluded area with breathtaking views of the Krabi landscape, this is a great retreat if you are looking to personalize your experience, relax and rest as much as you want.
There are daily morning yoga classes (from 9:30 a.m.) and daily meditation classes (from 6 p.m.).
Only breakfast is included in the package but the organizer provides twice-weekly transport to local markets so you can easily cater to yourself for lunch, dinner, and snacks.
There's a fully equipped kitchen for you to use and, should you prefer going out, two restaurants are within walking distance of the retreat.
This yoga retreat takes place in the beautiful Agios Gordios bay in Corfu. Here, you can enjoy delicious dishes prepared with a wide variety of fresh local ingredients.
The island of Corfu is known as Greece's emerald island, it has more than 2 million olive trees and nice rugged mountains, offering a gorgeous setting perfect to relax, work on your yoga poses, eat delicious healthy food and have fun.
The retreat includes 2 daily yoga classes and meditation, 1 day of kayaking/snorkeling to explore the nearby beaches, 1 guided tour in Corfu town, daily healthy breakfast and delicious Greek dinner, airport transfers, 1 guided trekking, and more!
Have you always dreamed of practicing yoga at sunrise and sunset from the rooftop of a farmhouse, surrounded by palm trees and lush fields? Then, this is the perfect retreat for you.
Yoga Life Homestay is a farmhouse located on a plot of lush green lawn and surrounded by coconut, nutmeg, papaya, and banana trees! The spacious rooms have fans, as well as western-style toilets.
The two daily yoga classes (each taking 1.5 h) allow for plenty of time to explore the area. Or just indulge in birdwatching at the farm.
Included in the package are three daily meals, drinks, and snacks.
Cochin International Airport (COK) is closest to the retreat and the transfer is available for an additional cost ($21 per person).
This affordable yoga & surf camp takes place in Punta Farallon, El Ñuro, a secluded beach and high-end residential area. Far away from the nightlight and tourism, this fisherman village offers lovely surroundings and great beaches for learning how to surf. It's also an outstanding kiteboarding destination.
The package includes 3 surfing lessons, surf equipment (for the lessons), 3 yoga lessons, 3 gourmet & healthy meals each day, and accommodation in ocean view bedrooms.
Each day, you'll have the afternoon free to enjoy other activities, such as massages, kitesurfing lessons, SUP, or swimming.
This retreat is located in Chinijo Archipelago, a breathtaking natural reserve on the north shore of Lanzarote. Since it combines yoga classes with surf sessions and meditation exercises, it is perfect for surfers. At the end of your stay, you will receive a certificate of level attained by the Canary Islands Surf Association.
Additionally, if you want to take a break from the mat and the surfboard, you can also do some snorkeling and explore the incredible diversity of the island's marine life, hike around the volcanoes, or ride a bike in the mountain.
Experience Pretchabun in a slow rhythm, slowly, like a local and actually guided by a team of local experts. You will get to work towards your self-care and wellness goals through a daily program of healthy meals, light exercises, varied types of activities and meditation sessions.
The retreat is located in the peaceful countryside of Thailand, where all your worries melt away as your day is guided by a friendly English-speaking monk.
At the same time, you won't stay cooped up inside a retreat focusing exclusively on your body and mind while ignoring your wider surroundings. This 12-day trip includes a circuit of temple visits and some free time to explore on your own, as well, so you'll definitely get to see some of the beautiful Pretchabun sights.
Located on a farm close to the jungle, this retreat highlights the true tradition of the Indian culture.
With everyday yoga and meditation classes, and all (vegetarian) meals included, you'll be able to set aside all stress, relax, and improve your practice.
The rooms feature double beds, wi-fi, bathrooms, and AC (on request). The location offers a peaceful stay amidst nature, animals, culture, and humans.
The package also includes cooking classes and guided tours, during which you'll visit the village, a farm, nearby temples, and the local market.
Santa Teresa is a popular travel destination in Costa Rica, which particularly attracts surfers and the younger crowds to its gorgeous beaches.
The hostel where you'll be staying during this retreat is just a two-minute walk from the beach is, it is located on the main road with stores, bars, restaurants and other attractions nearby. There's a swimming pool for you to use, air conditioner in all rooms and good Wi-Fi connection.
The program includes daily yoga classes, 2 surf lessons, transfers to and from the surf spots, photos and videos of your practice, and fruis and water.
Renew your energy and feel reborn on a Pilates, Yoga, and dance retreat on the island of Lesbos.
Your daily morning yoga class will be held on the beach, while the evening one takes place in the garden. There is also a meditation class in the evening.
You can also choose between a variety of dance classes such as Greek folk dance, modern dance, show, musical, and classical ballet.
Your accommodation is at Pasiphae Hotel, a 3-star hotel surrounded by nature. The rooms have a balcony overlooking the garden. You can enjoy breakfast – which is included in the package – on the cozy terrace.
To help you relax and discover the surrounding areas, this retreat also includes a one-day trip. There are several options to choose from, such as visiting Molyvos, the mountain village of Agiassos, Mytilini, or hiking to a monastery.
Add a fascinating place to your travel map and enjoy a marvelous time in Tulu, Mexico. This retreat is held in a beautiful hotel surrounded by lush organic gardens and a beautiful pond with water lilies and Japanese fish, just the perfect setting for yoga and meditation. The views here are breathtaking!
This vacation includes 2 yoga sessions and there are optional extra activities like cycling, snorkeling, SUP yoga classes or a full-body massage to complement your stay.
This wonderful retreat is available year-round because the weather on Madeira Island allows you to enjoy the beach regardless of the season. It doesn't matter if you're a beginner or more advanced since both the yoga and the surf classes are suitable for beginner and intermediate practitioners.
You will start the day with a filling breakfast, then you'll go to the beach for a two-hour surfing session. Once back at the house, you'll enjoy an hour of yoga.
During the high travel season, the transfer to the beach will be provided.
The package includes 7 nights of accommodation, as well as daily breakfast. Kindly note that the surfboard and wetsuit rental are not included.
Finally, if you're willing to take the next step and become a yoga teacher, there are also many high-quality options that won't break the bank. Ananda Healing Center offers this 200-hour training in Mexico, with well-prepared instructors certified by the Yoga Alliance. This is an investment that will transform your life forever for only 48 dollars per night.
The retreat will focus mainly on Ashtanga, Vinyasa, and Karma yoga practices, along with a physiology course to better understand the anatomy of the human body while doing asanas. The spiritual side of yoga will not be neglected either, with daily meditation sessions and courses on how to guide such sessions yourself.
You will also become more knowledgeable in the yogic diet and, after finishing the course, you will earn certifications from the Yoga Alliance and the International Yoga Federation.
---
Looking for even more affordable yoga retreats? Head on over to BookYogaRetreats.com for to browse the biggest selection of budget-friendly yoga vacations & yoga training courses available on the web!