Year-Round Yoga Retreats in Spain Ideal to Unplug & Recharge
The go-to resource for planning your yoga retreats & holidays. Find all you need to know about destinations and take your practice to the next level.
Discover Yoga Retreats now
Featuring amazing natural landscapes across its territories, paradisiacal islands and some of the hottest cities in Europe, Spain is the second most visited country in the world and a top yoga destination (if not THE top yoga destination).
There's no doubt that Spain and yoga are like a match made in heaven, but if you have a tight schedule, it's not always easy to find the time to visit, much less if you must adjust to a specific date to do so.
The good news is, since most of the country has gentle weather from January to December, there are many year-round yoga retreats in Spain where you can practice your favorite asanas any time you want.
Not sure where to start? Here are 10 of the very best yoga holidays in Spain with plenty of availability all throughout the year!
Note: BookYogaRetreats offers a flexible cancellation policy. Should you not be able to travel as scheduled, we'd be happy to help you to alter your booking with the same organizer or with a different organizer.c
Duration: 7 Days
Location: Cullera Beach, Valencia
This meditation and yoga retreat takes place in El Brosquil, a beautiful and quiet beach in a Valencian Community. It has year-round nice weather, with 300 days of sunshine and 365 days of fun and relaxation. Here, you can find exciting outdoor activities, such as diving, kayaking, rafting, horseback riding, kite surfing, windsurfing, and more!
The program includes daily yoga and meditation classes, daily Pranayama sessions, 3 fresh vegetarian meals per day, plus fruits and teas. All activities are planned to help you develop a yogic attitude of being present, here and now.
Duration: 6 Days
Location: Costa Blanca, Valencia
Looking to boost your energy levels? On this yoga and wellness retreat in Alicante, you'll engage in activities designed to help you burn calories and eliminate toxins from the body, such as morning walks, yoga and rebounding.
You'll also enjoy fresh vegetables, fruit juices and delicious plant-based Mediterranean dishes. This healthy diet combined with yoga will help you feel amazing from the inside out.
You can plan your trip to arrive any day of the week. The program includes accommodation in a large ensuite apartment (shared or private), daily yoga classes, three meals per day, free transfers between Alicante airport and the yoga center and the use of an outdoor magnesium swimming pool.
Duration: 4 Days
Location: Malaga, Spain
Reap all the benefits of combining yoga and hiking in the company of a small group of 5 people maximum. The perfect setting to bring a group of friends, get personalized guidance and assure social distancing.
This retreat takes place in a family home located 9 kilometers away from the beach in a typical Andalusian white mountain village. Here, you'll be able to disconnect, relax and deepen your yoga practice with daily sessions of different styles like Hatha, Vinyasa and Yin.
In addition to the yoga sessions, you can go hiking, take part in cooking classes, do kayaking, go on a paddle excursion, listen to inspiring lectures, or go stargazing.
READ MORE: The ultimate guide to Spain's best yoga destinations
Duration: 8 Days
Location: Fuerteventura, Canary Islands
This yoga holiday takes place in Fuerteventura, the second largest of the Canaries, also known as "the Hawaii of Europe". An incredible island where you'll enjoy a laidback atmosphere, nice little restaurants, tapas bars and chilled vibes.
The retreat center is nestled between rolling volcanoes, hilly scenery and incredible views of the Atlantic Ocean and Lanzarote. Just 12-minutes' drive away you'll find the epic sand dunes, or the turquoise ocean and white sand beaches.
The program includes up to 3 classes per day (Tai Chi, Qigong, Taoist yoga), plus 1 full body massage, Auriculotherapy treatment, 2 excursions on the island, 1 Catamaran excursion, daily brunch and detox-antioxidant smoothie or juice, 4 delicious dinners per week and transfer to the beach 2 days per week.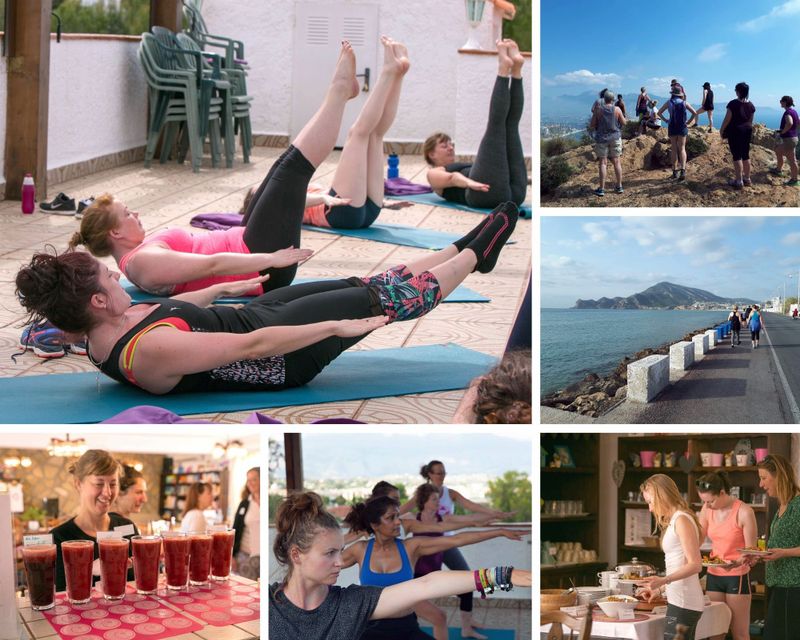 Duration: 4 Days
Location: Playa del Albir, Alicante
Feeling lethargic, grumpy, or experiencing the afternoon slump? Maybe it's a good time to detox. Even a short detox can help you boost your energy levels and combined with yoga it can also help you clear your mind and be more present.
The menu you'll enjoy during this retreat has been designed by a nutritionist to help you cleanse and rebalance your body, while maximizing the most essential nutrients required to be healthy.
This holiday takes place in the quiet seaside town of Albir, north from Alicante on the Costa Blanca. The town itself is just tree-lined streets, so you won't find a more intimate, relaxing place to do yoga and detox. Playa del Racó l´Albir is a 5-minute drive away, an awarded Blue Flag beach offering excellent facilities and high standards of cleanliness.
Duration: 8 Days
Location: Las Palmas
Gran Canaria has quite a diverse landscape that has given this island the reputation of being "a continent in miniature". You could start your day on top of a snowy mountain, spend the afternoon in the subtropical green valleys and chill at night in the sand dunes!
This yoga retreat takes place in Maspalomas, a region that's famous for its natural reserve of dunes, which constitutes an important landmark of Gran Canaria. The aim of this retreat is to help you reconnect with yourself through the practice of yoga and meditation.
From Monday to Friday, you'll practice Vinyasa or Aerial Yoga in the morning and Yin Yoga in the evening. All classes include pranayama (breathing exercises) and meditation. You can also take some relaxing walks on the beach and in the mountains. Daily brunch and snacks are included, plus plenty of free time to explore this amazing island.
Duration: 4 Days
Location: Lanjarrón, Granada
This yoga holiday takes place near the foothills of the Sierra Nevada National Park, a place where you can find the highest peaks in Spain, plus 90 km (55 mi) of mountains, rivers and streams.
The program includes 3 daily healthy vegetarian meals, meditation sessions and morning yoga classes. There's an array of optional activities you can do like spa treatments, hiking, rock climbing and horse riding.
The dates are totally flexible, you can book as many days as you want, arriving any day of the week and with a fully personalized program.
READ MORE: Affordable Yoga Retreats in Spain's Best Destinations
Duration: 3 Days
Location: Sierra de Gredos
This yoga retreat takes place in Sierra de Gredos, in the beautiful area of La Vera County, just two hours away from Madrid.
During the retreat you'll integrate the traditions of BKS Iyengar, a methodical and deeply researched yoga system developed more than 75 years ago by Yogacharya BKS Iyengar. It also includes traditional Hatha yoga, Kashmir Shaivism and Tibetan Buddhism, sound travel, active meditations and Qi Gong.
In your free time you have the option to book a 1-hour Life Coaching session, or a 1-hour Ayurvedic massage with an additional cost. You can also make use of all the facilities, which include an outdoor swimming pool, a garden, a picnic area, a Yoga Shala and a terrace.
Duration: 4 Days
Location: Órgiva, Andalusia
This private yoga retreat in Andalusia offers you the option to have a personalized experience either solo, or with a friend or your partner.
The retreat is available all year round and you can choose the starting day. The program includes morning yoga sessions and meditation, relaxation techniques for all levels and personalized yoga classes suited to your level, style or therapeutic needs.
The accommodation consists of an Andalusian farmhouse settled in 10,000 meters of nature in the valley of the Guadalfeo river, at the foothills of Sierra Nevada. It's only a 45-minutes' drive away from the city of Granada and 30 minutes from the Mediterranean Sea.
Duration: 7 Days
Location: Las Palmas
This yoga retreat takes place in a beautiful 19th century house made of stone and wood of Riga, with incredible views that make you feel as if you're immersed in nature all the time. A cozy space especially designed to help you relax, improve your mood and do plenty of yoga. It also has a swimming pool, garden, terrace, picnic area, yoga deck and studio.
The program includes different excursions to points of interest in Gran Canaria, a yoga session by the beach once a week, a 1-day visit to Las Palmas, walks to natural attractions, and at least one yoga practice and workshops related to yoga per day. Plus, airport transfer, transportation for all activities, full board meals and free Wi-Fi.
---
You can find almost any kind of vacation in Spain and the best part is that you don't have to break the bank as it offers tons of affordable yoga retreats through the year.