Affordable Yoga Retreats in France to Live the Good Life on a Low Budget
The go-to resource for planning your yoga retreats & holidays. Find all you need to know about destinations and take your practice to the next level.
Discover Yoga Retreats now
Historical, refined and captivating, France is one of the oldest nations on Earth and the world's number one destination for international tourists, including yogis.
Famous for the Palace of Versailles, the Eiffel Tower, Mont Blanc and Côte d'Azur, France seems to have it all. It's also the ultimate destination for cheese and wine lovers, featuring one of the most remarkable cuisines in the world and it arguably has the most beautiful spoken language.
La République is simply the ultimate destination for all kinds of travelers. And you know what? As if it was not enough, there are also plenty of affordable yoga retreats in France!
With gently rolling hills in the north and west, the Pyrenees in the South and the Alps in the East, more than 25 percent of France's territory is covered with forest, and another 50 percent is countryside or farmland. This equals to amazing landscapes where you can come and strike you best asanas in connection with mother nature.
From large gatherings under the Eiffel Tower to private classes, festivals and workshops, Yoga is a very popular activity in the country. There are several excellent schools teaching a variety of yoga styles and the French people have adopted yoga as a holistic and restorative practice.
Without further ado, here are five great retreats where you can unwind in a stunning location without having to break the bank:
Note: BookYogaRetreats offers a flexible cancellation policy. Should you not be able to travel as scheduled, we'd be happy to help you alter your booking with the same organizer or with a different organizer.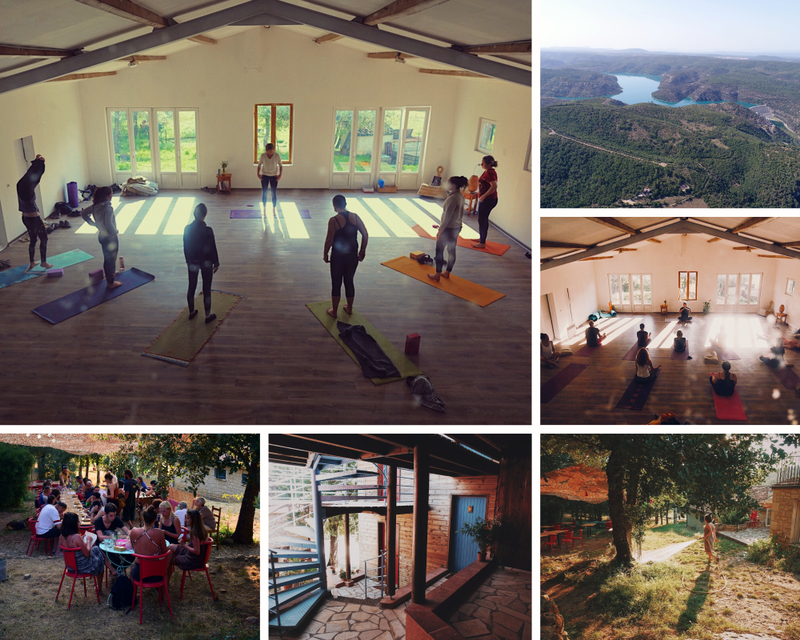 Cost per day: from €60
Duration: 3 Days
Location: Alpes-de-Haute-Provence
Instruction language: French
Located in the heart of a forest, close to the beautiful lake of Esparron, this retreat is one of the most popular yoga vacations in France.
The program includes daily morning and evening Hatha Yoga classes, introduction to mindfulness meditation and a relaxation session using the Yoga Nidra technique. All guided by Yoga Alliance certified instructors.
During this yoga holiday, you'll enjoy 3 delicious vegetarian meals per day, two nights of accommodation in a charming wooden cottage and unlimited drinks (fresh juice, herbal tea, etc.) It's suited for all skill levels and the yoga styles you'll practice here are Vinyasa, Vipassana and Nidra.
To make sure you leave relaxed and recharged, the package also includes a guided hike in nature, free access to the sauna and a mandala creation workshop in the forest.
READ MORE: Top yoga destinations for a rejuvenating short break in France.​
Cost per day: from €119
Duration: 4 Days
Location: Tourné
Instruction language: English
This retreat takes place in a secluded river valley in the foothills of the Ariège Pyrénées Mountain. Here, you'll be able to immerse yourself in the beauty of nature by walking at least once a day in the peaceful forest of Bellissens.
The program includes daily Tao yoga sessions suited for beginners and intermediates, plus 2 or 3 morning daily guided walking meditation sessions and organic meals for all types of dietary needs.
The area is surrounded by many historic sites, which you can visit during your free time. Also, there are plenty of optional activities for you to enjoy! Like skiing, walking, lake bathing, cycling, paragliding, horse riding and white water canoeing.
READ MORE: Affordable yoga retreats in Europe that won't break the bank.
Cost per day: from €100
Duration: 4 Days
Location: Bidart
Instruction language: French
During these four days, you'll enjoy a relaxing weekend in the beautiful village of Bidart, in the Basque country. It is situated only five minutes away from Biarritz and 30 minutes away from San Sebastian, Spain. Surrounded by beautiful mountains and with wild beach access across the road, the location is ideal to unwind and recharge.
The program includes Pranayama and Sound Healing sessions, 2 yoga classes per day and a daily guided meditation lesson. It's suitable for beginners and intermediate practitioners and you'll learn Hatha, Vinyasa, Yin, Restorative, Nidra and Ashtanga.
It also includes active walks by the ocean, daily organic and vegetarian breakfast and 3 nights of accommodation. No wonder it's one of the most popular yoga retreats in France!
Cost per day: from €55
Duration: 12 Days
Location: Beaujolais, Saint-Just-d'Avray
Instruction language: English
During this yoga and meditation retreat, you'll learn the Self-Inquiry Meditation method, as well as other complementary meditations and prayers, to help you silence your mind and experience the eternal here and now.
While no previous meditation or yoga experience is required, there's a power of will that you'll need to go through the entire program. Keep in mind that you'll spend most of your time meditating and you'll be asked to observe noble silence (no speaking throughout the entire retreat). In return, you'll go through an exceptional transformation.
With daily yoga sessions, free time to walk in the surrounding forest and all delicious vegan meals included, you can be certain that all your needs will be taken care of.
Lastly, every night, there's a spiritual lecture including a Q&A session. This gives you the opportunity to find out more about topics of your interest and deepen your spiritual transformation.
Cost per day: from €88
Duration: 5 Days
Location: Lies, Pyrenees
Instruction language: French
Craving some time spent in nature? This yoga holiday offers the chance to rejuvenate in the calm of the surrounding Pyrenees. You'll practice yoga with body awareness exercises, meditation, conscious walking, and cardiac coherence.
The main purpose of this retreat is to offer yourself a time of personal rejuvenation in the middle of nature. The instructors are available to accompany and guide you, but you are free to choose and agree on the rhythm of classes that suits your aspirations.
You are also free to choose if you prefer to pay for full board (all meals) or just certain meals.
During the retreat, you'll enjoy free time to explore the many hiking trails that leave from the cottage you'd be staying at.
*All prices are valid at the time of publication and are not guaranteed. They are subject to change without notice.
---
You don't need to wait until your next long break to go on a yoga holiday, there are plenty of weekend yoga holidays in France to take a breath and recharge in a beautiful destination.