Why Go on a Rejuvenating Short Break in France [+ Top Destinations]
The go-to resource for planning your yoga retreats & holidays. Find all you need to know about destinations and take your practice to the next level.
Discover Yoga Retreats now
As the most visited country on Earth, France needs no introduction. This country has virtually everything a traveler can wish for, including sandy beaches, snow-covered mountains and vast expanses of countryside.
Each region has its unique characteristics, anywhere from Lille to Marseille you'll come across iconic landmarks, world-class art and architecture, great food, and a staggering amount of history. All together they make for a perfect setting to go on a yoga retreat in France!
With yoga making a splash in France (there are about 3 million yogis in the country and this number is growing every year), the number of yoga teachers and resorts has also been on the rise.
While there are lots of options for long yoga vacations in France, it is a definite top choice for a weekend yoga retreat that will give you extra time to explore the rest of the country.
Before sharing our list of the top weekend yoga retreats destinations in France, here are just a handful of reasons why France's countryside makes such a good choice for your next short but life-changing yoga break:
1. A peaceful break from the hustle & bustle of city life
Image credit: Hridaya Yoga France
Around 80% of France's territory consists of tranquil countryside, which creates a perfect environment for you to unite with nature and fully immerse into your yoga practice.
Looking for a relaxing alternative to the frenzy in Paris? You'll spend the weekend in a quiet and peaceful chateau, chalet, or manoir (or even a Medieval castle) surrounded by the beautiful landscape of vast forests and lands.
When not doing yoga, you'll get to explore the stunning surroundings, hike, or swim in a nearby river or waterfall. There are miles of well-marked public hiking paths both for beginner and advanced hikers to savor the stunning French nature.
Hiking and swimming are perfect complements to your yoga. They enhance your aerobic capacity, which will help you improve your overall fitness and yoga practice.
A rural yoga retreat presents a rare opportunity to live with locals and experience the French culture from the inside. The French are known for their nonchalance, ability to stay present, live in the moment and simply celebrate life. This is definitely something good to learn for those of us who live busy urban lives!
The French will teach you to embrace yoga as a holistic practice rather than just the poses on the mat. Enjoy the peaceful "France profonde" in the heart of nature to truly understand what yoga is all about.
2. Bask in the perfectly pleasant weather
Image credit: Zen - Meditation & Yoga Retreat
In summer, France offers a perfectly mild warm climate. You'll get lots of sunshine without getting scorching hot like in neighboring Spain or Italy.
As I said, it's the perfect option for a shorter yoga break since you won't have to waste time adapting to the climate or staying indoors when it gets red-hot outside.
3. Delight in nourishing local treats
Image credit: Hridaya Yoga France
It's no secret that France is the land of fine, elegant cuisine. French chefs have an unparalleled appreciation of organic, natural ingredients, which makes even simple foods taste so much better here. Add to this equation their perfect mastery of the most sophisticated kitchen techniques, and your retreat is turning into a culinary adventure!
Must-try: many retreats and vacations include complimentary cooking classes where a skillful chef will teach you to cook some mouth-watering French dishes. Don't miss out on regional specialties tastings including cheeses, honey, and wines.
While French cuisine is traditionally meat-based, most retreats will offer you a vegetarian –and/or vegan– friendly versions of iconic French dishes. Plus, some of the most delicious French meals actually don't contain any animal-based products, such as these:
Baguette with tapenade (an aromatic spread made of olives, capers, and olive oil), pistou (the French cousin of pesto) or jams
Ratatouille and vegetable-based stews
Gentle crepes (cooked without eggs)
Tartines and quiches (typically featuring leeks, mushrooms, courgettes, tomatoes or spinach)
Vegetable stews & soups such as soupe a l'oignon (onion soup)
4. A selection of retreats tailored to your taste
Image credit: ANNE LAHAYE YOGA
With yoga gaining its momentum in France, you'll find a variety of retreats featuring different yoga styles all around the country. The most popular styles are Hatha, Vinyasa, Yin Yoga, Yoga Nidra, Restorative Yoga, Zen Yoga and Kundalini.
France, being one of Europe's biggest expat hubs, has a variety of both French and foreign well-qualified yoga teachers.
5. Waste no time commuting
Image credit: Manalaya
As one of the most popular touristic destinations, France is also one of the better-connected countries in the world and it's quite easy to get around it. Whether it's by railway, air or water, there are multiple convenient and speedy travel options. Therefore, you'll be able to minimize the time spent on buses and trains and focus on what matters the most – immersing into your perfect yoga experience.
Top Destinations for a Rejuvenating Yoga Retreat in France
Image credit: DUVERNEY
This large region in Southeast-Central France combines the territory of Auvergne and Rhone-Alps. The French Alps feature some of the most magnificent natural scenery in the world with awe-inspiring mountains, crystal-clear lakes, rushing waterfalls, and pristine forests. It's a great place to savor the fresh air in the heart of nature.
There are endless options of things to do between your daily yoga sessions here! You can go hiking, biking, mountain climbing, white water rafting, mountain biking, horse riding, skiing, and much more. Or you can also explore some of the quaint, medieval villages nearby.
The French Alps are also home to numerous thermal spa resorts, so you'll be offered plenty of pampering options as part of your experience. Does this sound good? Picture yourself in a large thermal jacuzzi on an outdoor terrace overlooking Mont Blanc. Is there a better way to relax after the day full of yoga and active adventures?
Auvergne is a mostly rural, mountainous area, neighboring the French Alps. This area boasts vast forests, dormant volcanoes (there are more than 450), an abundance of natural hot springs, and over 500 medieval castles. Auvergne has been named one of the Top 10 Regions in the world to visit in 2016 for a life-changing experience, and it just might be the place that will change your life as well with a little help from yoga.
Image credit: Vitality Concept Nice
This region has it all, from white-sand beaches to the high Alpine peaks where snow lies even in summer – less than 60 miles apart. The historic area of Provence is known for the vast fields of lavender, olive trees and small-town tranquility.
The Verdon Gorge, the largest river canyon in Provence, is one of the most picturesque retreat spots in Provence. This area also features some of France's biggest nature parks and lots of historic attractions.
Trendy French Riviera comprises glamourous yacht ports, picture-perfect beaches, beautiful views, and scented vegetation. The area is famed for high-end beach resorts like Saint-Tropez and Cannes, and with plenty of charming small coastal villages and towns, Cote d'Azure is perfect for a French luxury yoga holiday!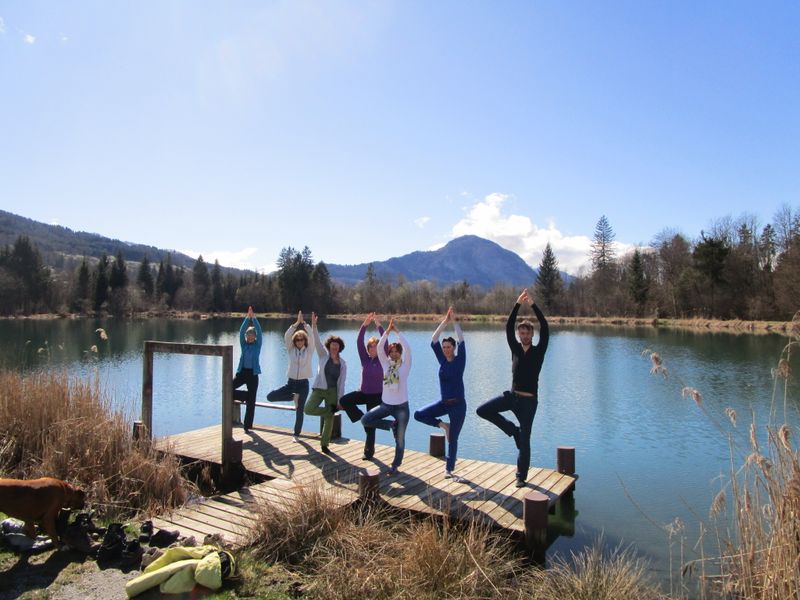 Image credit: DUVERNEY
Another region that seems to have it all, Occitanie offers a wide variety of landscapes from the mind-blowing peaks of the Pyrenean mountain range, to the long, sandy beaches of the Mediterranean.
Your yoga experience here will most likely include lots of outdoor activities such as hiking, cycling, white water canoeing, kitesurfing and windsurfing, horse riding, or paragliding. The vast surrounding forests allow for a great chance to unite with nature on a walking meditation session.
In addition, the area is literally packed with various architectural and cultural sights. Even in the most secluded spots, there are lots of historic attractions (medieval villages, fortified towns, majestic castles, and cave art sites) in close proximity which makes it easy to sneak in some sightseeing without making your itinerary too busy.
This area stretches from the Atlantic coast in the west to the Massif Central in the east. The center of the region is one of France's finest cities, Bordeaux, but other than that the area is mainly rural with plenty of sleepy villages and little towns. Expect lots of gorgeous agricultural views spanning across lazy river valleys, sunflower fields, pine forests and vineyards. The region is also a mecca for wine lovers, so you'll be able to taste some of the most delicious (organic) local wines.