10 Yoga Retreats in Europe that Won't Break the Bank
The go-to resource for planning your yoga retreats & holidays. Find all you need to know about destinations and take your practice to the next level.
Discover Yoga Retreats now
Want to take your yoga practice to a beautiful location on the Old Continent? Thankfully, there's no need to spend a lot of money on a luxurious vacation.
It's true that most European countries have gained a reputation for being expensive places to visit. But contrary to what many people think, there are plenty of affordable yoga retreats in Europe where you can do your asanas at a low cost and still live an unforgettable experience. In the end, yoga is free for all and the European cultural charm has no fee.
Still can't believe it? Here are 10 yoga holidays in 10 different destinations that won't cost you more than €100 per night and have several dates available throughout the year!
Spain
Being the jewel in the crown of yoga travel in Europe, Spain has thousands of retreats taking place every year. Here are two options to visit España, whether you prefer the islands or the mainland:
Yoga & Meditation in Barcelona
Cost per night: from €70
Duration: 4 days
All meals included
Barcelona might be one of the most expensive cities in the world, but there are several hidden gems like this retreat in the mountains. It takes place in the Biosphere Reserve of Montseny and is held in a big mansion from the 11th century, just 30 minutes away from the Ramblas.
But don't let the low price fool you, it includes daily vegetarian meals, pick-up from the train station, workshops, yoga classes and even some excursions into nature. Definitely a great opportunity to explore beautiful Barcelona!
Yoga & Surf in the Canary Islands
Cost per night: from €75
Duration: 8 days
Meals not included
If you want to explore beyond mainland Spain, this retreat in Gran Canaria is your best bet. It's a great opportunity to spice up your practice with a little bit of surf; it includes 5 surfing lessons to get you started, daily yoga sessions, a trip around the island and an excursion to see a farm, a vineyard and a fruit plantation.
Check out our guide to yoga retreats in the Canary Islands.
Portugal
Portugal is one of the most affordable options in Western Europe. So, there are tons of yoga holidays that are suitable for all budgets. However, this one in Cascais is highly recommended by other yogi travelers:
Meditation, Yoga & Massage in Cascais
Cost per night: from €80
Duration: 4 days
Breakfast included
There's nothing as soothing as doing yoga on the beach while the sun rises. Well, on this retreat, you'll do all your asanas on Ursa, one of the most beautiful beaches in Portugal. To make it even better, the program offers Yang Yoga to get your body and mind ready for the day ahead; and Yin Yoga in the afternoon to relax and balance your energy.
In addition to a healthy breakfast buffet, it includes fruit and organic teas available all day, daily yoga and meditation sessions and one relaxing Ayurveda massage of 45 minutes. One could say that this is actually a luxury holiday without having to pay much.
Italy
There are so many things to do and see in Italy that it's hard to choose just one place. Not for nothing, it is one of the most visited countries in the world. But having such great tourism affluence, sometimes it isn't always easy to find a vacation that's suitable for a tight budget. But if you look carefully, you can still find plenty of options like this one:
Yoga on the Italian Adriatic Coast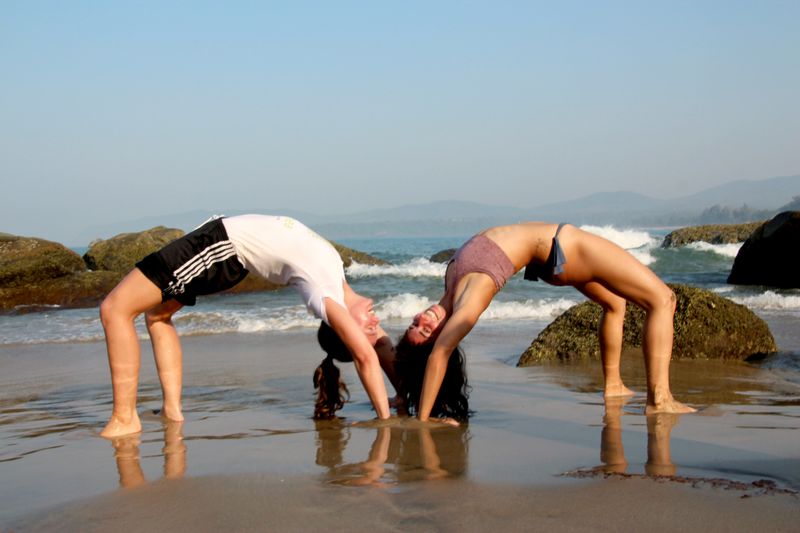 Cost per night: from €80
Duration: 10 days
All meals included
Italy goes well beyond the more touristic places of Rome, Venice, Milan or Tuscany. The East Coast is home to this fabulous yoga holiday in Misano, where you can relax on its sandy beaches and embrace the tranquility of the area.
The retreat includes 2 daily yoga classes, a couple of meditation sessions during your stay, a 1-hour massage, tea, water and 3 vegetarian meals a day. All this, considering the price, is like a gift from yogis to yogis.
Greece
Few places are as magical as Greece and all its islands. From Crete and the Cyclades to the Ionian Islands, there are hundreds of yoga retreats which take advantage of the Greek mystic and here's one that doesn't cost too much:
Nature, Beach & Meditation in Palairos
Cost per night: from €36
Duration: 8 days
Brunch included
You've read correctly; you can have a week-long Greek yoga retreat for just 36 Euros per night. It includes 6 Hatha and Nidra Yoga sessions, mindfulness meditation and delicious daily brunch inspired by the renowned Mediterranean cuisine – all with organic, local products.
Palairos is in inland Greece, but during the day off, you can take a boat for a day trip to Lefkada and explore the Ionian Sea. Or extend your trip and go island hopping all around the country; here's a yogi guide to the Greek islands that will help you make your choice.
France
OK, we admit that it can be almost impossible to find affordable travel options in Paris. But France is such a vast and rich country that it'd be a shame to stick just to the capital. Here's a nice option to explore other areas and do yoga in the process:
Blissful Meditation in Occitanie
Cost per night: from €65
Duration: 6 days
All meals included
Maybe you're a bit overwhelmed after a trip to Paris and want to go all the way to Southern France to unwind and do some meditation. This quiet place in Occitanie is ideal to do just that.
You won't believe how much you can get with that money! The retreat includes breakfast, lunch, dinner and snacks, 3 yoga lessons per day, 2 workshops and access to the swimming pool. Doesn't it sound like the perfect excuse to get out of Paris?
Bulgaria
An off-the-radar European destination, Bulgaria has quite a few retreats to delight any yogi. Discover this Balkan country and take your practice to new places with this affordable retreat:
Cost per night: from €94
Duration: 7 days
All meals included
This retreat takes places in a tranquil valley surrounded by vineyards and the forest of Kamchia Nature Reserve. And it's just a 25-minute drive from Varna, which means that it's easily accessible and gives you the opportunity to spend some time exploring this important city.
It includes 2 yoga sessions per day with different styles, guided meditation sessions, lunch, breakfast and dinner, as well as unlimited water, coffee and tea. It's truly a holistic Bulgarian experience!
Belgium
A yoga holiday is a good way to open the door to Belgium's magic. Medieval towns, beautiful architecture, quaint vibes from the Renaissance and – of course – the best beer in the world.
Recharge Your Batteries in Limburg
Cost per night: from €65
Duration: 4 days
All meals included
You won't find better value for your money than this 4-day retreat. You'll stay not too far from Brussels, in an old monastery in the middle of nature, where you'll have all the tools to find inner peace, reencounter with your inner self and improve your practice on the mat.
During your stay, you'll get daily morning yoga classes with meditation and chanting, different holistic workshops each day, all meals, tea and even complimentary pickup and drop off from the train station.
Croatia
Croatia keeps gaining popularity among tourists thanks to its generally nice weather and its impressive views of the Adriatic Coast. The below retreat is a good way to see the Croatian majestic landscape by yourself: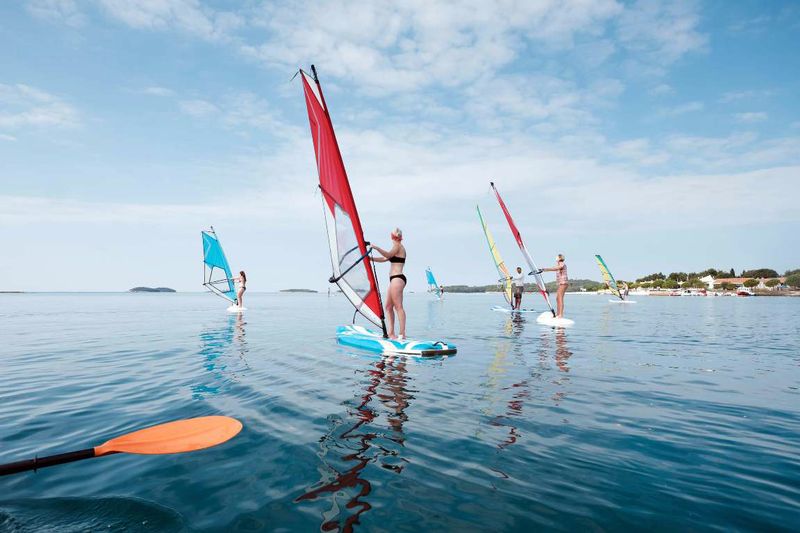 Cost per night: from €85
Duration: 7 days
Breakfast and snacks included
Right on the Adriatic coast, this retreat takes place just 15 minutes away from the ancient town of Rovijn and its pristine beaches. It is packed with tons of adventurous things to do to add some adrenaline to your vacation.
Kayaking, windsurfing, SUP yoga and biking are all part of the program; and to get ready for the adventure, there are yoga classes every morning. All gear is included, as well as transportation during the tours, pick up from the bus station and some local wine when you arrive. How is this a budget retreat, again?
Ireland
The luck of the Irish brings some luck to you as well. Thanks to yoga, you can visit this fairylike country without having to use up your savings.
Refine Your Practice in Leitrim Hills & Get a Taste of Yoga Teacher Training
Cost per night: from €95
Duration: 3 days
Meals not included
This weekend retreat in the north of Ireland is a unique opportunity for those who want to be yoga instructors. You'll get your feet wet in Anusara Yoga, deepen your practice and get a glimpse of how a yoga teacher training course is.
It includes 2 Anusara workshops and a session in the infrared sauna and outdoor hot tub to spend a splendid time pampering yourself.
UK
Lastly, we'll go a bit over the €100-limit with the United Kingdom (Great Britain doesn't make it easy for budget travelers). But it doesn't mean that there aren't any retreats at reasonable prices.
Rejuvenating Yoga Holiday in Devon
Cost per night: from €122
Duration: 4 days
Breakfast and drinks included
This customizable yoga experience is ideal for British people who want to escape from the city for a few days, but don't want to go over the budget. The guesthouses in Devon where the retreat takes place, are great to unplug, rejuvenate and reset your body and mind.
It includes daily yoga classes, delicious healthy breakfast and a spa session with hydrotherapy pool and sauna. In the end, every penny is absolutely worth it.
---
Want to take the next step in your practice? Do your yoga teacher training in Europe!