Top 5 Weekend Yoga Retreats in Florida
The go-to resource for planning your yoga retreats & holidays. Find all you need to know about destinations and take your practice to the next level.
Discover Yoga Retreats now
Famous for its beaches, theme parks, natural treasures, and year-round balmy weather, sunny Florida is an ideal choice for a pampering tropical vacation with an island feel, all without leaving the United States mainland.
Thanks to its abundance of yoga retreats, the "Sunshine State" is becoming the go-to destination for those looking to incorporate more wellness into their lives. And if you can't wait until your next vacation, don't worry! There are plenty of shorter programs available where you can reap all the benefits of a regular retreat.
Looking for a weekend yoga retreat in Florida? Here are the top short yet unforgettable experiences that combine yoga with a variety of R&R activities:
Note: BookYogaRetreats offers a flexible cancellation policy. Should you not be able to travel as scheduled, we'd be happy to help you alter your booking with the same organizer or a different organizer.
Price: From US$ 750 per person for 3 days/2 nights
Availability: From October till February
Skill level: All levels
In need of some deep rest, relaxation, and healing? You can join this short luxury yoga retreat in Royal Palm Beach.
It takes place in a quiet community, close to shopping places, parks, horse training facilities, restaurants, hospitals and entertainment.
The program includes 5 yoga sessions, 4 meditation sessions, 4 lectures on Reiki and self-care, Chakra healing and a morning cleanse demonstration.
There will be plenty of "me" time to rejuvenate, reconnect, and rebalance. You can also use your free time to do optional activities (at an extra cost) such as biking, boat tours, kayaking, lion country safari, massage treatments paddle boarding, pulse electromagnetic frequency, private reiki sessions, snorkeling, or surfing.
» From the best time to go to the top destinations, find out all you need to know about yoga retreats in the USA.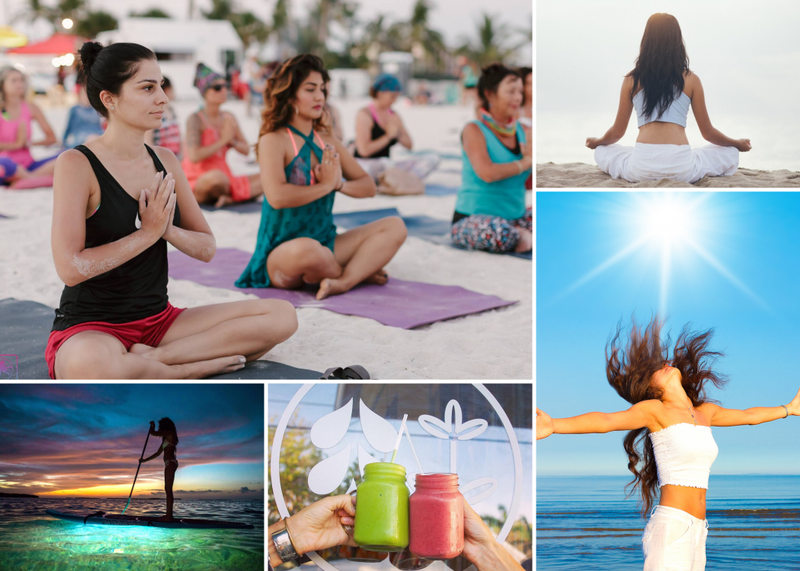 Price: From US$ 2,499 per person for 4 days/3 nights
Availability: All year round
Skill level: All levels
Invoke your inner goddess, restore to your center, heal, and relax. Experience a transformation of your body, mind, and spirit. On this short yoga retreat in Key West, the instructors will guide you as you unleash the best version of yourself.
There will be daily yoga classes. The retreat offers unlimited studio classes and beach access.
The yoga style practiced is Hatha, and all the sessions include personal attention to alignment and therapeutic adjustments.
You'll stay in a beautiful Key West bed and breakfast. During the retreat, there will be three private sessions of your choice. You can choose between a wide variety of transformative and healing sessions, ceremonies, and rituals that are meant to help shift your perspective, from channeled spiritual guidance, chakra balancing, and hypnotic healing to Reiki, aromatherapy, moon rituals, past life regression, and many more.
During your free time, you can ask for local tips on the best places to visit. You can explore the scenic surroundings and take this opportunity to relax and unwind at the beautiful beaches in Key West, go diving or snorkeling, or visit the Old Town with its fascinating architecture.
Price: From US$ 1,100 per person for 4 days/3 nights
Availability: From July till December
Skill level: All levels
This is not your average yoga retreat. The school's belief is that all yoga systems follow the same path; therefore, they honor diversity and embody numerous yogic traditions. The retreat facilitates various styles of yoga: Hatha, Ashtanga-inspired Vinyasa, Sivananda, Restorative, and other traditions.
During this retreat in Boca Raton, you will enjoy unlimited yoga classes and daily meditation sessions (except on Wednesdays and Thursdays). You'll also get a 50-minute complimentary massage.
Start your day with a nutritionally balanced, alkalizing green smoothie. At lunch, you'll be served a complete protein shake. You'll also learn how to make these delicious and nutritious smoothies at home.
Breakfast and lunch are included in the package, which will be prepared using personalized ingredients. The meals are low glycemic, vegan, gluten-free, with a soy-free option as well.
Evenings are usually reserved for rest and relaxation. Bicycles are provided free of charge so that you can explore the beautiful surroundings at your own pace. Near the retreat, you can relax on the long white-sand beaches, try exciting water sports, visit art and marine life museums, eat at themed restaurants, and unwind at the beach bars.
Price: From US$ 1,499 per person for 4 days/3 nights
Availability: From July till October
Skill level: All levels
Join this revitalizing yoga retreat and let the amazing team of teachers and healers help reconnect your body, mind, and spirit.
Stay in a cozy beach bungalow and rejoice in the grace and tranquility of the open ocean. Melt into total peace and rediscover your bliss as you enjoy healing sessions on Cocoa Beach and in beautiful studios right across from the beach.
There will be multiple yoga classes each day. During your stay, you'll also get one private session of your choice. The retreat teaches a wide variety of yoga styles, from the popular Hatha, Vinyasa, Yin, Kundalini, and Restorative to Aerial, Transformational, Kriya, and more.
The retreat offers plenty of free time to enjoy the beach, surf, get a massage, hit the spa, or participate in a healing session.
Breakfast and lunch are included in the package. Water, coffee, tea, and detox juices are also included. The retreat caters for special dietary requirements, such as lacto-ovo vegetarian, gluten-free, organic, and others upon request. You'll also be served a green juice at breakfast and a smoothie at lunch.
Price: From US$ 850 per person for 4 days/3 nights
Availability: All year round
Skill level: All levels
Do you happen to have a long weekend available? Or even decide to escape the daily grind for four days?
If you've been experiencing low energy, tiredness, or mood swings, this program in Florida may just be for you. Boost your body and soul and support your inner healing ability through food, breath, and asana.
You'll be staying in a peaceful place, in a tropical setting, with easy access to cafes, galleries, shopping malls, museums, and beaches.
This holiday is based on an in-depth detox program. You'll join multiple yoga classes, attend a balancing Tai Chi session, meditation, and healing sessions. You'll also learn how to prepare a nutritionally packed detoxing juice fast.
The organizer provides all the necessary ingredients for your juice detox and a special alkaline water system for your entire stay.
*Cover image credit: Mind Body Complete
*All prices are valid at the time of publication and are not guaranteed. They are subject to change without notice
---
Short on time? Join a weekend yoga retreat in the USA that'll leave you recharged and restored for weeks!