Yoga Retreats in Morocco That Are a Real Bargain
The go-to resource for planning your yoga retreats & holidays. Find all you need to know about destinations and take your practice to the next level.
Discover Yoga Retreats now
Incredible sights, fantastic scents and thrilling adventures make Morocco an excellent place to embark on a fascinating yoga ride. From quaint villages and historical cities, to traditional mint tea and the exquisite dishes of tajine and couscous, this jewel in North Africa truly honors the meaning of its name as the Land of God.
The best part is that this jewel doesn't have to be an expensive one to visit. There are plenty of affordable yoga retreats in Morocco where you can spice up your practice with Ayurveda, surf, hiking and other activities even if you're on a tight budget.
Since the Moroccan coastline is home to some of the most renowned surf spots in the world, there's a big community of surfers who take advantage of the great waves. That's why most of the holidays in Morocco combine surf and yoga to get the most out of both worlds. And well, let's say that the surf culture still has some of those hippie vibes that don't require much luxury to have lots of fun.
Want a few recommendations? Here are six yoga retreats in Morocco that won't break the bank!
Note: BookYogaRetreats offers a flexible cancellation policy. Should you not be able to travel as scheduled, we'd be happy to help you to alter your booking with the same organizer or with a different organizer.
Image credit: SALAMA AYURVEDA
Cost per day: from US$118
Duration: 8 days
All meals included
Located in the heart of the valley in the Atlas Mountains, this yoga holiday has everything you could ask for a relaxing vacation. From meditation in natural surroundings to multiple massage sessions, after a few hours in this dazzling place, you won't want to leave!
A regular day on this Ayurveda retreat starts with a yoga session, followed by a delicious breakfast, then a silent walk in nature and vegetarian snacks. You'll also be pampered throughout the day with spa treatments like the hammam hot steam bath or a foot massage.
One advantage of this retreat is that that you don't have to worry about the transfer fare since it's already included from Marrakesh Menara Airport. Finally, you'll also have the option to choose from many different excursions (with an additional cost). This is a good opportunity to explore the Zagora or Merzouga deserts, take a tour to Marrakech city, a trip to Toubkal National Park, or an excursion to Ouzoud waterfalls, among others.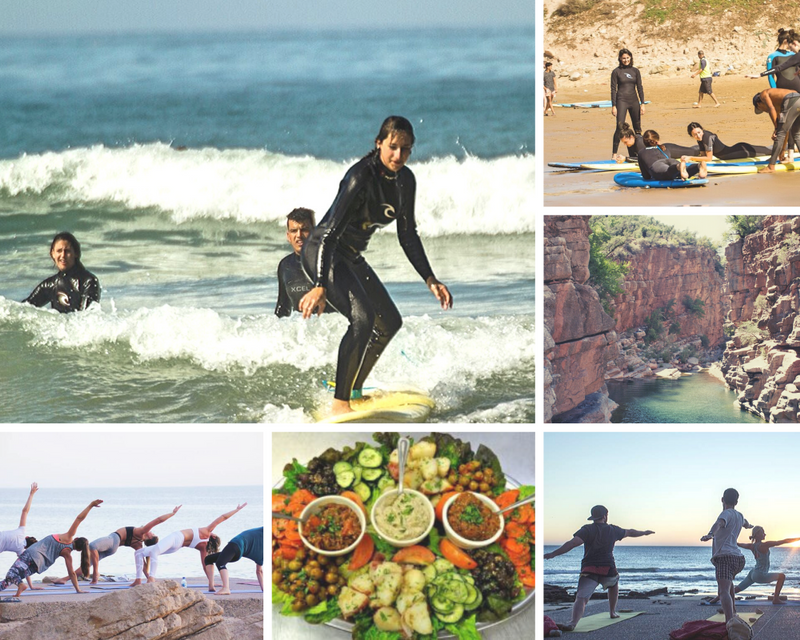 Image credit: Yalah Surf​
Cost per day: from US$55
Duration: 8 days
All meals included
Located only a few steps from the ocean, surrounded by restaurants, markets and massage places, this charming surf house stands out for its chilled-out atmosphere.
The day starts with a Hatha Yoga session, followed by a breakfast buffet served on a beautiful terrace offering some of the best views in Taghazout.
This is the ideal retreat to learn how to surf. It offers daily 2-hour surf lessons specially designed for newbies. After lunch, depending on the day of the week, you either have another yoga session or free time to go to the traditional market or visit the hammam – a steam room where Moroccans usually go each week to bathe and socialize.
After dinner time, you're free to do whatever you want; you can either chill out on the lovely terrace, play cards with your new yogi friends, go party into Agadir's popular nightclubs or just rest for the next day.
Read all you need to know about Morocco's best yoga destinations
Image credit: Sunset Surfhouse
Cost per day: from US$50
Duration: 6 Days
All meals included
Situated in the magical Province of Agadir, Aouir is famed for its avocado smoothie and several cultural hotspots like the Wednesday Souk (market).
It's also less than 30 km (18 mi) away from one of the most beautiful places in Morocco: Paradise Valley. It's said that Jimi Hendrix first used this name, and once you see its fantastic mountains, spectacular waterfalls, palm trees, natural rock pools, crystal water and friendly people hanging around, you'll understand why.
Although this yoga retreat is focused on learning to surf, there's also plenty of free time for other activities. The day starts with a variety of healthy food for breakfast, followed by surf lessons and delicious lunch at the beach. Later, you can spend the afternoon practicing what you learned during your surfing lessons, doing some asanas or just chilling out on the beach.
And, of course, right before dinner time you'll be able to enjoy the sunset during a yoga session on the rooftop.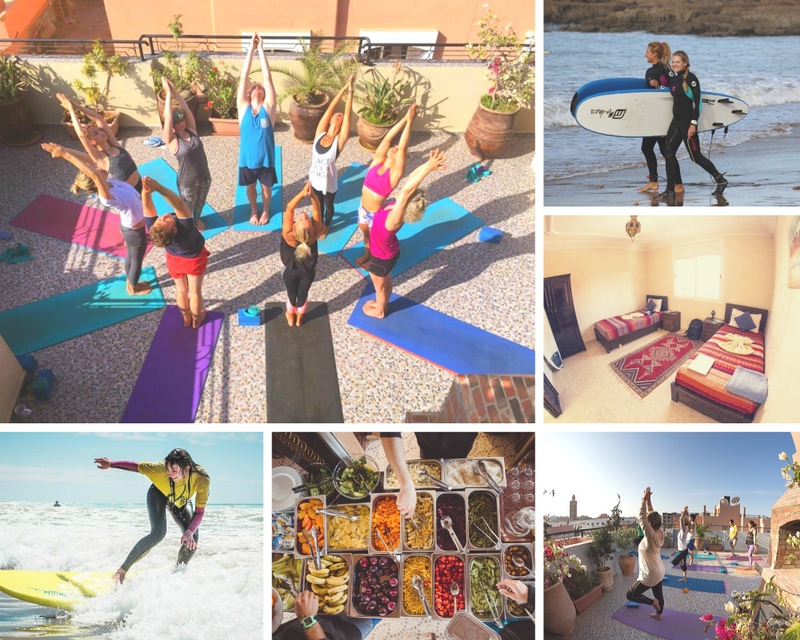 Image credit: Surf Star Morocco​
Cost per day: from US$50
Duration: 2 Days
Lunch included
If you don't have more than a couple of days to escape the routine and go on a yoga holiday, worry not! As the Moroccan proverb says: "little and lasting is better than much and passing." A weekend of yoga and surf in Morocco can give you all the benefits of a regular yoga retreat somewhere else.
Whether you're new to surf, a total master, or something in between, the instructors adapt to your skills! The surfing lessons on this retreat are specially designed for each level (beginner, intermediate and advanced). During these two days, you'll have the great opportunity to put into practice everything that yoga has taught you on the mat, but in an uncontrollable environment in the ocean.
And to keep improving your yoga practice, you'll have several sessions of Vinyasa flow sequences, Hatha Yoga and dynamic Ashtanga during the weekend.
Looking for an affordable yoga retreat in the old continent? Here are 10 yoga retreats in Europe that won't break the bank!
Image credit: Azrac Surf
Cost per day: from US$78
Duration: 7 Days
All meals included
Experience yoga in a magical environment. Wake up to the sound of the ocean, the Moroccan sun warming your body.
You'll be staying at Villa Azhar, which is surrounded by nature and features uninterrupted views of the Atlas Mountains and the Atlantic Ocean. All rooms are decorated in Moroccan style and have an en-suite bathroom.
Your day starts with a sunrise yoga class (at 7:30 a.m.), followed by breakfast, and free time to explore your surroundings. The afternoon yoga class (Hatha or Restorative) is at 5:30 p.m. Dinner is served at 7:30 p.m.
In total, there will be up to 10 yoga sessions.
Daily breakfast & lunch are included. On 6 days, dinner is also included (guests are encouraged to eat out once per week). The food caters to a variety of dietary needs (including vegan).
You may take a packed lunch with you each day so that you can indulge in sightseeing, take a surf lesson (for which you pay separately), or enjoy the hammam treatment (included with the package).
The closes airport is Agadir–Al Massira Airport (AGA) and the transfer is included in the package.
*Cover image credit: Lauren Rudick of Yoga Academy International
---
Want to spend more time practicing yoga and less time planning? Why not book yourself a luxury yoga holiday in Morocco?