The Ultimate Guide to Morocco's Best Yoga Destinations
The go-to resource for planning your yoga retreats & holidays. Find all you need to know about destinations and take your practice to the next level.
Discover Yoga Retreats now
Craving a travel experience that takes you beyond the usual Western world destinations? Why not try the exotic lands of Morocco? It's not only a land rich in history, culture, and beauty but it is also an ideal yoga destination.
Of course, it's not just yogis that flock towards Moroccan lands, but also surfers and foodies, since the country is home to plenty of wonderful surf spots and an impressive fusion cuisine.
Whatever your main interest in Morocco is, it's pretty much guaranteed that you won't be bored. The Sahara Desert, the souks of Casablanca and Fez, the lush oasis areas and the popular beaches make Morocco a perfect vacation spot.
Read on to find out everything you need to know about traveling for yoga in Morocco and everything else you can admire on the side.
Morocco at a Glance
One of the best-known countries from the Maghrebian region (the Maghreb is an alternate name for the entire North of Africa), Morocco has been a dream destination for Westerners as early as the early 20th century.
Well-adjusted laws, promotion and conservation efforts managed to keep Morocco more or less the paradise that it was and to develop its beauty even further. In 2016, over 10 million tourists visited Morocco, and every year this beautiful has been the top African destination for international travelers.
The geography of Morocco is spectacular. Just over the sea from Spain and Portugal (one-hour flight away), the country is very close to Europe but nonetheless decidedly different. While touring Morocco, one can visit the Sahara Desert and its fascinating dunes, the snow-covered peaks of the Atlas Mountains and the enticing Malabata Coast in Tangiers. You can basically have it all in Morocco!
But one of the most fascinating aspects of Morocco is its culture. The cities are bustling with life, in vibrant mixes of old and new town areas, full of impressive cutting-edge architecture and traditional souks to get lost in. Mosques, old Bedouin city ruins in the sand, Renaissance architecture buildings, stunning botanical gardens, the mélange of French, Spanish, Portuguese, Arabic and Berber influences all blend in a most unforgettable mix.
The scents of Morocco are also amazing. Given the country's appetence for floral oils and perfumes, as well as its love of spices, you can hardly walk the streets of a Moroccan city without being enticed by its complex aromas. Some of these amazing smells are also worked up into yoga retreats around Morocco, for their aromatherapy and relaxation effect.
The Best Destinations for Yoga Retreats in Morocco
There are plenty of stunning places to visit in Morocco, so if this was a general travel guide, I would hardly manage to fit all of them in one single post. However, we will focus on the best places to visit in Morocco where you can also have a wonderful yoga retreat.
All of the following yoga destinations of Morocco are great for getting to know the country and its culture as well, so your retreat will be about much more than yoga in the end.
One of the greatest things about Morocco is that there's plenty to explore, so it's not a destination you can cross off your travel bucket list easily. Each of the following places is unique and with plenty of stories to tell.
Photo credit: Mohammed Dekkak
The famous city of love from the movie named after it, Casablanca is a beautiful port city, still bearing strong French influences from its colonial period.
The Moorish architecture and the European art deco style blend in a unique look that earned the city its alluring reputation. While visiting Casablanca, you have to visit both the Casablanca Cathedral and the Hassan II Mosque, as well as take a long walk along the water shore.
The former capital of Morocco, Fez is still considered to this day to be the de facto cultural capital of the country.
While visiting Fez, you'll have abundant opportunities to bask in the country's rich history and culture, through the diverse museums and old buildings on the city's to-see list. If you only have 2 days in the city, you should make visiting the Al-Attarine Madrasa, the Dar Batha (craft museum), and the Bab Bou Jeloud (Blue Gate of Fez) your priority.
Photo credit: Surf Berbere
Taghazout is a picturesque fishing village in southwestern Morocco, just north of Agadir. While there's not much to visit in Taghazout in terms of history and culture, it's the absolute capital of surf and yoga on the Maghrebian coast.
While enjoying a yoga retreat in Taghazout you can also take a quick day trip to the beautiful city of Essaouira, see how Argan oil gets extracted, explore the beautiful Paradise Valley (and understand why it's named thus), as well as enjoy the aromatic Moroccan cuisine of the area.
The absolute capital of spices on the African continent, Marrakesh is also the most important formal imperial city of Morocco.
Its rich history and stunning views make it one of the most fascinating (and romantic) destinations in the country. Explore over 1,000 years of history of the city, while admiring plenty of mosques, palaces, breath-taking gardens, kingly tombs, and mausoleums, as well as modern hotels and business centers.
The Tamraght valley is a region in the proximity of the High Atlas Mountains in Morocco, known for its highly appealing sights waiting to be explored.
It's also home to the famous Paradise Valley, naturally landscaped with impressive rock pools and an abundance of small waterfalls. High up in the mountains, in such a beautiful place, seems to be the perfect setting for meditation, exercise and finding yourself. It's no wonder that the Tamraght Valley is host to so many incredible yoga retreats.
Morocco and Yoga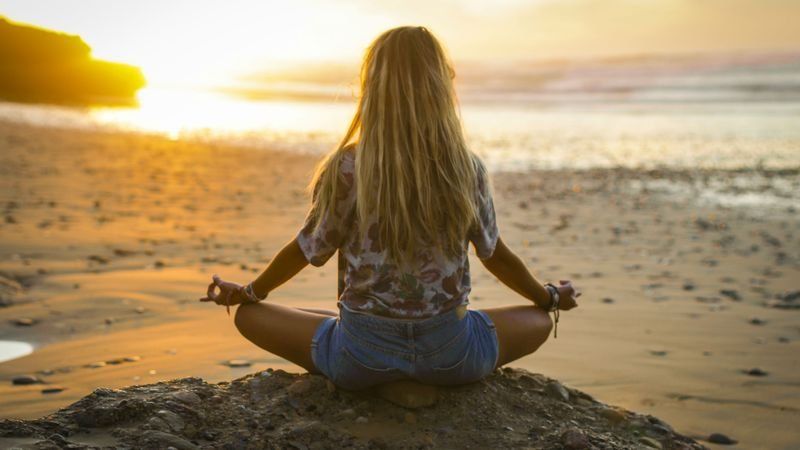 While there isn't a significant history of yoga practice in Morocco, once yoga had its revival and expansion a few decades ago, the country began to be a very popular yoga destination.
The blend of beautiful sights with Morocco's delicious and exotic cuisine and along with the strong history and culture just make it a perfect setting to have a spiritual awakening in.
Personally speaking, Morocco indeed seems like the perfect place to go on a yoga retreat - especially among the dunes of the Sahara.
There's just something about that overwhelming peace and solitude that invites towards simplicity and self-reflection, all while offering you plenty of interesting things to visit, just in case the stillness gets old after a few days.
5 Yoga Holidays in Morocco
Here are 5 of the most popular yoga holidays in Morocco that any yoga & travel lover should experience at least once in their lifetime.
Visit all the beautiful sights of Casablanca at ease, over the course of an entire week getaway.
Very friendly towards couples (and also singles too, of course), this yoga retreat will offer top-notch classes, organic food, a remarkable location in Casablanca, just 100 meters from the seashore and much more. You'll get to experiment with over 10 different yoga style and also visit the beautiful sights of the city, too.
Beginners and advanced yogis and surfers are all welcome to this outstanding retreat on the shores of Taghazout.
The yoga poses and workshops will prove themselves super useful for holding steady on the surfboard later in the day when the teachers will show you the best surf spots in town.
You'll also get to explore the surroundings and the traditional souks (markets) in the area, for a dose of history and vibrant culture.
The most popular retreat in Morocco for all those looking for relaxation and rejuvenation, this beautiful place has it all.
Relaxing times on the beaches of Agadir, unlimited supplies of water, tea and juices, healthy and delicious 3 meals per day, complimentary massage, sauna and hot tub use and so on.
Basically, if you feel like taking some time off for some well-deserved self-pampering and also see a bit of Morocco at the same time, this 8 days retreat is the perfect opportunity.
Explore the impressive gardens of Marrakesh and get to practice yoga right in those breathtakingly beautiful places. A session of yoga in the garden will reconnect you to both nature and yourself.
Since the yoga retreat is hosted right in the old town (Medina) of Marrakesh, you'll also have plenty of historic and cultural sites to visit. Your only regret will be that the yoga retreat is only 4 days long.
One of the highest-rated retreats in Morocco, this surf-and-yoga vacation is one of the best experiences you can have in North Africa travel.
It will guide you through the best surf spots, stunning landscapes, and sights, while also providing you with all the equipment you need during the retreat. The 3 healthy meals offered daily will also contribute to the feel-good vibes you'll be left with at the end. If it's rejuvenation you crave, this is the ideal trip for you.
Yoga Teacher Trainings in Morocco
Want to also get a yoga teacher certification while you're exploring Morocco? You can do that for opting for these yoga teacher training retreats:
The exotic beaches of Agadir will be your home for 21 days, while you practice yoga at the highest level and learn to become a teacher of yoga for others as well. The courses will focus on Vinyasa Krama (known as the art of progressive sequencing) and on general Hatha yoga and Vinyasa yoga classes.
You'll also learn some more from the spiritual aspects of being a yoga teacher so you can become an inspiration to others in turn. Daily meals, airport transfer, and accommodation are included.
If you don't have time to stay for 20+ days on a yoga retreat, but you'd still like to get something done towards your yoga teacher certification, this shorter course is just the thing for you. In a brief stay of 6 days in beautiful Morocco, you'll earn the 1st level certificate for teaching Ashtanga yoga.
The meals will focus on detox (only halfway through, though, so don't worry if you're not into that). There will be 8 hours of practice and theory daily, as well as a special day dedicated to Reiki energy teaching.
---
Just beginning your practice & looking for ways to stretch out in the golden sands of Morocco? Browse through beginner yoga retreats in Morocco and book your favorite!