Intermediate Yoga Retreats to Take the Next Step in Your Practice
The go-to resource for planning your yoga retreats & holidays. Find all you need to know about destinations and take your practice to the next level.
Discover Yoga Retreats now
So, you've been doing yoga for a while, you've mastered the basic asanas and have even tried a few headstands. Now, it's time to take the next step and develop into an intermediate practitioner.
A nice way to start this adventure is by joining an intermediate yoga retreat where you'll get the proper guidance to become a better yogi. At this level, most of the poses will focus on building a strong connection between breath and movement, improving your strength and flexibility, and you'll learn more aspects of the yoga philosophy off the mat.
Note: BookYogaRetreats offers a flexible cancellation policy. Should you not be able to travel as scheduled, we'd be happy to help you to alter your booking with the same organizer or with a different organizer.
Want to make it even more exciting? Here you'll find five retreats in exotic destinations where you can challenge yourself on an intermediate yoga holiday:
Duration: 6 Days
Price: from US$1,108
Location: Bali
Indonesia is a beautiful land full of incredible scenery, sandy beaches, wonderful mountain ranges and lush vegetation. No wonder why it's one of the world's top yoga destinations.
Bali is the most popular place for yoga in Indonesia, and it's not only the "Island of the Gods" but also home to this yoga holiday at a beautiful yoga Shala located above the Petanu River, in the middle of an untouched rain forest.
Learn more about why Bali is one of the best destinations for yoga.
The program focuses on breathing exercises and meditation to help you realign your body, mind and spirit; that alone will give you more balance to try the more challenging poses. But the instructors will also push you to incorporate a lot more twisting and balancing into your standing poses.
Duration: 8 Days
Price: from US$825
Location: Fuerteventura
Experience a laid-back atmosphere in the second largest of Spain's Canary Islands: Fuerteventura, the place where youth, freedom and pleasure meet. This yoga retreat takes place in the town of Corralejo, the main touristic resort on the island.
The program includes two yoga classes per day, 7 nights of accommodation in a lovely house located just a few blocks away from the beach and the town, plus the flexibility to choose your day of arrival and the length of your stay.
The classes are suitable for beginners and advanced yogis. While the morning classes will help you deepen your knowledge of yoga asana, Pranayama and yoga philosophy, the afternoon classes will be focused on restorative poses, meditation and relaxation techniques.
Duration: 7 Days
Price: from US$915
Location: Iztuzu Beach
Turkey is a geographically peculiar country located on two continents–Europe and Asia. This has created a fascinating mix with cultural connections to the ancient Roman, Greek, Persian, Byzantine and Ottoman empires. It's also known for having a variety of historical sites such as the huge 17th-century Blue Mosque and the circa-1460 Topkapı Palace.
In recent years, Turkey has become a popular destination for health and fitness holidays. This specific retreat is hosted in the Palace Gokbel, a private wellness center with an ancient olive garden, a natural rock pool and stunning panoramic views; just the perfect place to relax, detox your body and mind and strike a few new yoga poses.
Turkey's cosmopolitan background has made it a great destination to make friends from all over the world. With 6 rooms at the palace occupied by fellow yogis, you'll get to meet new people to share your practice with and push each other to improve in leaps and bounds.
Duration: 7 Days
Price: from US$424
Location: Weligama
Sri Lanka is an island nation situated in the Indian Ocean. It offers quite a diverse landscape, from rainforest and arid plains to highlands and sandy beaches. But one thing that any yogi will absolutely love is all the astounding Buddhist ruins dating back more than 2,000 years.
This retreat takes place in a surfer village on the south coast of the country. It's the perfect setting to boost your practice with the personalized guidance of an experienced teacher. The program includes 6 yoga sessions to be chosen from different styles, guided meditation, healthy and delicious vegetarian homemade breakfast and use of the swimming pool.
You'll also have plenty of time to explore the lively fishing town of Weligama, considered one of the most beautiful cities of Sri Lanka, go snorkeling, go on a whale and dolphin watching tour, or try surfing for the first time.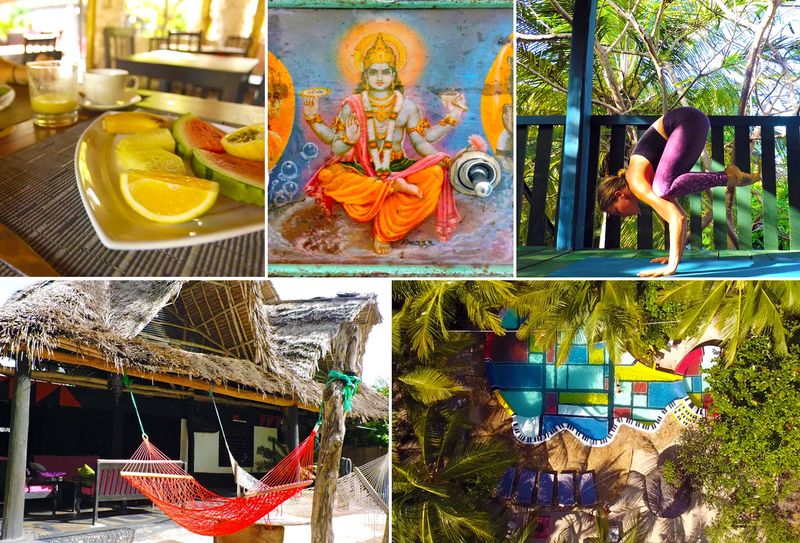 Duration: 8 Days
Price: from US$567
Location: Zanzibar
Tanzania is a country located in East Africa, well-known among safari enthusiasts who want to see elephants, lions, leopards, buffalos, rhinos and much more wildlife in the Serengeti National Park or Ngorongo Crater.
One of the most visited destinations in Tanzania is the island of Zanzibar, renowned for its turquoise beaches, clear warm waters and coral reefs rich in marine diversity. It's also an idyllic place for a yoga holiday.
This retreat takes place on the south-east coast of Zanzibar. During your time here, you'll get the chance to practice a few yoga inversions, like the Plow Pose, Dolphin or even a Handstand. Sounds tough? Fret not! You'll have the help of professional teachers to guide you on this journey.
During your vacation, you'll have plenty of time to travel on the island, go swimming, swing in a hammock, walk into the Jozani tropical forest, visit a spice farm, swim with dolphins, explore Stone Town (UNESCO World Heritage Site) or go snorkeling and diving.
---
Want to take your yoga practice to the next level but you're on a tight budget? Go on an affordable yoga retreat and tune up your practice without breaking the bank!