Rejuvenating Beach Yoga Retreats in the United States
The go-to resource for planning your yoga retreats & holidays. Find all you need to know about destinations and take your practice to the next level.
Discover Yoga Retreats now
Yoga retreats are becoming a popular form of travel. People are often taking breaks from work and go on yoga retreats for their vacation to improve their wellbeing and health. If your idea of being in a state of perfect happiness is doing yoga on the beach or meditation on a hilltop overlooking a lake or ocean, then you'll be thrilled to know that the United States offers plenty of places to do so.
Some of the highlights of the most popular yoga retreats in the USA include Reiki healing, daily yoga classes, SUP yoga, Indian head massage, daily meditation sessions, ecstatic dance, psychic and intuitive readings, along with various yoga styles.
You can enjoy superb beaches and a lovely sea view while practicing meditation solo, as a couple or in a group. You may select to venture off from beaches and embark on nature excursions to waterfalls or garden walks in order to relax your mind completely.
Listed here are some of the many amazing beach yoga retreats in the United States that promise a blissful vacation:
Note: BookYogaRetreats offers a flexible cancellation policy. Should you not be able to travel as scheduled, we'd be happy to help you to alter your booking with the same organizer or with a different organizer.
Skill level: All levels
Availability: All year round
Price: From US$2,100 per person for 3 days/2 nights
Yoga styles: Hatha, Vinyasa
In need of some rest and relaxation? This short yoga retreat may just be THE getaway for you! You'll be treated to daily yoga and meditation sessions as well as daily farm-fresh lunch and dinner.
If you're looking to disconnect from the hustle and bustle of city life, here you'll surely have a relaxing experience while learning how to sail or simply soaking in the breeze of the turquoise waters of the Gulf of Mexico and The Caribbeans. You'll also explore various yoga styles including Hatha and Vinyasa.
After this short yet rejuvenating break, you'll feel relaxed, energized, and fully ready to tackle whatever life brings you.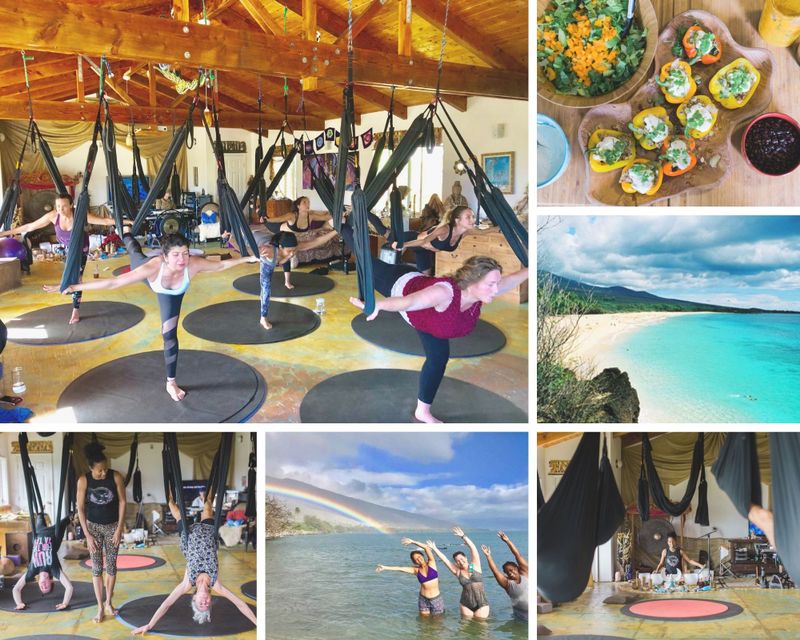 Skill level: All levels
Availability: February, March, April, May, June
Price: From US$5,000 per person for 6 days/5 nights
Yoga styles: Hatha, Kundalini, Aerial
Maui promises to deliver the perfect vacation experience to all travelers. It features a perfect mix of lush green valleys, active volcanoes, gorgeous beaches, historic villages, and adventurous water sports with top-world restaurants.
During this yoga holiday, you'll experience a transformation through the healing power of yoga and sound, which will leave you feeling uplifted and rejuvenated after a few days on the island. Stay in a boutique center in the heart of the lush tropical north shore of Maui, surrounded by waterfalls.
Enjoy daily two-hour yoga classes with live musical accompaniment. The classes begin with a Hatha/Kundalini yoga warm-up to ground, connect with the breath, and open the spine. Then, you move into a gentle therapeutic form of Aerial Yoga. The class ends with a 30 to 45-minute floating sound meditation with the 432 Hz frequencies of the Crystal Singing bowls, chimes, gongs, and soundscapes.
Throughout your stay, your taste buds will be pampered with incredible gourmet plant-based, world fusion, vegetarian meal plans for breakfast and lunch.
Skill level: All levels
Availability: All year round
Price: From US$2,000 per person for 8 days/7 nights
Yoga styles: Hatha
Get away from it all on the gorgeous Maine coastline. The retreat is located in Phippsburg, a rural fishing community that's home to Popham Beach State Park, a well-kept Maine secret, with a lovely uncrowded beach and secluded hiking trails. The stunning surroundings are perfect for getting your creative juices flowing.
Writers, whether experienced or novice, know the importance of finding a quiet, dedicated space to write. This retreat in coastal Maine welcomes you for rejuvenation and focus. It provides everything you need to build your own creative space. Their mindfulness program is perfect for those who are starting a memoir, want to dive deep into a novel, or would simply like to hone their creative energy.
There will be two yoga classes a day, as well as daily guided meditation sessions and pranayama and mindful nourishment lessons.
Each day at 4:00 p.m., you'll gather for Fireside Fika, a meaningful and loving Swedish tradition that literally translates to "coffee and cake", but means so much more. Take this opportunity to read aloud a portion of your work and receive warm, loving feedback for your piece.
You have the opportunity to leave the retreat space each day. Depending on the weather, you can rush down to Popham Beach for a swim, go snowshoeing in the local conservation lands, tour the local farmers' markets and craft fairs, visit a microbrewery, or visit the nearby antique shops.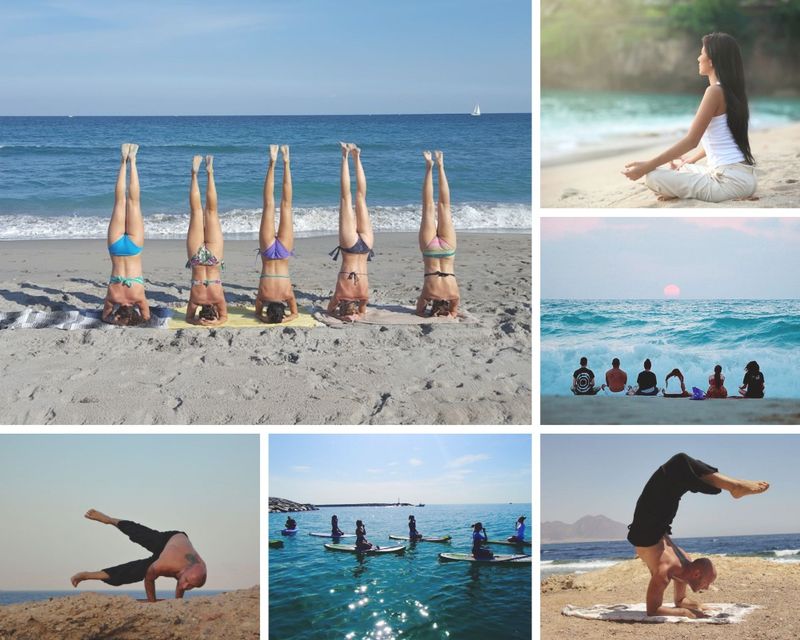 Skill level: All levels
Availability: All year round
Price: From US$1,800 per person for 6 days/5 nights
Yoga styles: Hatha, Sivananda, Vinyasa, Restorative
Zen Den Yoga School and Studio introduce participants to a green nurturing environment that will help practitioners live and breathe the yoga lifestyle.
The school offers pampering yoga retreats, as well as an on-going 200-hour yoga teacher training program and off-site 500-hour training programs. Enjoy complimentary massages and acupuncture sessions and unlimited yoga classes that will introduce you to the practices of Hatha Ananda, Vinyasa, and Restorative yoga styles.
---
Experiment with various yoga styles and find out which one is the best for you on a yoga spiritual retreat!