7 Remarkable Beach Yoga Retreats & Holidays in the United States
We're expert yoga travelers and we love helping you. BookYogaRetreats is the largest yoga travel website with 7566 unique listings in 251 destinations around the world.
Discover Yoga Retreats now
Yoga retreats are becoming a popular form of travel. People are often taking breaks from work and go on yoga retreats for their vacation to improve their wellbeing and health. If your idea of being in a state of perfect happiness is doing yoga on the beach or meditation on a hilltop overlooking a lake or ocean, then you'll be thrilled to know that the United States offers plenty of places to do so.
Some of the highlights of the most popular yoga retreats in the USA include Reiki healing, daily yoga classes, SUP yoga, Indian head massage, daily meditation sessions, ecstatic dance, psychic and intuitive readings, along with various yoga styles.
You can enjoy superb beaches and a lovely sea view while practicing meditation solo, as a couple or in a group over. You may select to venture off from beaches and embark on nature excursions to waterfalls or garden walks in order to relax your mind completely.
Listed here are seven amazing beach yoga retreats in the United States for a blissful vacation: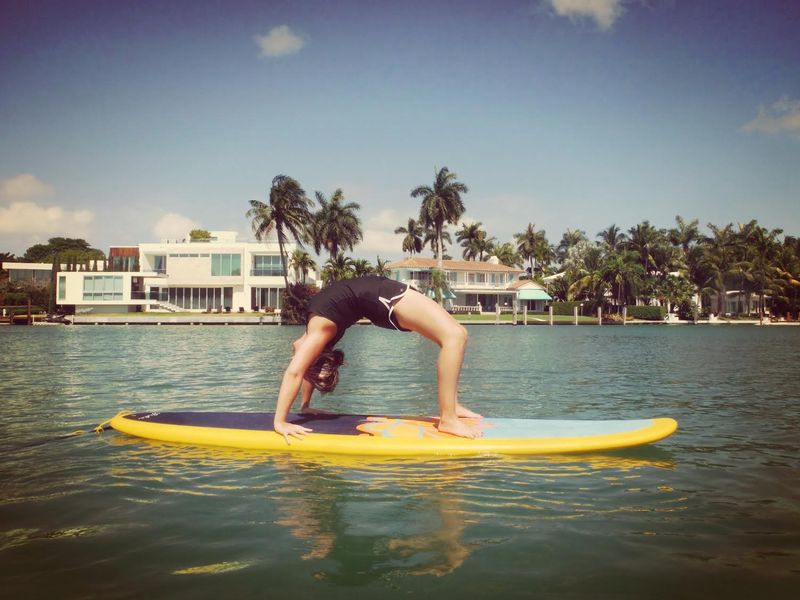 This yoga retreat brings 12 participants together in a group for proper healing and rediscovering themselves. You can step out from the hustle of daily city life and join an epic adventure with Astro Yogini in Florida, highlights including yoga classes, sunset boat ride, a visit to a bird sanctuary, astrology readings, kayaking, snorkeling, stand-up paddle-boarding, and stargazing by the fire. The retreat includes 3-night accommodation and will help you immerse yourself in Hatha Yoga, Vinyasa Yoga, and Yin Yoga styles.
Participants in this group of six can immerse themselves in a tropical rejuvenation retreat in the northern shore of Maui, Hawaii. You will be introduced to three different styles: Hatha Yoga, Kundalini Yoga, and Aerial Yoga. Your schedule will include daily yoga sessions, Sound Healing Ceremony, one voice or piano lesson, one two-hour recording session, as well as one transformational healing session.
A group of maximum 10 participants will relax and treat themselves to a luxury Zen farms boutique of California as they enjoy the lovely nature and cool air. You will experience meditation sessions, 90-minutes morning and evening yoga practices, get familiar with a real farm lifestyle, nurture practice with a full focus on the connection of movements, making you energized from within.
This yoga holiday is appropriate for all levels of participants who wish to have a great weekend in Santa Fe's Four Seasons Resort Rancho Encantado. With three night's accommodation, one can practice Kripalu and Vinyasa yoga and enjoy meditation session and workshops with Stacy and Amy.
Tourists coming to visit Colorado can join in for an amazing couple massage and yoga in a sound and friendly environment. They can also experience movement meditation, couples' deeper relationship therapies, and yoga styles like Vinyasa Yoga, Restorative Yoga, Acro Yoga, Laughter Yoga, Nidra Yoga, and Partner Yoga.
Two and a half hours from Ann Arbor, people can take pleasure in the serene atmosphere of Lake Michigan Beach by engaging in yoga and meditation sessions, spiritual discussions, guided deep relaxation, Asana and pranayama sessions, Nidra Yoga style, and peaceful nature walks.
Zen Den Yoga School and Studio introduces participants to a green nurturing environment that will help them experience the yoga lifestyle. The school offers pampering yoga retreats, as well as an on-going 200-hour yoga teacher training program and off-site 500-hour training programs. Enjoy complimentary massages and acupuncture sessions, and unlimited yoga classes that will introduce you to the Hatha Yoga, Ananda, Vinyasa, and Restorative Yoga styles.
---
Ryan is a guest author from Couponobox.com.
Experiment with various yoga styles and find out which one is the best for you on a yoga spiritual retreat!