The Ultimate Guide to Greece's Best Yoga Destinations
The go-to resource for planning your yoga retreats & holidays. Find all you need to know about destinations and take your practice to the next level.
Discover Yoga Retreats now
Greece is one of the most popular European destinations for all travelers, but it's particularly an exceptional landmark for yogis looking for unique experiences.
The numbers for tourism in Greece skyrocketed in the past few years¹ and they don't seem to slow down anytime soon. From the gorgeous coastlines and charming islands by the sea to mountain regions and cities full of culture, the country seems to have it all. Add the world-renowned food to the mix and it becomes obvious why everyone flocks to this beautiful destination.
A yoga retreat in Greece is an excellent opportunity to immerse in its vast history, admire the ancient architecture all over the country, taste its delicious cuisine and practice yoga on a warm sunny beach.
Greece at a Glance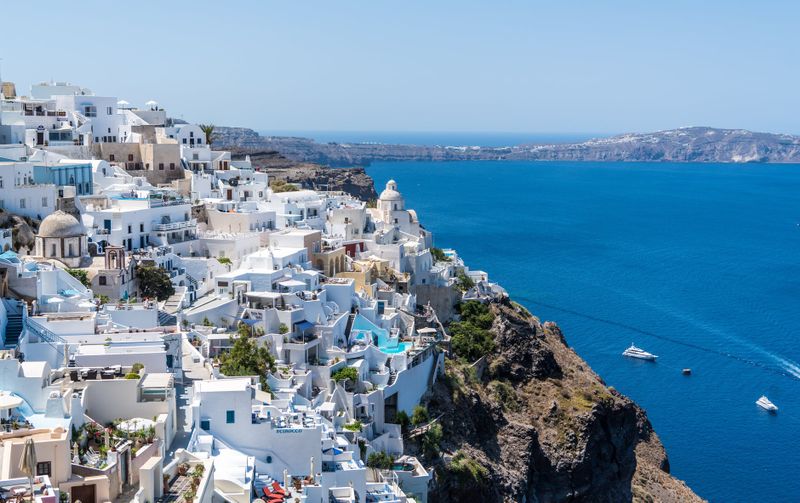 Also dubbed the cradle of European civilization and the birthplace of democracy, Greece is first and foremost about culture and mythology. Much of the beliefs and stories that shaped the entire European civilization come from Greece, not to mention the philosophy that shaped current political thought and logic or debate traditions. But none of these matter in comparison to the lush Greek vegetation and charming views under the open sky!
Much like Italy, this Mediterranean gem of a country is remarkable especially through the wealth and diversity of its geography. If you are a mountain person you can find plenty of hiking trails and incredible views to explore the heights of Greece. If you're more of a seaside person, the fine sands and clear azure waters of Greece's beaches will make you never want to leave.
Greece and Yoga
Greece was always an important center of spirituality ever since ancient times, with a huge tradition of offering people the tools to find themselves, from oracles to temples and beyond. Considering also the natural beauty and gentle climate of Greek islands, it's no wonder that Greece became such a popular yoga destination in modern days.
Here is the surprise, though: Greece didn't start being a yoga destination only recently, with the worldwide popularity and revival of yoga. There is evidence that ancient Greece practiced various forms of meditation extremely similar to the guided mindfulness practices of today. The official name for this spiritual practice was henosis, meaning 'one-pointed awareness', from heno, which means 'one'. Considering also this rich tradition, it's even more obvious that the grounds of Greece are the perfect place for practicing yoga.
So, whether you want to discover this mystical country, truly deepen your practice or just have a relaxing time, here are the best places for yoga holidays in Greece!
Best Time to Visit
In general, the best time to visit Greece is in spring and early summer, when it isn't too hot yet. May is by far the most popular month for a yoga retreat, followed by June. While July and August could work, the temperatures could get a bit too high for a pleasant yoga session. The autumn is a good alternative if you want to avoid the crowds.
Top Destinations for a Yoga Retreat in Greece
Santorini is such a beautiful place that many couples choose it as their honeymoon destination. As a yoga destination, Santorini can be even more magical. It consists of an entire group of islands with rugged coastlines, overlooking an underwater volcanic crater that shaped their unique beauty. The whitewashed houses of the fishing villages that are ending abruptly over the high coastlines make Santorini unforgettable as well.
Being the most popular place for a yoga retreat in Greece, it's recommended to book well in advance and start searching for flights at least 3-4 months before your trip.
The mythical birthplace of the minotaur and home to the ancient labyrinth, Crete is an important archeological site of the world, but there is so much more to see beyond that, too. The coastline of the island is littered with some of the finest beaches in the region (sands as smooth as silk), while the inland offers the White Mountains, perfect for light hikes or mountain bikes.
Sailing is also a popular past-time of those who vacation in Crete, so besides the yoga activities you sign up for, you'll definitely have enough exciting things to do.
One of the most popular Greek islands, and a more affordable alternative to Santorini, Kos is a remarkable destination perfect for some yoga by the sea. Beaches rich in fine sands and bursting with interesting ancient ruins to visit, Kos feels like a paradise. If you enjoy a walk in the Mediterranean shore while also being able to admire well-preserved ancient Roman and Greek sites, Kos is the ideal destination for you.
If you're not that interested in history, though, no need to worry. The natural beauty of Kos makes it a charming vacation destination besides all the man-made sites you can visit.
The beautiful little island of Paros is not only the perfect place to relax and enjoy fresh seafood deliciously cooked; it's also home to several yoga schools offering dream-like yoga retreats to help you reconnect with yourself. The island is full of beaches and traditional fishing villages waiting to be explored in between yoga sessions. Even better, it's a hub for exploring the Cyclades region as well, a group of islands that are a huge tourist attraction.
One of the most famous summer resorts in Greece, the island of Zakynthos is also home to a large yoga community. There are several yoga schools that offer the ideal place to practice yoga away from home and rediscover your joy of life in one of the most beautiful places on Earth. The most famous beaches of this charming island (Tsilivi, Agios Nikolaos or Alykanas) also offer a rich diversity of water sports to try.
Yoga Holidays in Greece We Recommend
If you are usually torn between a yoga-themed vacation and a pampering getaway filled with visits to the spa, this retreat in Kos is perfect for you. The vacation package has it all, from a trip to the historical thermal baths to daily yoga and meditation sessions and a mindful focus on wellness. After taking this rejuvenating yoga vacation in Kos, you will feel not only more relaxed but also more experienced in creating the same kind of wellness practice at home.
Swim at unspoiled beaches, taste traditional local cuisine, and practice yoga every day on a different island.
During this yoga holiday, you'll visit up to 4 Greek islands from the Cyclades or the Saronic Islands, depending on the weather conditions. There will be 6 days of sailing in total, free use of SUP board, sea scooter, and kayak.
Before departure, everyone will hit the supermarket to buy the food for breakfast and lunch. When in ports, dinner will be at the local tavernas.
There'll be free time to enjoy visiting the main town (Chora) on the islands, swim at the beaches, or have a bath in thermal waters.
This gentle yoga retreat focuses on Nidra yoga and meditation practices, making it ideal for relaxation and finding yourself. Suitable for all levels of yoga practitioners, it's really more of an opportunity to unwind and take a mental break from everything while exploring the natural beauty of everything around. There is also some alone time in the daily schedule, perfect for visiting the island's attractions or for further rest.