Adventure and Spirituality: Yoga & Hiking Holidays in Nepal
The go-to resource for planning your yoga retreats & holidays. Find all you need to know about destinations and take your practice to the next level.
Discover Yoga Retreats now
Nepal is a land full of heritage sites, golden temples, fascinating rituals and jungle wildlife. Well-known for its spiritual feel, this is a place where every step you take leads you to a state of grace.
Nepal is known as "the roof of the world" as it is home to the Himalayan ranges and the highest peak on Earth: Mount Everest. Can you imagine a better destination to do yoga outdoors, breathing clean air and contemplating the Nepali magnificent landscapes?
This makes for a perfect location to go trekking in the mountains and add some adventure to your next vacation. That's why a yoga and hiking retreat in Nepal is the best way to embrace its mystical atmosphere.
Benefits of combining yoga with hiking
Yoga and hiking go so well together just like honey and lemon! They both benefit a lot from each other. Just like yoga isn't about performing the toughest asana, but about learning to let go, hiking is not about getting to the top of the mountain, but about enjoying every step on your way up.
Perhaps you think that, as a yogi, you don't have what it takes to go on a long hike, but you'll be surprised by how much your practice on the mat has been preparing you for it. Since yoga teaches you breathing techniques, provides you with a good balance and helps you be more aware of your body, you're more than ready to start hiking!
Plus, most yoga and hiking retreats are designed for beginners. This means that the organizer will make sure you can hike at your own pace while enjoying the fascinating views, clear rivers and lush vegetation of Nepal.
In return, you'll get many benefits for your yoga practice, because hiking improves the cardiovascular system, strengthens your muscles, reduces stress and helps you to live in the moment. After all, yogis and hikers share a similar lifestyle!
Check out this guide to yoga retreats in Nepal to get a better understanding of what makes this country so special for yoga.
History of yoga in Nepal
It's said that it all started here when Gautama Buddha –the founder of Buddhism– was born in Lumbini, in southern Nepal. Since then, yogis and Rishis have meditated and practiced yoga in this peaceful territory. Yogis of India used to come to Nepal to fill themselves with powerful spiritual energies.
The legendary author of the Mahabharata, Vedas and Puranas, Vyas Rishi, was born in Nepal.
Although Indian yogis where the ones who spread yoga and meditation to the world, it's said that Tantra, Yoga and Meditation actually have its origins in Nepal.
Therefore, yoga is a deep-rooted practice in this country, and it's considered an important part of their culture. Since Sanskrit was the language used in the ancient Himalayas, Nepalis even use some yoga words in their daily conversations. All of it combined with the perfect blend of Hindu and Buddhist philosophies, there's no place in the world with a more authentic yogic atmosphere.
Want to know why Nepal is considered the ultimate yoga destination? Read this interview with Yogi Panchavedi.
Nepal Himalayas quick facts
The Himalayan territory of Nepal is known as the home of the Himavat, father of goddesses Parvati and Ganga. It has eight of the world's ten tallest mountains and more than 200 mountains that are over 6,000-meter high (20,000 ft).
The name Himalaya comes from the Sanskrit Himālaya (abode of the snow). Therefore, many people associate the Himalayas with cold and snow. However, these ranges actually have a diverse ecosystem with different forest types; from subtropical pine forests, to subtropical broadleaf forests and subalpine conifer forests.
Also, the Himalayas is one of the purest and unspoiled regions on Earth, making it the perfect place to find peace and serenity. Here you'll have astonishing locations to do your asanas, fresh air for your Pranayama and plenty of hiking and yoga retreats that will bring another dimension to your practice.
Hiking and yoga retreats in Nepal
Are you ready to have the experience of a lifetime? To encourage you to embark on this adventure, here's some inspiration from Dr. Seuss: "You're off to great places, today is your day. Your mountain is waiting, so get on your way."
Convinced? Here are a few recommendations for your next yoga and hiking vacation in Nepal.
Note: BookYogaRetreats offers a flexible cancellation policy. Should you not be able to travel as scheduled, we'd be happy to help you alter your booking with the same organizer or with a different organizer.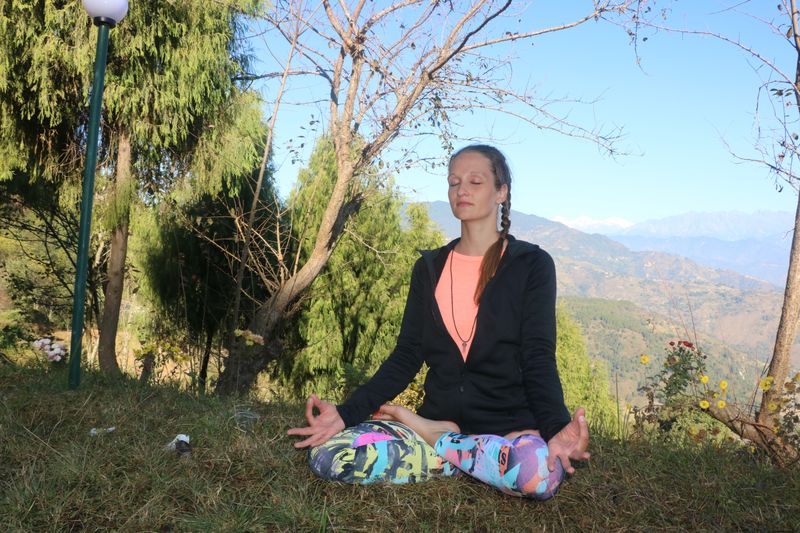 Image credit: Nepal Yoga Academy & Retreat
Duration: 4 Days
Cost: from US$135
Location: Kathmandu Valley
Located in Kathmandu Valley, surrounded by authentic temples, wildlife and natural beauty, on this retreat you'll have access to daily yoga classes, breathing and meditation sessions tailored especially for you, healthy vegetarian meals and unlimited herbal teas.
No to mention that you can pamper yourself with an Ayurveda oil massage, enjoy the Ayurveda sauna and explore the authentic Nepali culture during the hiking excursions to local ancient temples.
Image credit: Himalayan Yoga Academy
Duration: 10 Days
Cost: from US$970
Location: Nagarjun
If you aim to have a real trekking adventure, then this yoga and hiking retreat will suit you well. During your time here you'll be provided with yoga and meditation classes, transportation and meals. Prepare yourself because you'll be very active, traveling around the country to do some hiking. You start with a scenic drive to Pokhara, passing through beautiful Nepali towns.
On the next day, you'll trek to Tikhedhunga, to get some glimpses of the Himalayan peaks. You'll spend the rest of the day enjoying the mountain and the local villages. Next morning, you'll continue trekking through villages and forests until you reach Ghorepani, here you'll be amazed at the magnificent close-up views of the Himalaya.
But the best part is yet to come, wait until you see the spectacular sunrise and the views of 10 different peaks when you hike to Poon Hill. On the following day, get ready to relax with a refreshing natural hot spring bath.
During the last days, you'll also have time to explore Pokhara, engage in adventure activities like paragliding, ultralight flight and zip flyer. Or just unwind with a massage or spa treatment (any of these with an extra cost).
Image credit: Trekking Planner
Duration: 15 Days
Cost: from US$1,499
Location: Bagmati Zone
Trekking through the Himalaya is a spiritual experience that any yogi is invited to have at least once in their lifetime. So, here's another option for your adventurous yogic spirit, a real chance to take hiking to the next level. Just to give you a glimpse, on the eleventh day of this retreat you'll trek to Pheriche, situated at an altitude of 4,280 meters (14,042 feet).
But don't worry, the itinerary also includes entire days of rest, every-morning yoga sessions and daily delicious healthy meals. Besides, the routes are filled with exciting things to see, like the trek to Phakidng, that goes through the route used by some communities to trade with Tibet or the exciting experience of crossing a suspension bridge.
The trekking routes of this retreat are ideal for photographers. You'll get great views of Mount Pumori, Lhotse, Nuptse and Changtse Peaks, the majestic Khumbu Glacier and the Southeast face of Everest.