7 Magical Yoga Festivals to Celebrate This Summer
The go-to resource for planning your yoga retreats & holidays. Find all you need to know about destinations and take your practice to the next level.
Discover Yoga Retreats now
The summer solstice does not only mark the start of the new season, but it has also been adopted as one of the main celebrations in the yoga community: The International Day of Yoga. As 2019 is the fifth year that we commemorate this important date, we think that a yoga festival is a perfect idea to celebrate the occasion.
At yoga festivals, you can join an amazing group of people, make new friends, and have a great time with music, food, dance, meditation, workshops, lectures and all sorts of yoga sessions guided by the most qualified instructors in the world.
No matter where we are all located in the world, this summer, let's delight our mind and body with a fun atmosphere and throwing a big party for yoga in honor of International Yoga Day!
Note: BookYogaRetreats offers a flexible cancellation policy. Should you not be able to travel as scheduled, we'd be happy to help you to alter your booking with the same organizer or with a different organizer.
Here is a compilation of some of the best yoga festivals for you to rejoice in the high spirits of the season:
Om and bass is probably going to be the most fun event of the summer. The organizers bring together all holistic therapies, meant to recharge your energy centers and chakras through relaxation and emotion.
You will be able to enjoy live music, dancing, art therapy, contact impro, Hatha yoga, kirtan, martial arts workshops as well as quiet outdoor lounges for relaxing and talking with your friends.
Date: July 26 – 28
Location: Oxfordshire, Oxford, United Kingdom.
Activities: relaxing meditation sessions, shamanistic meditations, healing and wellness yoga practice, aerial yoga with Boban Krstic, and a Cacao Ceremony with a live band.
Accommodation: For your 2 nights, you'll get to experience what it's like to camp out on a glamping tent!
Price: From US$325 (per person) for a shared glamping tent.
International Yoga Day in India
Image credit: Yogadaycelebration.com
Since its inception in 2015, International Yoga Day (also referred simply as 'Yoga Day'), is now celebrated in many countries across the globe. That said, nothing quite rivals paying homage to yoga where it all began – India!
During the first celebration, the main event was held in New Delhi, where a world-record setting number of people 35,985 people from 84 countries practiced yoga simultaneously in one place.
Fast forward to today, there are an abundance yoga focused events held across India in celebration of Yoga Day – particularly in its major cities like Mumbai and New Delhi as well as cities renowned as India's top destinations for yoga such as Rishikesh, Goa, and Kerala.
One of the most ideal ways to partake is to sign up for a yoga retreat in India during the 3rd week of June where you will not only enjoy the festivities of the celebration but also prolong this amazing experience in some of India's top yoga retreats and ashrams.
Image credit: Sun Sun Love
Why not celebrate summer solstice 2019 in the breathtaking region of Catalonia Spain? Meet and mingle with other yoga lovers from across Europe and beyond as you practice different styles of yoga (Hatha, Kundalini, Acro yoga and much more) to raise positive energy and loving vibes during this special cycle of the sun.
During the 5 days of Sun Sun Love Yoga Solstice Fest, you will be treated to various workshops and masterclasses that are bound to nourish your body, mind, and soul. Learn how to sustain this feeling and experience well after the festival ended through the guidance of renowned yoga teachers.
Date: June 20 – 24
Location: Masgras, Callús, Spain.
Activities: Daily yoga sessions & related masterclasses, meditation, gong baths, Cacao Ceremony by AMAYAMA, Kirta and live music performances every night.
Accommodation: You have the option to stay at a private tent or a house with quadruple shared rooms.
Price: US$247 for a private tent or US$472 (per person) for the quadruple shared room.
Wanderlust 108 in Boston, USA
Image credit: Wanderlust.com
This festival brings together a remarkable group of yoga and meditation instructors, musical performers, speakers, and artists for a unique experience to get into your mind, body, and soul. And being part of the Wanderlust festivals, it guarantees to fulfill all expectations.
If you won't be anywhere near Boston in August, no need to fret – there are plenty of Wanderlust: 108 Festival tours happening all over the world later this year. Take it for me, I had gone to Wanderlust 108 in Guadalajara in 2017 and I believe you'll have as much as an awesome time as I did.
Date: August 17 – 18
Location: DCR Hatch Memorial Shell.
Activities: At 'The world's only mindful triathlon', you can partake in the 5K run/walk, a DJ powered yoga class and a guided meditation session. Here, you can also treat yourself to a session of hooping, acro yoga, a tarot card reading as well as delve into all you need to know about outdoor adventures with Brogan Graham.
Throughout Saturday & Sunday, DJ Seriousblack will be keeping everyone pumped and inspired with her eclectic beats.
Accommodation: As the festival only runs from 7:30 AM to 3:30 PM for both days, accommodation is not included in the festival package. That said, Boston offers an abundance of accommodation options – from five-star hotels to affordable hostels.
Price: From US$ 26.08 for a day pass.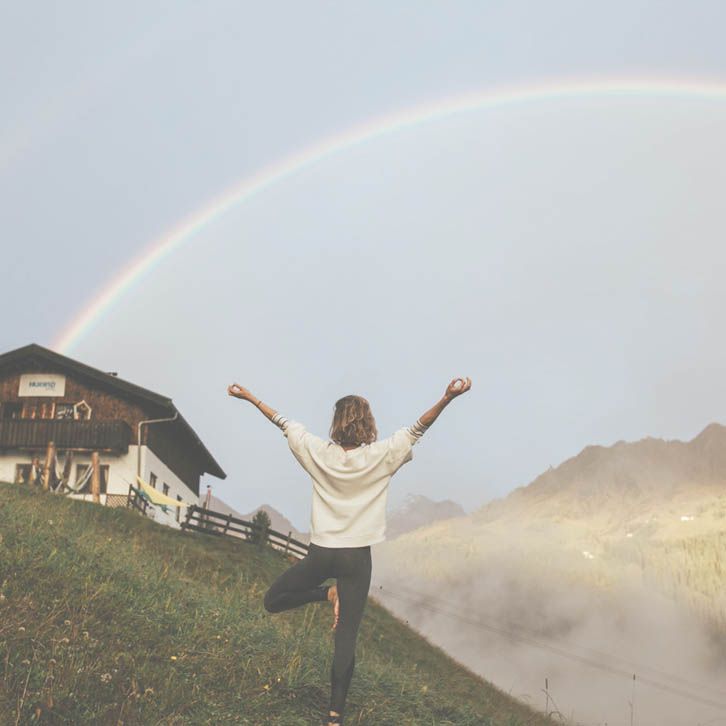 Image credit: Mountainchill
Tired from the hustle & bustle of cosmopolitan life? The Mountainchill Festival may just be the antidote you've been searching for. The name of the festival pretty much speaks for itself!
Amidst the Tyrolean mountains in Austria, you'll find yourself in a secluded yet comforting Bluebird Mountain Lodges & Adventures where this unique and 'chill' festival is being held.
During the 5 days, you can expect stress & worry melt away as you immerse yourself in yoga, meditation, qi gong & Tai Chi and many more worthwhile activities that promise to deliver an unforgettable experience. Note that since accommodation at the lodge is limited (Only 24 beds), if you're interested in attending this festival, you should book your spot as soon as possible before it sells out!
Date: June 12 – 16
Location: The Bluebird Mountain Lodges & Adventures in Tyrolean Mountains, Austria.
Activities: Aside from yoga & meditation, there will be Qigong & Tai Chi sessions, creative workshops, hiking, sauna, live music, and much more!
Accommodation: Available lodging options include shared dorm rooms, triple and quadruple shared rooms.
Price: US$467 (per person) for a shared dorm room, US$482 (per person) for a shared triple or quadruple room.
Telluride Yoga Festival in Colorado, USA
The Telluride Festival is an event that attracts over 600 visitors every year and more than 50 presenters. It is an intimate and inspiring experience with plenty of activities, such as SUP yoga, hiking, meditation, and music.
Date: June 27 – 30
Location: Telluride and Mountain Village, Colorado, USA. The venue is nested at the end of a lush canyon surrounded by Colorado's most rugged peaks, where the view is just astounding.
Activities: Yoga and meditation sessions all day long, from 7 a.m. until night. All the classes are guided by an impressive lineup of teachers. The schedule also includes workshops and activities like Aerial Yoga, biking, daily hikes, slackline yoga, running, Kombucha making, vegetable juicing, arnica farming and more.
Accommodation: There are several hotels available both in Telluride and in the Town of Mountain Village.
Price: Passes start at US$126.99 (inclusive of fees).
Already in its 4th edition, the Agni Spirit Festival is a co-creative gathering of yoga, music, dance, and art. Imagine partaking in daily yoga sessions (along with other workshops) surrounded by nature and a picturesque lake. Meet likeminded minds from all over the globe and share your yoga experiences as you learn from each other as well as inspiring yoga teachers throughout the duration of the festival.
If going through a relaxing and peaceful yet transformative experience is how you'd like to celebrate the International Yoga Day, you need not look elsewhere! Be sure to book yourself a spot soon and let the magic begins!
Date: June 21 – 24
Location: Huesca, Spain (Located between Aragón & Catalonia)
Activities: Daily Hatha yoga sessions, dance, art, and fire ceremonies with the group. Throughout the festival, you'll also be treated to the world-famous Catalonian dishes such as paella and many more delicacies too scrumptious to pass up!
Accommodation: Only private tents are available.
Price: US$191 (per person).
---
Want to kickstart your summer with a yoga retreat instead? Head on over to BookYogaRetreats.com where you can find & book from thousands of great options!