Plus-Sized Spirituality (How Yoga Retreats Are for ALL Women)
The go-to resource for planning your yoga retreats & holidays. Find all you need to know about destinations and take your practice to the next level.
Discover Yoga Retreats now
Living in Ubud, Bali for six years I've learned a lot, seen a lot, and experienced a lot. I've been to yoga classes, gatherings, cacao ceremonies, women's circles, meditations, and festivals.
I've bathed in water temples, howled under the full moon, and lead game-changing women's yoga retreats where we rewrite our stories, learn ancient feminine self-care, set intentions, and level up in big ways. I've done a few things, created a few things, and I am quite a few things.
Being thin isn't one of them!
My body is AMAZING!
Photo credit: Norma Jean Belenky
That's right, AMAZING in all caps. I can walk, run, swim, dance, make love, sing, eat food, sweat, shimmy, shake, and even do yoga with this body of mine.
---
Do you want to feel amazing in your own body? Go on an empowering yoga retreat for women and transform your life!
---
It took me quite a while to fall in love with my body and all that it can do. After years of self-hatred, starvation, and juice fasts, I finally reached a place of love, an infinite love that says, "I'm here. I'm showing up. I'm perfect exactly how I am."
And let me tell you that, when you're physically the biggest woman in a yoga class who's here to do big things in an industry of "health elitism", people notice when you show up.
With that awareness can sometimes come judgments. Judgments that I don't value myself, judgments that I don't value my body and, my personal favorite, judgments that I'm not a spiritual person.
Photo credit: Norma Jean Belenky
And I'm not alone.
There are so many women who reach out to me on social media who don't feel like they have every right to be in a yoga class, to connect to that sacred part of themselves, to embrace their bodies, and to connect with, move and celebrate their bodies, because of how they look.
---
Do yoga for YOU. Find the teachers, practices, and retreats that lead you to that place of connecting to something within you (not discovering someone else's truth.)
---
And that leads me to the question: When did we decide that how flexible we are, or how we look in yoga pants on Instagram, is the measure of how connected we are to our bodies?
Instead of striving for the most extreme or coolest looking asana (yoga posture) what about the connection between our bodies and our breath?
The literal interpretation of yoga means "union". And, the union between my mind, body, spirit, and breath has nothing to do with the size of ANY part of my body. Well, maybe my lungs, but my lungs fit into a sports bra and yoga pants just fine, thankyouverymuch.
As women, we're subconsciously taught that our value to society, our partners, and each other depends on how we look. How young we look to others and by proxy how sexually attractive we are to others with little regard for how we actually feel.
Spirituality and yoga aren't about how things look. They're about how things feel.
Photo credit: Norma Jean Belenky
I'm here to ask you, how do you actually feel in your body?
How your body looks is no one's business but yours. How your body feels and how you feel in your body is of vital importance.
How does it feel when you've shared your truth and feel heard? How does it feel when you breathe into tight corners of your body you forgot about? How does it feel to connect to your higher self?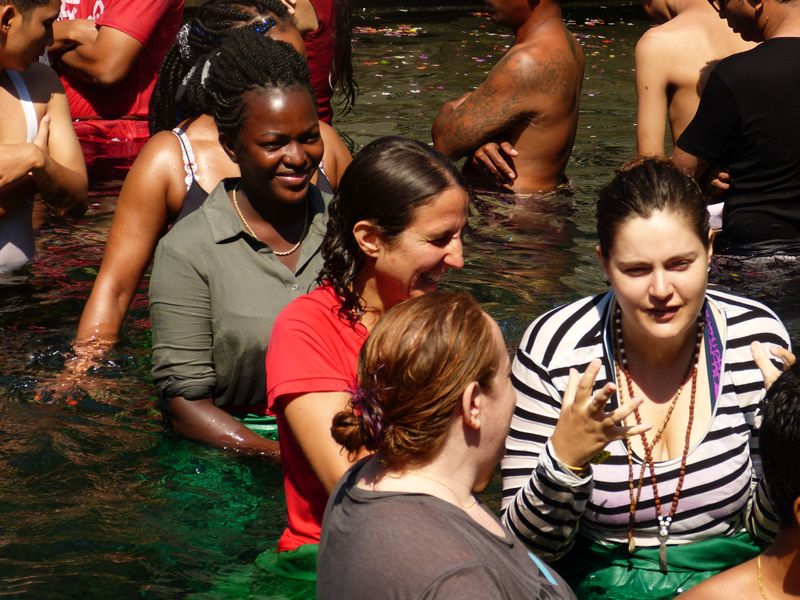 Photo credit: Norma Jean Belenky
There's no one-size-fits-all for creativity, for connection, and for being a woman.
There's also no one-size-fits-all yoga. Trying to do someone else's yoga or practice as if you're in someone else's body will never lead you to a connection.
Seek the space where your body, your spirit, and your story feel included.
Yoga retreats are for all women, of all colors, of all sizes, and of all backgrounds. And I want you to find yours, because it's life-changing.
---
Join a life coaching yoga retreat which features daily yoga and meditation, sound healing and breathwork sessions, as well as many other empowering workshops that will lead the way to self-love and to living the life you want.