Which Spanish Island to Choose for a Yoga Retreat?
The go-to resource for planning your yoga retreats & holidays. Find all you need to know about destinations and take your practice to the next level.
Discover Yoga Retreats now
The Spanish islands are among the most enchanting destinations in Europe. The perfect weather year-round, pristine beaches and a lively atmosphere, attract all kinds of travelers – and especially yogis.
There are eleven main islands, grouped into two archipelagos: the Balearic Islands and the Canary Islands. Each of these groups has its unique features, from the scenic coastline of the Balearics to the volcanic origins of the Canaries. Here's what each archipelago has to offer for your next yoga retreat in Spain.
Image credit: Center for Yoga, Meditation and Inner Awareness
Located in the middle of the Mediterranean Sea, with a population of over a million and a very pleasant climate, the Balearics are mostly known for one of the most popular islands in the world: Ibiza, the international party destination.
Along with Mallorca, Menorca, and Formentera, it's one of the four major islands of the archipelago. The main languages are Spanish and Catalan, but since millions of travelers from all around the world visit every year, it shouldn't be a problem if you don't speak these languages.
Although each island has its own tourist activities, the general attractions that you don't want to miss are the Palma Aquarium, the amusement park Aqualand El Arenal, the majestic Catedral de Santa María de Mallorca, the gothic Castell de Bellver and the Royal Palace of La Almudaina.
Lastly, when it comes to food, you'll be delighted by the islands' Mediterranean cuisine that includes pastry, cheese, wine, pork and seafood. All in all, the Balearics offer a perfect combination for a yoga holiday.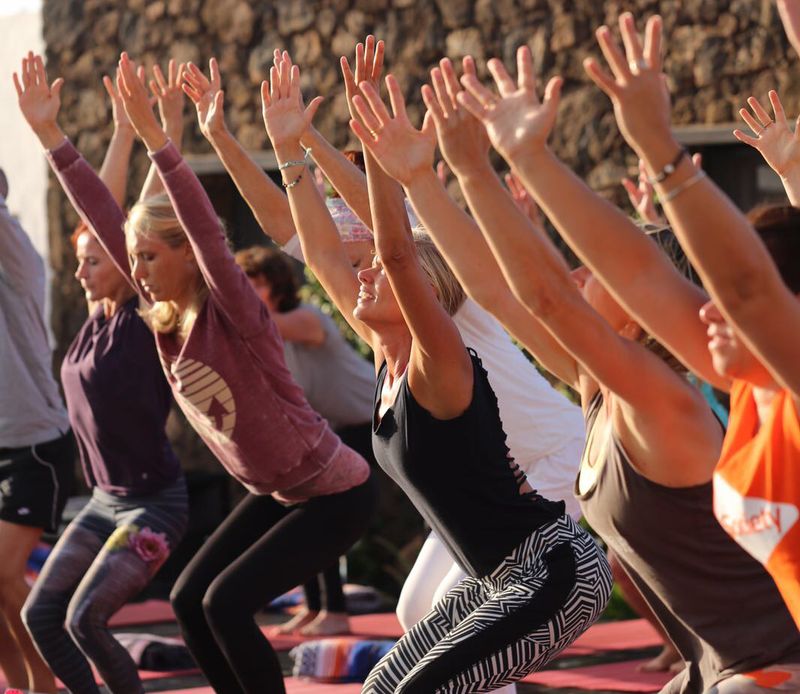 Image credit: Azulfit Yoga & Pilates Retreat
Located in the Atlantic Ocean, geographically part of Africa and politically part of Europe, the Canary Islands are unlike any other place on the planet. Their beautiful black and white sandy beaches offer stunning sceneries everywhere. No wonder movies like Solo: A Star Wars Story, Rambo V: Last Blood and Fast & Furious 6 have been filmed in these astonishing landscapes.
The archipelago has seven main islands: Tenerife, Fuerteventura, Gran Canaria, Lanzarote, La Palma, La Gomera y El Hierro and many other islets. A fun fact about this place is that people tend to assume that it's named after the colorful little bird, but it is actually baptized after the Latin word "canaria", which means dog.
In the Canaries, there are three World Heritage Sites open to the public, namely: San Cristóbal de La Laguna, Teide National Park and Garajonay National Park.
Want to know more about this great location? Read the Guide to Yoga Retreats in the Canary Islands
Now let's narrow the options to five, so you can decide which island makes the perfect spot for your next Spanish yoga vacation.
The 5 best islands for a yoga retreat in Spain
The most popular islands for yoga retreats in the Balearic archipelago are Ibiza and Mallorca. While in the Canary archipelago, Tenerife, Lanzarote and Gran Canaria are the preferred ones among yogis. Each island has its own personality, and you'll surely find one that offers exactly what you're looking for in your yoga retreat.
Image credit: Rise & Shine Yoga​
Known for its lively nightlife and thrilling parties, Ibiza is by far the most popular Spanish island. But besides the laughter, DJ's and lights, it also has beautiful beaches, golden and white shores, rocky coastlines and great locations for a relaxing yoga retreat.
Also known as the White Isle, each area in Ibiza has its own charm. For instance, the south is famed for its vibrant lifestyle, chic clubs, stylish resorts and parties every single night. With bars, boutiques, restaurants and parades, you'll find tons of things to do. Here you'll also find its cosmopolitan capital, Ibiza Town, along with the famous Playa D'en Bossa, the longest beach and party hub of the island.
On the other hand, the west coast has a more relaxed atmosphere with sandy beaches, crystal clear water and a picture-perfect setting that make it a terrific place for a yoga break.
Did you know that an opacarophile is a lover of sunsets? Well, if you consider yourself one, you'll get to witness the most beautiful twilights in this area of the island.
The north of the island is more chilled, certainly a good choice for yoga practitioners. This area is a mix of artists, hipsters, bohemians, health enthusiasts and digital nomads. Here, you also have the opportunity to explore its secluded beaches, the hippy market of Las Dalias or the cave of San Marça, an ancient treasure that's over 100,000 years old.
Last but not least, the east side of Ibiza has anything you can think of for a luxury yoga vacation. There are five-star resorts, upmarket restaurants, art galleries, lavish yachts and spas.
There's still so much to say about this great island. So, if you're interested in booking a retreat, this Guide to Yoga Retreats in Ibiza will help you to make the best choice!
Image credit: Parampara Yoga
Mallorca is the largest island in the Balearic Archipelago. It is known for its quiet beaches, scenic coastline and fantastic mountains along the Serra de Tramuntana, which has been declared a UNESCO World Heritage due to its distinctive small towns and hidden ancient monasteries.
There are plenty of things that will make you fall in love with Mallorca. Its wonderful views, its epic routes for hiking, its remarkable villages, its exquisite wine, its Gothic cathedral in Palma, the capital city and its biking trails. Or if you prefer, you can relax at a beach resort and just enjoy yourself while practicing your asanas.
Image credit: Gayatri Yoga​
Tenerife is the largest of the Canary Islands. Here you can visit the Teide National Park, a UNESCO World Heritage Site that was the most visited national park in Europe in 2015. With its own astronomical observatory and the highest mountain in Spain, El Teide, it has also been declared as one of the 12 Treasures of Spain – can you think of a better place for yoga?
Short yoga breaks, luxury holidays and several budget retreats are held in Tenerife. And if you want to add some adrenaline to your trip, there's a wide variety of exciting activities you can enjoy, from outstanding diving sites, surfing, parasailing and jet-skiing to hiking tours to the top of Spain's highest peak.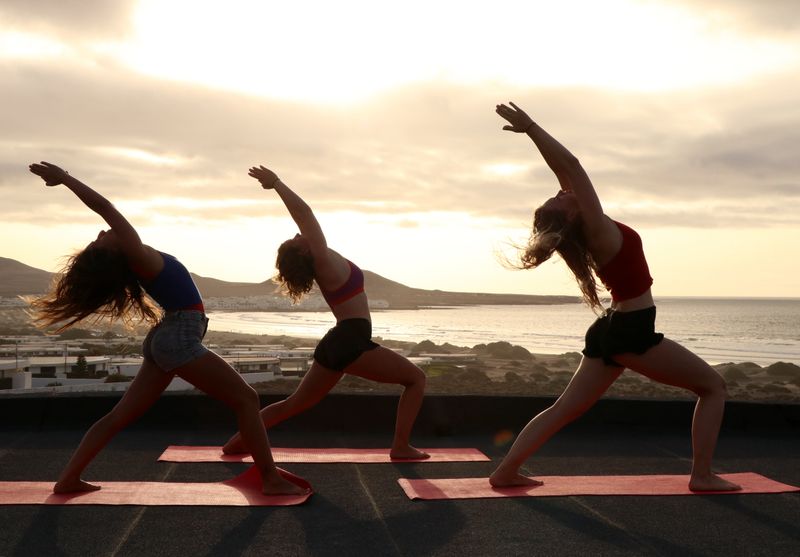 Image credit: Lanzasurf​
Lanzarote is well-known for its unique scenery of black fields of lava and ashes, a blend of yellow and red rocks and all kinds of exotic beaches. Playa Blanca, which is the most popular among tourists, is an absolute must if you come to this island.
But if you'd rather walk around the volcanoes, there are several hiking and yoga retreats where you can visit the Timanfaya National Park, a reserve that's entirely made up of volcanic soil. Once there, make sure to stop by the restaurant and try its food, which is flame-grilled from the volcano!
Ultimately, if you want to combine yoga and wine, you won't find a more interesting place to do so. Not only is the wine quite good, but the craters of many volcanoes have been transformed into vineyards!
Image credit: Holiday Yoga - Gran Canaria at the Dunes
Gran Canaria has the reputation of being "a continent in miniature" due to its various types of geological features, from snowy mountains to subtropical green valleys and sand dunes –all within a few hours from one another! And don't worry if you get tired of changing your outfit during the day, nudism is legal on all beaches of the island.
It has a vibrant atmosphere given by its Latin American influences, which gives the island a colorful impression that differentiates it from the rest. Indeed, if you want to feel this atmosphere at its best, you might want to book your retreat around February-March, when the Gran Canaria Carnival takes place.
Las Palmas –the capital city– is a popular harbor for cruises that sail around the Canaries. So, if this is how you arrive on the island, you could still accommodate a short yoga break after your cruise trip.
---
Want to take your practice to the next level? Do your yoga teacher training in the Balearics or in the Canaries!