Your Guide to Yoga Retreats in Cambodia
The go-to resource for planning your yoga retreats & holidays. Find all you need to know about destinations and take your practice to the next level.
Discover Yoga Retreats now
Legend says that a long time ago, an Indian priest named Kaundinya had a dream about an arrow. He felt the urge to follow it, so, he sailed southeast tracking it until he found a stunning island.
Later on, this land became home to one of the greatest empires of Southeast Asia, the Khmer Empire, which ruled for over 600 years. Nowadays, we know this beautiful place as Cambodia, a country that attracts millions of tourists who want to visit the largest religious monument in the world from this era–Angkor Wat.
With all this mysticism, fascinating spiritual culture and beautiful landscapes all around the country, there's no wonder a yoga retreat in Cambodia can be one of the greatest experiences any yogi can have in their lifetime.
Why choose Cambodia for your next yoga retreat?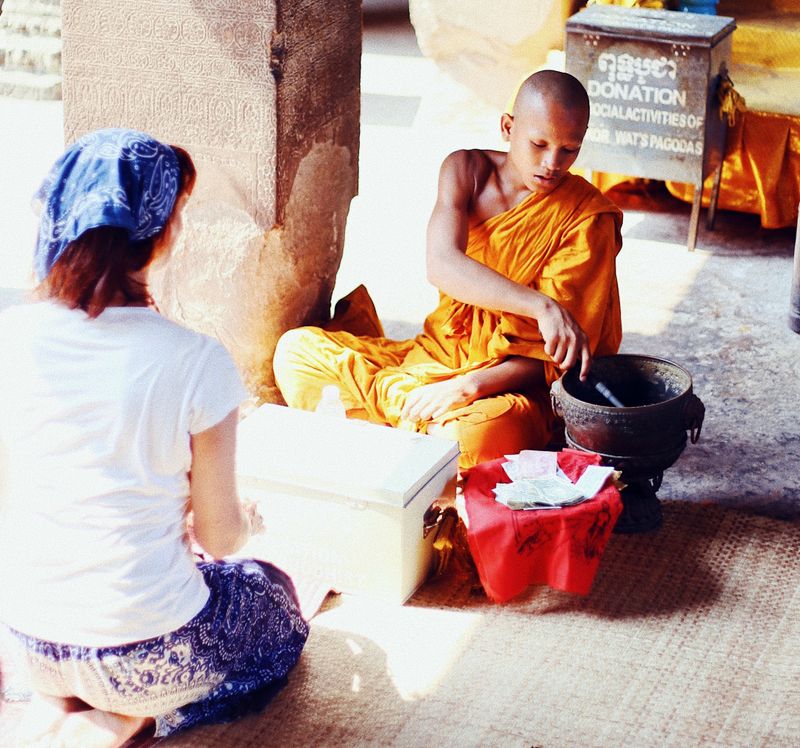 Going back to the story of Kaundinya, after finding the island, he conquered Princess Soma's army as well as her heart. They got married and, as a dowry for the union, her father drank the waters around the island until the land was fully uncovered. This new land became Kampuchea, or Kingdom of Cambodia in English.
People from this part of the world are known as Cambodians or Khmer people (in their language). These folks, the children of the Khmer Empire, have had quite a journey during the past centuries.
First, in 1863, they were colonized by France and almost 100 years later, right after winning their independence, they went through a civil war. This era is remembered as the Cambodian genocide since almost a quarter of the population died during this period.
But let's move on to more cheerful subjects because even if Cambodians might have had a good dose of suffering, they're still among the friendliest people in the world. You just have to walk on the streets to notice it; everyone's smiling and waving at you with love and respect.
Perhaps because the majority of them follow the teachings of the Khmer style of Buddhism (a mix of Theravada Buddhism with animism and shamanism), they see life as a cycle of eternal change in which all humans can contribute to ending suffering.
Cambodians are also simple people who enjoy the ordinary things in life, like eating a bowl of fish and rice but. But if that's not possible, they could also be happy with a roasted cricket, a tarantula, or even a snake.
Is your mouth watering? There are plenty of these delicacies for visitors too! Just don't wash it down with tap water as it isn't safe to drink. Cambodians would rather have a beer or some rice wine–a traditional drink that's normally infused with fruits or medicinal herbs, which is believed to reduce carcinogens and kill bacteria in the body. Or if you don't feel like drinking alcohol, there's plenty of delicious tea as well.
Looking for an alternative destination in Asia with similar friendly vibes? Here's a guide to yoga retreats in Thailand!
Best time to visit
Image credit: Vagabond Temple
The best time to travel to Cambodia depends on what you want out of your trip.
For instance, if the most important thing for you is to avoid crowds and heat, the rainy season (May to October) is the best option. Just consider that during this time of the year you could be exposed to some flooding.
Most tourists prefer to plan their trip during the dry season (November to April). Although temperatures can rise up to 40 °C (104 °F) around this time, you'll be well rewarded if you happen to come during the Cambodian New Year, Chol Chnam, which takes place in April.
Which are the best places for yoga within Cambodia?
Phnom Penh, a vibrant bustling city situated at the confluence of three rivers, is the capital and largest city in the Kingdom. But unlike some other countries, Cambodia's metropolis isn't particularly popular for yoga retreats.
However, the further you move away from the capital, the more enriching your experience of the Khmer culture will be. Natives usually live in rural villages either as rice farmers or fishermen.
But where exactly should you go? Here are the three best destinations for a yoga vacation in Cambodia:
Image credit: Navutu Dreams Resort
This city is mainly known for being the gateway to the ruins of Angkor Wat and is a renowned spiritual hub. It offers plenty of wellness options, meditation and dozens of retreats to help you find inner peace.
There are also plenty of other things to do besides yoga. You can go to the famous Phare Circus, visit the floating villages, take a tour to the jungle at Angkor Zipline, go hiking at the Phnom Kulen National Park or do some shopping at the Old Market where almost anything will cost you less than 5 USD.
If you go to the market, bear in mind that things like ceramics, soap, candles, spices, painted bottles with infused rice wine, woodcarvings and Krama (the traditional scarf) make a nice souvenir since they are locally produced by the Khmer people.
Image credit: How are you really? Yoga retreats
Unlike Siem Reap, Kampot doesn't have tons of extra activities to add to your yoga vacation. Besides visiting the salt fields and the pepper farms, the reality is that there isn't much to do other than nourishing your body and mind. But that's the magic of this place! Its simplicity is a great opportunity to meet locals and truly work on yourself from the inside out. Isn't it what a retreat should be about?
Without traffic or noise, you can always be at your own pace. To enjoy this tranquil town, you just have to contemplate its antique French colonial buildings, reward yourself with a tasty meal after stretching the body or walk down the Preaek Tuek Chhu River, where you can do a few yoga poses surrounded by nature.
Image credit: Vagabond Temple
Kep is a small coastal city located in South Cambodia. Thus, a yoga retreat in Kep will normally be blessed with striking natural scenery; either at the seashore or in the mountains of Kep National Park.
It used to be a French colonial resort town, but today it's a charming Cambodian town where you can strike your asanas in front of the ocean, spend your free time exploring the quaint islands nearby, or just lay down on its sandy beaches and rest as if there was no tomorrow. Or you could indulge yourself with as much seafood as you wish and try the traditional local food, like fish amok or crab and pepper.
Want to discover other cities in Asia? Find out why Bali is a top destination for yoga retreats.
Things to know before your trip to Cambodia
Lastly, before you embark on this incredible trip, here are a few things you should consider to make the most out of your yoga holiday in Cambodia.
Here are a few do's and don'ts:
Don't ride elephants.
Don't buy from children, nor give them food or money.
Don't get too distracted, because pickpocketing and scams can happen.
Do get a visa. You can purchase it at the airports in Phnom Penh and Siem Reap and at all major border crossings.
Do bring special clothes to visit the temples; shoulders and knees must be covered.
In case you get easily affected by air pollution, do bring a mask.
Do buy a SIM card at the airport, it's easy and cheap.
Do have dollar bills with you. Despite the fact that Riel is the official currency of Cambodia, you could be asked to pay with USD bills. Make sure they're all in perfect shape, the newest they look the better.
Finally, do learn some Khmer. Though English is widely spoken in the country, it's always appreciated when a tourist learns some phrases in the local language. Here's some help:
For "hello", you'll say Sou sdey. For "goodbye", Li hi. To thank someone, Ah kun. And if you decide to try the traditional wine rice, don't forget to say cheers with a Jul mouy!
---
If you want to treat yourself during your time in the Kingdom, here are some options for a luxury yoga retreat in Cambodia.