All You Need to Know about Surf and Yoga in Lisbon
The go-to resource for planning your yoga retreats & holidays. Find all you need to know about destinations and take your practice to the next level.
Discover Yoga Retreats now
Lisbon, the hilly and coastal capital city of Portugal, is without a doubt the place where yoga and surf blend to perfection.
Surrounded by the most spectacular beaches in Europe, with world-class surf spots, lots of history, award-winning wines, excellent cuisine, lovely people and affordable prices, a surf and yoga retreat in Lisbon is an experience any yogi should live at least once in a lifetime.
Lisbon allows you to practice your favorite asanas in a friendly environment where you can improve your skills on the mat with the help of a surfboard.
However, Lisbon's appeal goes well beyond its magnificent scenery, perfect waves and stunning beaches. Being one of the oldest cities in Europe, with history dating back over 2700 years, it's easily one of the most picturesque and cultural places in the world.
Lisbon's culture at a glance
The whole city is full of impressive attractions. Anywhere you look at, there's a Baroque, Gothic, Manueline, Romanesque, Modern or Postmodern construction. It's home to several museums and art collections from many parts of the world and several other icons like the Hieronymites Monastery, the Belem Tower and São Jorge Castle –an emblematic building that was first occupied in the 8th century BC.
Lisbon's beaches are blessed with some of the best waves in the world, so it was only natural that the surf culture would flourish here. If you add the chilled vibes of the Portuguese people, it's no wonder the mindful yoga lifestyle fits in perfectly.
The Portuguese are cheerful by nature and they're extraordinary hosts who will make you feel at home. Plus, Lisbon's nightlife is considered among the very best in Europe. With nightspots located all across the entire town, there's something for each and every taste.
Looking for a soundtrack for your trip around Portugal? Lisbon is known for its fado soulful music.
If you still need more reasons to choose Lisbon for your next vacation, check our post on why choose Portugal for your next yoga retreat.
Best places for yoga and surf in Lisbon
Lisbon is a favorite for both surfers and yogis, and the good news is that it is one of the most affordable destinations in Western Europe. Now we're talking, eh? Hang loose, below you'll find all the details about the best surf and yoga destinations in Lisbon District.
Image credit: The Salty Pelican
Situated less than 20 miles (32 km) away from the west of Lisbon City and connected to the capital by urban railway, Cascais is the most popular holiday destination of the Lisbon District. This traditional fishing town offers a coastline of splendid beaches, 19th-century villas and fascinating museums.
One of the most important beaches for surfing in Cascais is Guincho beach, situated on the western edge of the Serra da Sintra National Park, with dramatic scenery, powerful hidden currents and without many tourists. It offers plenty of room to surf even during the more crowded summer months.
Here, you'll also find plenty of qualified surf instructors and yoga teachers, which makes it a good option for a yogi looking to be guided to catch his/her first waves.
This municipality is about 90 miles away from downtown Lisbon. The golden shores of Praia da Areia Branca are ideal to learn the basics of surfing, strengthen your yoga practice and meet locals that fully embody the shaka sign.
One big plus of Lourinha is its delicious cuisine with lots of fresh fish and the traditional Portuguese flavor. And if you have some extra time during your retreat, you can go on a bike ride to get a glance of Portugal's wildlife.
About half an hour away from Lisbon, Mafra is home to the famous National Palace with the same name. This municipality is also renowned for Ericeira, its seaside community which many consider to be the surf capital of Portugal. Back in the mid-1970s, the first surfers arrived here, and it eventually became a mecca for surfers all throughout Europe.
With the highest concentration of quality waves on the continent, Ericeira attracts surfers from all over the world all year round. Indeed, it's the first (and so far only) World Surfing Reserve in Europe, stretching of 5 miles (8km) where you'll find seven separate surf spots, including iconic breaks like Ribeira d'Ilhas and Coxos.
This surf paradise is also a great spot for yogis. Not only can you reach a calm and peaceful state of mind while surrounded by impressive sandstone cliffs and spectacular ocean vistas, but the blend of cultures has brought many different yoga styles.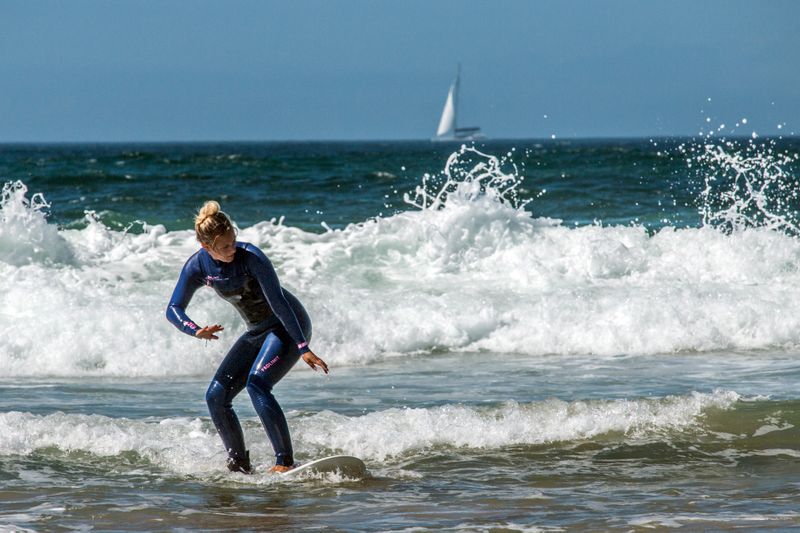 Image credit: SaltyWay
With undulating mountains, lush forests, remarkable gardens and striking beaches, Sintra is another heavenly destination in the Lisbon District. Its ancient buildings –like the University of Coimbra, founded in 1290– or the historic center of the Vila de Sintra, have positioned it as a UNESCO World Heritage Site.
Along the coast you can visit Colares, the wine-growing region where you can go on a retreat and find the perfect combination of wellness and luxury. Other beaches nearby are Carcavelos, Praia da Poca and Sao Pedro. In a few words, a yoga and surfing retreat in Sintra is a cultural experience like no other.
If you prefer to explore south Portugal, maybe you want to spice up your yoga holiday with surfing in the Algarve.
Best time to visit
Image credit: Surf Trips Portugal
You don't really have to worry about the best time to go. With many sunny days even during winter and a constant cool breeze during summer, Lisbon's glorious climate makes it a good place to visit year-round.
Lisbon's surfing conditions are pretty stable as well. Just know that the Atlantic can get pretty cold. So, bring a wetsuit as you might spend a good amount of time with onshore and offshore breeze, which will make it a bit chilly but it'll also create nicely-shaped waves.
---
Don't feel like surfing during your yoga holiday? Great news! There are plenty of traditional yoga retreats in Lisbon too!