5 Reasons Why Your Next Retreat Should Be in Barcelona
The go-to resource for planning your yoga retreats & holidays. Find all you need to know about destinations and take your practice to the next level.
Discover Yoga Retreats now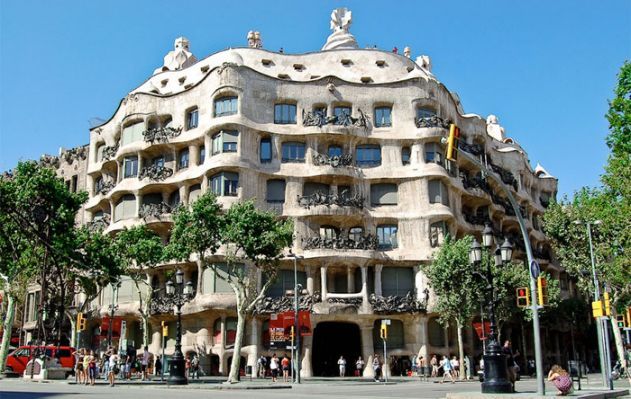 Barcelona is a different kind of retreat with all the elements in place for yoga plus art, culture, and the diversity of a great European city. One thing's for sure, Barcelona is a great place for your next yoga retreat!
The rich history and beautiful sights of Barcelona make it unforgettable and one of the most visited European destinations. The iconic Spanish cuisine also contributes to the incredible charm of this Mediterranean jewel.
Here are 5 reasons you should stay in Barcelona:
1. The weather
Plaça Reial, meaning "Royal Plaza" is a square in the Barri Gòtic (Gothic quarter).
With year-round mild weather, you can enjoy all four seasons.
May through September are the prime months with lots of sunshine, averaging 10 hours a day of sun in the month of July yet never getting over 90 degrees Fahrenheit or 32 Celsius. Feel the sunshine on your face and the cool ocean breeze in your hair.
2. The beaches, parks and nature trails
A retreat guest practicing a yoga pose at the Parc de Ciutadella fountain.
Most of the beaches are within a short walk from the city center, so in about 10 minutes you can kick off your stilettos and put on your sandals. It's common to see individuals and groups of people doing yoga on the sand.
City visitor practicing yoga on the beach.
A popular spot for this – and selfies – is in front of the iconic sail-shaped "W" hotel.
There are parks throughout the city such as Park de la Ciutadella with its Cascada fountain, a lake, and the city zoo, Parc del Laberint d'Horta has a cypress tree hedge maze. Of course, the most famous is Park Guell, because of its amazing artwork. Antoni Gaudí's iconic gatehouses are some of the most recognized images of Barcelona.
Additionally, Barcelona offers a multitude of hiking and nature trails with views of the entire city.
3. Gastronomy
Fresh berries from La Boqueria market
Now that you've worked up an appetite you'll find that Barcelona offers an unparalleled feast for the palette. For example, the La Boqueria Market located on Las Rambles, with its exotic fruit, rare species, organic vegetables, fresh meat, and fish. Also, seafood lovers will find that it is abundant throughout the city.
A serving of golden paella to entice the senses.
Paella is the national dish of Spain, and all who taste it aren't able to forget its flavors of golden saffron and fresh seafood any time soon. Also, the lively tapas restaurants are one of the vibrant cultural dining experiences of Barcelona.
Barcelona is also home to chefs Ferran & Albert Adrià, who at one time owned one of the worlds' most renowned restaurants: El Bulli. They now have 5 restaurants there including "Enigma."
4. Art, Culture, and Architecture
Casa Mila
Some areas in which Barcelona really differentiates itself from typical yoga destinations are its art, culture and especially its architecture.
Let's start with the latter. Among its spectacular buildings are Casa Batllo, Casa Mila, and Palau Guell.
The west wall of the Sagrada Familia, view at night.
Of course, there is also the grand masterpiece and UNESCO World Heritage site, La Sagrada Familia.
View of Parc Guell.
Antoni Gaudi's famous lizard from Parc Guell is better known by locals as 'El Drac'.
Simply walking around the city, you are served up a series of sight sensations. The Gothic District for example, with its reminders of earlier Roman times, soaring cathedrals and narrow medieval streets now filled with artisan shops, trendy bars, and Catalan restaurants.
To truly experience Barcelona's culture, you can go see a Flamenco dance, visit the Picasso museum, or just sit in an outdoor café and soak in the unique aspects of the city.
5. Night Life
Night shopping in Barcelona streets (Photo by Palau Robert)
Few places in Europe – or anywhere in the world- can match Barcelona's nightlife. It's everywhere. It's in the local cafes and in the streets, nightclubs and there always seems to be a festival happening.
A great place to start is the city center for its café scene but be warned, people don't start until around 11 at night and often go until 5 in the morning. The Olympic port is known as "Nightclub Nirvana." You can also stroll along the beaches and pop into one of the many pubs or bars. These are great places to hang out with the locals and a few fellow travelers. If you're lucky, FC Barcelona (its world-famous soccer team) will be playing on television and you will be immersed in this passionate part of the Barcelona lifestyle.
Retreat participants doing yoga on the roof of the hotel.
Barcelona is a place that goes beyond your standard yoga retreat experience. It's a dynamic destination that will leave you inspired.
Olee!
---
Want to immerse yourself in the charming spirit of Spanish culture? Yoga retreats in Spain are among the best vacations you could ever give yourself.