Which Island to Choose for a Yoga Retreat in Greece?
The go-to resource for planning your yoga retreats & holidays. Find all you need to know about destinations and take your practice to the next level.
Discover Yoga Retreats now
The Greek islands are some of the most majestic places on Earth. Their pristine beaches, crystal-clear water and Mediterranean breeze make them real paradises for yoga retreats.
With over 200 islands to choose from, the real challenge, often times, is deciding which one is best for a yoga retreat in Greece.
Islands are the staple of Greece's geography. Indeed, it's estimated that there could be up to 6,000 islands in all its land, but only about 200 of them are inhabited. Most of them are distributed around the Aegean Sea, the Cyclades, located southeast of Greece's mainland, being the most popular island cluster for travelers.
And along with Crete, also in the Aegean Sea, they're full of history and representative of all that Greece means to the world.
A little bit of history about the Cyclades
According to ancient mythology, the Cyclades were nymphs who provoked the rage of Poseidon and, as a consequence, were transformed into rocks. These islands are named "Cyclades" because they circle around the sacred island of Delos.
Adding to this mythical flavor, each of the islands has its own mythological story describing their characteristics. For example, it is believed that Santorini was created by Euphemus, son of Poseidon.
Euphemus had made love to a nymph and she wanted a safe place to have their baby. So, he threw a clod of earth from Anafi Island into the sea and, from it, emerged the most beautiful island he could think of for the nymph to give birth. The child was named Theras, which is the official name of Santorini (Thira).
In real history, the Cyclades played a major role in the development of the Greek civilization. Thanks to their strategic position in the Aegean Sea, they were an excellent trading point. This turned the islands into a bridge that expanded the Greek culture throughout Europe and Asia.
In addition, excavations and explorations of the islands have revealed many historical findings, such as marble statuettes from the middle Bronze Era or monuments from the Byzantine Empire.
How about yoga in Greece?
Image credit: Samudra Yogadventures
Greece doesn't have the vast yoga tradition of India, Nepal or other countries. However, the seeking of knowledge, admiration of nature and study of the universe that the ancient philosophers predicated, can easily correlate with certain practices that yoga promotes. In the end, it's all about connecting with ourselves and the truth.
It is believed that Greeks practiced meditation several thousand years ago, or at least they had similar thoughts than the yoga philosophy. The proof is in the word henosis, which comes from classical Greek and means "oneness" or "union". One of the precepts of Platonism is that the goal of henosis is the union with what's fundamental: The Source.
If we take this into consideration, it seems like Greek philosophers were very aligned with what yoga predicates and, who knows? Maybe they would have been great yogis. Can you imagine Plato or Aristoteles performing a perfectly aligned Downward Dog? — As far as we know, these yoga statuettes could still be hiding somewhere in the Cyclades (just kidding).
Best islands for a yoga retreat in Greece
The most popular islands for yoga holidays are in the Aegean Sea, and more specifically, Crete and the Cycladic group. But it doesn't mean that you won't find anything in the other clusters; make no mistake, they're all quite charming!
With that being said, here are the five most popular islands for an incredible yoga holiday on a Greek island:
Image credit: Kompassie Yoga Studio
You already know the history of the Cyclades, but Crete is just as important in Greek history and, in terms of yoga retreats, it's even more popular.
Crete is the largest island in Greece. The Minoan civilization, one of the most important in human history, started on this island. Here you can find ancient symbols like the Palace of Knossos or the ruins in Phaistos. After the Minoan civilization, it was occupied by Northern Europe tribes, Romans, Arabs and Ottomans. This has created a unique culture that makes Cretans proud until these days.
In mythology, it is believed that King Minos once refused to sacrifice a bull to the gods and, as a punishment, they made his wife, Pasiphae, fall in love with a bull. This union brought the Minotaur to the world, a monster half bull and half human that was confined in a labyrinth.
In addition to its rich history, Crete is a beautiful island for all sorts of vacations. Hiking trails, a stunning coastline with amazing beaches and quaint small cities make it a very attractive site for yoga instructors to run yoga holidays or yoga teacher training courses.
The island is rather big, which would make it harder to explore other sites in Greece. But staying just on Crete isn't a bad idea at all. Chania is a nice town with plenty of yoga retreats on offer and all you can think of for an unforgettable experience.
Image credit: Canyon Tribe
Mykonos is the liveliest island of the Cyclades. With a bohemian allure and a wild nightlife scene, it has become one of the most popular destinations for all kinds of travelers.
The island is full of hip restaurants, lavish yachts and fancy hotels, which make it an ideal destination for a luxurious yoga retreat in Greece. If you prefer absolute silence during your yoga holiday, it might be better to opt for another island and come visit Mykonos afterward.
Image credit: Sky Pilates and Yoga
Arguably the most beautiful island in all Greece, Santorini is an idyllic place perfect for a good time of relaxation either for solo travelers or couples. It's also quite easy to reach, as there are many direct flights from all Europe and Athens
Its rugged coastlines overlooking the famous underwater volcanic crater are really hard to beat for any beach in the world. The white houses of Oia make you feel as if you were in a fairy tale and the jaw-dropping sunsets are out of this world. Remember, Santorini island had to be good enough for the birth of Euphemus' son.
Image credit: Okreblue Seaside Retreat Center
A traditional fishing island with a quieter atmosphere than the more popular Santorini or Mykonos, Paros is one of the most popular places for yoga in Greece, with dozens of options. Its two main towns, Naoussa and Parikia are two of the most enchanting places in the country.
You can have delicious Greek food anywhere on the island, sunbathe at Kolimpithres, a fascinating beach with sculpted rocks, or visit the church complex Panagia Ekatontapiliani, a piece of history from the Byzantine Empire.
Right next to Paros, Antiparos is an even more secluded island with pristine beaches for a truly relaxing yoga trip.
Image credit: Lotus Retreats
Maybe the most secluded island in the Cyclades. It takes over 8 hours from Athens but it's absolutely worth it.
This Cycladic island is the ideal place if you want to have a time of reflection, spend the hours in complete relaxation and reset your life. Perfect for a meditation and yoga retreat in Greece. The water, with many shades of blue, is as clear as you can imagine. The clear sky is great for stargazing and losing yourself in the immensity of our universe.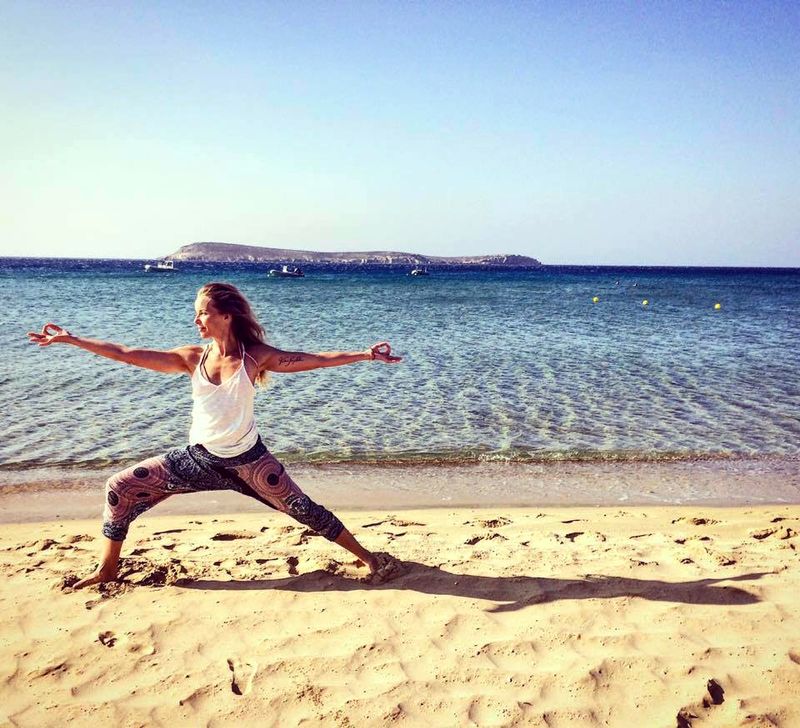 Image credit: Tessa Ma & Valentina Rose
It's not all Cyclades and the Aegean Sea in Greece. The Ionian Sea, west of mainland Greece, has several gems you could also visit. As a matter of fact, there are 7 gems - the "Heptanese".
Considered the Caribbean of Greece, Lefkada is the Heptanese with the most yoga vacations on offer. With about a dozen yoga holidays available, it's the most representative of the Ionian Sea. The deep blue color of its beaches has attracted many yoga vacations with sailing, Ayurveda, Pilates and Meditation to spice up your practice.
Since it's connected to mainland Greece through a bridge, you can even access the island by car! And if you want to keep exploring the Ionian Sea, Corfu and Zakynthos also have a few options for yoga travel.
Extra options
Not satisfied with the options presented above? Kos, Naxos, Rhodes, Hydra or Cephalonia are also good options for a yoga experience on a Greek island.
Can you visit more than one island?
Image credit: Balance to Bliss Retreats
Thinking about visiting more than one island during your visit to Greece? It is possible. The best option is to go island hopping around the Cyclades by ferry.
Whether you decide to go on several yoga holidays or just one and explore the rest by yourself, the recommendation is to start in Santorini; from there you can move to Naxos, Paros, Mykonos and Ios.
---
Want to spend a few days on each island? Go on different short yoga breaks in Greece!