Where to Go for a Yoga Retreat in the UK this Summer?
The go-to resource for planning your yoga retreats & holidays. Find all you need to know about destinations and take your practice to the next level.
Discover Yoga Retreats now
If there's a good time to travel around the UK, it's during summer! The weather is warm, the sun is shining, the school's on vacation, people are in high spirits and there's a myriad of ideas to have fun outside.
And what better way to take advantage of the season than a yoga retreat in the UK? There are plenty of places around Great Britain where you can embrace the joyfulness and practice your asanas feeling these positive vibes. But don't overthink it, 'cause summer will be over before you can say "cup of tea".
Need some advice on where to go? Below you'll find five places in the United Kingdom where you can have an unforgettable yoga experience. Oh, and don't forget to read our guide to yoga retreats in the UK!
Note: BookYogaRetreats offers a flexible cancellation policy. Should you not be able to travel as scheduled, we'd be happy to help you to alter your booking with the same organizer or with a different organizer.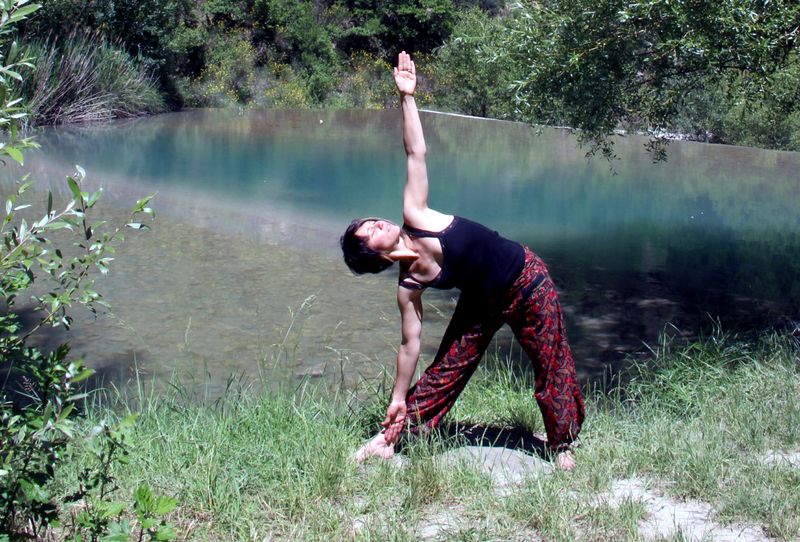 Image credit: AYP Yoga
There's no need to go outside the UK for a sun-filled holiday. If you're looking for a beach yoga retreat this season, Devon in southwest England is where you want to go. Reaching from the Bristol Channel to the English Channel, it has beautiful coastlines, sandy beaches and dramatic cliffs that will make you want to do yoga here forever.
It's arguably the best place in the UK for a retreat by the sea – especially near Woolacombe, which is considered one of the best beaches in the country. Add the gothic-style monuments, castles and museums, and it feels like the past and present merge in Devonshire. This makes it quite an interesting place to spice up your vacation with a little bit of historical sightseeing combined with relaxation by the beach.
Image credit: Yoga Retreat Holidays
Pretty close to London, on the southeastern shore of England, Kent is the perfect place for a quick getaway from the capital. Known as the "Garden of England", Kent's countryside and quaint scenery with plenty of stunning castles will make your yoga holiday feel like a fairy tale.
It is the oldest county in England, which means that history abounds with each and every building you see. The Leeds Castle, Canterbury Cathedral and Dover Castle are just a few of the landmarks that you can take a look at during your free time.
So, if you need some time to silence the noise of London but you don't want to travel too far, head to the Vale of Kent for a short yoga and meditation retreat. You'll recharge your batteries, find mindfulness and discover one of England's loveliest counties.
Image credit: Cornish Wave​
Right in the corner of southwest England, Cornwall is considered the mythical home of King Arthur. More specifically, Tintagel Castle is where he was supposed to be born and it's a landmark you should definitely visit if you come for a yoga retreat in Cornwall.
Cornwall has gained some popularity lately thanks to a BBC series taking place in the county, but seeing its marvelous landscapes, it makes you wonder why it was in relative isolation for such a long time. It is bordered by the Celtic Sea, which gives the area over 300 unspoiled beaches where you can bring your best poses feeling the pale sand between your toes.
Beyond the recently growing tourism, Cornwall has a history of mining, steam railways and fishing, which gives you a taste of the industrial British heritage. Plus, with fresh fish straight from the sea, you won't find a better place to eat fish 'n chips.
Image credit: Lake District Yoga Holidays
Bounded by the Scottish council areas of Galloway and Dumfries in North England, Cumbria is famous for its Lake District National Park (also known as Lakeland), a popular holiday destination, where you can rediscover the joys of exploring nature and reconnecting with yourself.
If you're looking for a place to rejuvenate and relax during the summer months, Cumbria's stunning scenery and abundant wildlife will make it happen. Here you can find England's highest mountains and some of its biggest lakes. Windermere, England's largest natural lake, is a must to see on this trip. The best way to do it is by going to Ambleside, a small town nearby which also offers a variety of restaurants, shops and plenty of yoga retreats.
Another thing you'll love about Cumbria is its delicious food – yes, believe it or not, you can find good food in the UK. Two dishes to try are the Cumberland Tatie Pot, a tasty meal made with lamb, black pudding and potatoes; and the Cottage pie made of minced lamb. In both of them, you'll find the most tender and flavorful meat in England.
Thus, in the landscape of the heart of the lakes, you'll be able to nourish your mind and body, while improving your yoga and meditation skills.
Image credit: Dru UK
If you want to explore beyond England, Gwynedd in North Wales is the option. Meaning "blessed" in Welsh, this place is the perfect space for soul healing and wellbeing.
Connect with earth against the beautiful scenery of the North Wales coast. Walkthrough the Snowdonia National Park, visit the two medieval famous constructions in the area, Caernarfon and Harlech Castles, or take the Snowdon Mountain Railway, where you'll be amazed by 4.7 miles of breath-taking landscape and will be able to contemplate the beauty of these lands from the highest peak in Wales.
So, what are you waiting for?
If you feel like clearing your mind from stress and boosting your creativity, going to any of these destinations is the perfect getaway to do it. And if summer comes to an end, there's always time to restore your inner peace; a 2-day yoga and meditation retreat could be enough.