10 Yoga Retreats in Nederland voor 2020: een yogavakantie in eigen land
The go-to resource for planning your yoga retreats & holidays. Find all you need to know about destinations and take your practice to the next level.
Discover Yoga Retreats now
Nederland wordt gebruikelijk vaak onderschat als vakantieland, maar doordat we door de huidige Corona beperkingen verwacht worden redelijk in de buurt te blijven, is ons eigen kikkerlandje een perfecte bestemming geworden.
Daarnaast hebben we ons allemaal suf geyogaad op het matje in de woonkamer en is het wel een lekker vooruitzicht om yoga in de buitenlucht te doen. De natuur in!
Met deze gedachte hebben we de top yoga retreats in Nederland voor 2020 eens op een rijtje gezet. Kan jij die strandvakantie toch niet uit je hoofd zetten? Ga voor een retreat in Schiermonnikoog, Zandvoort of Zeeland. Liever een frisse neus halen in de bossen? Dan zijn de retreats op de Veluwe of in Brabant aan te raden.
>> Zie ook: 7 tips voor het vinden van jouw ultieme yoga retreat​
Ben je bezorgd of de retreats wel Corona-proof zijn? Neem contact op met de individuele organisator om te vragen naar hun Corona beleid en voorzorgsmaatregelen tijdens het retreat.
Even echt uitwaaien doe je natuurlijk op het strand. Voel de wind, hoor de branding, zie de zee en de ruimte van de lucht, wandel over het strand, duin en wad. Met dit 3-daagse retreat beoefen je mindfulness en yin yoga zowel buiten als binnen - met uitzicht op zee. Met twee overnachtingen in Strandhotel Seeduyn Vlieland heb je ook gelijk een heerlijk wellness weekend te pakken.
Prijs: vanaf €365
Locatie: Vlieland, Friesland
Lengte: 3 dagen / 2 nachten
Start: 19 juni en 6 november
Ontspanning, yoga, meditatie, voedings- en ademhalingsworkshops is wat je kan verwachten in het 3-daagse detox en yoga weekend in Zandvoort aan Zee. Met een uitgebreide Ayurveda voedingstest en 16 verschillende sappen, leer je in dit weekend meer over je lichaam en geest. ZenZo Yoga combineert het Nederlandse detoxweekend met in- en ontspannende yoga-, ademhalingsoefeningen en mindfulness wandelingen om het lichaam te reinigen, verbeteren en te herstellen. Je zal overnachten in het stijlvolle Hotel Zeespiegel in Zandvoort, op loopafstand van de zee en de duinen.
Prijs: vanaf €399
Locatie: Zandvoort aan Zee, Noord-Holland
Lengte: 3 dagen / 2 nachten
Start: 12 juni, 18 september en 2 oktober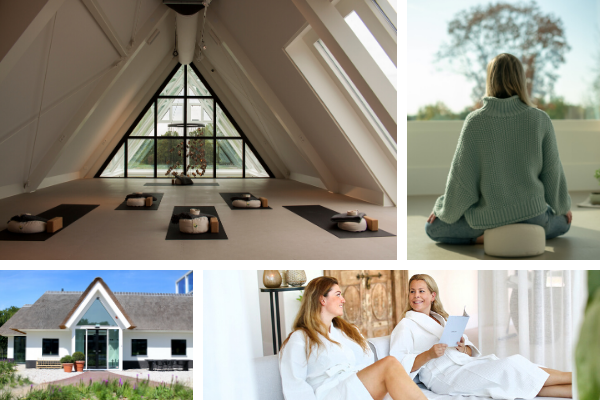 Geniet van een heerlijk all-inclusive wellness weekend in de IVY Boutique Wellness in Voorschoten, waar in de groene weide de wellness helemaal tot haar recht komt. In combinatie met 4 yogalessen (Hatha, Vinyasa en Yin), 2 meditatie sessies en een stiltewandeling, is dit weekend gericht op totale ontspanning, yoga en herstel. Maak gebruik van de luxe wellness om heerlijk baantjes trekken in het verwarmde zwembad of te ontspannen in de ruime sauna's.
Prijs: vanaf €349
Locatie: Voorschoten, Zuid-Holland
Lengte: 3 dagen / 2 nachten
Start: 27 november
Veranker mindfulness verder in je leven, met dit gevorderden retreat op de Veluwe. Met onder andere een stilte ochtend, 7 uur mindfulness lessen (herhaling én verdieping), 3 mindfulness yogalessen en 2 mindfulness wandelingen, een Mindfulness inspiratie avond met film en 2 overnachtingen in viersterren spa-hotel hotel de Heerlickheijd in Ermelo heb je gegarandeerd een heerlijk weekend, waarbij leven in aandacht een gewoonte wordt.
Prijs: vanaf €554
Locatie: Ermelo, Gelderland (Veluwe)
Lengte: 3 dagen / 2 nachten
Start: 30 oktober
Ben je wel eens op het prachtige Waddeneiland Schiermonnikoog geweest? Het is er rustig, autoluw en de stranden zijn de breedste van Europa. Met dagelijks yogalessen (ook op het strand) kan je iedere dag van een nieuwe stukje eiland genieten. In deze midweek beoefen je een combinatie van Yin,Yang, flow en Chakra yoga. Alle lessen worden rustig opgebouwd en zijn voor ieder niveau geschikt. Puur genieten van de rust!
Prijs: vanaf €575
Locatie: Schiermonnikoog, Friesland
Lengte: 4 dagen / 3 nachten
Start: 7 augustus
Gelegen in de prachtige bossen van het Brabantse Kempen, kan je in dit 3-daagse yoga retreat genieten van de rust, yoga en het smakelijke eten. Het retreat komt inbegrepen met een gevarieerd aanbod aan yogalessen, een meditatieles en een tai-chi les. Daarnaast kun je ook een massage bijboeken, gegeven door een gediplomeerd therapeut. Kies voor een yin/yang of holistische massage, of een aromatherapie met edelstenen.
Prijs: vanaf €369
Locatie: Kempen, Brabant
Lengte: 3 dagen / 2 nachten
Start: 13 november
Rust, rust en rust. Vraag jij je weleens af hoe je tussen al je drukke activiteiten door ook nog tijd voor jezelf overhoudt? Dit 3-daagse retreat in Zeeland biedt jou de ruimte om even alles los te laten, zodat je weer ervaart wat écht belangrijk is in jouw bestaan. Dit ontspannen weekend komt met een meditatie en sound bath en dagelijks 3 yogalessen op een prachtige locatie op nog geen 500 meter van het strand.
Prijs: vanaf €375
Locatie: Domburg, Zeeland
Lengte: 3 dagen / 2 nachten
Start: 11 december
Een weekend vol met slaapyoga, wie wil dat nou niet? In dit 3-daagse retreat in Zeeland helpt Floor Schmeitz je verdiepen in de wereld van Yoga Nidra. Het enige wat je hoeft te doen is te liggen en te luisteren naar een stem, waardoor je steeds dieper wegzakt en je heerlijk kunt ontspannen. Je overnacht in het wellness centrum 'De Schouw' met prachtige tuin en buitenzwembad met alle maaltijden inclusief. Een echt goed weekend ontspannen!
Prijs: vanaf €285
Locatie: Schouwen-Duiveland, Zeeland
Lengte: 3 dagen / 2 nachten
Start: 9 oktober
Om er even helemaal 'uit' te zijn, hoef je niet altijd ver te reizen en dat geldt zeker voor dit 4-daagse yoga retreat. Geniet van een ontspannen lang weekend in Twente met yoga, meditatie, lekker en gezond eten en goed gezelschap. In de winter zijn de dagen kort en koud, is er weinig natuurlijk licht en besteden we veel tijd binnen. De meeste van ons ervaren in deze periode minder energie en vreugde. Tijdens deze retreat nemen we de tijd om ons innerlijke licht (terug) te vinden én op te laden.
Prijs: vanaf €375
Locatie: De Lutte, Overijssel
Lengte: 4 dagen / 3 nachten
Start: 20 november
Als hekkensluiter van deze lijst is er het Iyengar Yoga Retreat op de Veluwe. Met meerdere yogalessen, meditatiesessies, pranayama en Yoga Nidra in een prachtige omgeving, is dit een retreat om aan te bevelen! Bij het retreat zijn alle maaltijden inbegrepen en worden de Iyengar lessen geleid door Daniela en Sarah-Jane, beide zeer ervaren in deze yogastijl.
Prijs: vanaf €350
Locatie: Oostraven, Gelderland (Veluwe)
Lengte: 3 dagen / 2 nachten
Start: 13 november
Omslagfoto is van Zenzo Yoga
---
Wil je liever nog niet een yogavakantie op locatie? Neem deel aan een Online Yoga Retreat om mee te doen vanuit de woonkamer.