Embrace Yoga to its Fullest in Beautiful Hawaii
The go-to resource for planning your yoga retreats & holidays. Find all you need to know about destinations and take your practice to the next level.
Discover Yoga Retreats now
Hawaii is a paradise full of amazing beaches, gorgeous waterfalls, abundant reefs, nice weather, delicious food and chilled positive vibes. All of these make it a favorite destination for yogis from all over the world.
The Aloha spirit of the island aligns perfectly with what yoga is all about, recognizing the divine in each other. Therefore, the Aloha State is the ultimate destination to forget about the hustle and bustle of your everyday routine and enjoy the "here and now" on a yoga retreat in Hawaii.
Travelers have long sought Hawaii's curative climate, therapeutic salt waters and the mythic healing power of volcanoes to restore their health and balance. For this reason, here you can achieve lokahi (harmony) in your life by practicing yoga, meditation, or any wellness activity you choose.
Plus, you'll have plenty of beautiful nature to go hiking, snorkeling, scuba diving, surfing or just breathing the clean air on the beach.
Want a few recommendations to do yoga in Hawaii? Here are some of the top retreats!
Note: BookYogaRetreats offers a flexible cancellation policy. Should you not be able to travel as scheduled, we'd be happy to help you alter your booking with the same organizer or with a different organizer.
Image credit: Maui Healing Retreat
Duration: 6 Days
Location: Maui
Instruction language: English
Maui promises to deliver the perfect vacation experience to all travelers. It features a perfect mix of lush green valleys, active volcanoes, gorgeous beaches, historic villages and adventurous water sports with top-world restaurants.
During this yoga holiday, you'll experience a transformation through yoga and other activities that will leave you feeling uplifted and rejuvenated after a few days on the island.
You'll have yoga classes on the beach, an intuitive guidance and energy clearing session, one clarity coaching session and a guided hike in one of Maui's most beautiful nature spots.
This is a custom-designed yoga retreat, which means that all yoga sessions will be individually tailored to your health and well-being at your own level of experience. The program also includes 5 nights of accommodation in Paia, which is located within walking distance from the ocean.
Image credit: Yoga Inspirations
Duration: 7 Days
Location: Kauai
Instruction language: English
Kauai is home to dozens of falls, dramatic coastlines and blissful beaches. It's known for its incredible landscapes, undeniable charm, upscale restaurants and a level of extravagance you just can't find elsewhere.
Start your day with a Kundalini Yoga class, followed by a healthy tropical breakfast, exciting excursions, a meditation session, a gourmet and organic dinner and a sacred sound healing session to end the day
During this retreat, you'll be visiting sites that are sacred to the Hawaiian people, where you'll take part in transformational and healing sacred ceremonies. You'll also have free time to play in the ocean, go snorkeling with turtles, swim in semi-private beaches and try stand-up paddling or kayaking in the famous Hanalei Bay.
READ MORE: Your guide to yoga retreats in the USA.
Image credit: Moksha Soul
Duration: 6 Days
Location: Maui
Instruction language: English
If you're looking forward to improving your relationship with your partner in a beautiful destination, this healing wellness retreat for couples is the perfect opportunity to spend some quality time with your loved one and find connection again.
The program includes unlimited studio yoga classes, 3 private couple's retreat sessions of your choice, free time for your own personal activities, 5 nights of accommodation and airport transfers. The yoga styles for this retreat are Hatha, Yin, Restorative and Nidra.
For the private couple's sessions, you can choose between yoga, energy work, shamanic, meditation, intuitive, learning, tantra, or chakra balancing.
You can also book extra optional activities to complement your experience. The options range from snorkeling tours, cruises and whale watching to scuba diving, Atlantis submarine, helicopter tour and Hawaiian culture tours, just to mention a few.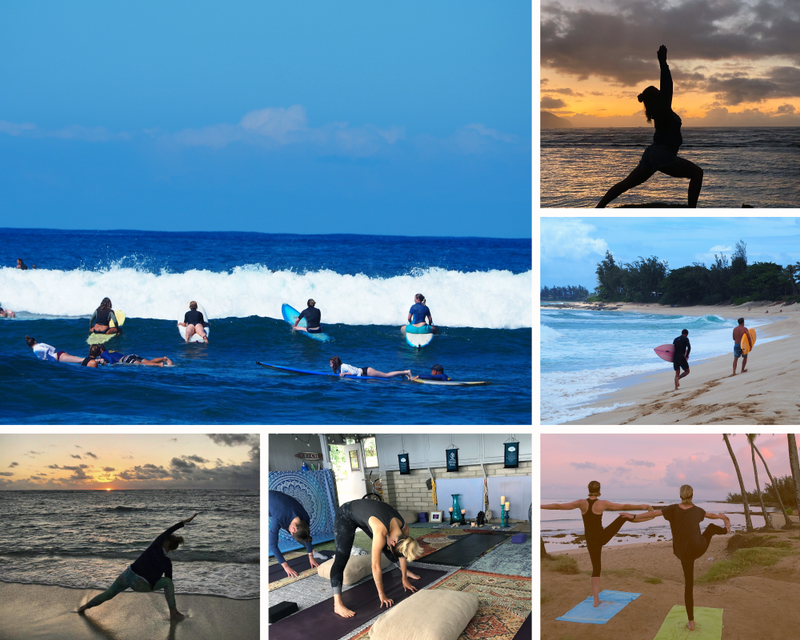 Image credit: Lumi Yoga
Duration: 7 Days
Location: Oahu
Instruction language: English
Known as The Gathering Place, Oahu is the most visited of all the Hawaiian Islands. Here you can find Honolulu, Pearl Harbor and the world-famous Waikiki Beach. However, Oahu is much more than just its popular attractions.
Oahu's best beaches are beyond breathtaking and it offers shopping options for practically every budget; some even considered it to be the most beautiful of all the major islands.
During this holiday, you'll have daily yoga practice and surfing or stand-up paddling sessions. The yoga and surfing lessons are suitable for all skill levels and the yoga styles are Dynamic and Restorative.
The program also includes delicious breakfast, dinner and snacks, plus 6 nights of accommodation in Waialua, a place known for its abundant ocean resources and Taro patches.
READ MORE: Are there really affordable yoga retreats in the USA?
Image credit: Maui Mystical Alchemy Retreats
Duration: 7 Days
Location: Maui
Instruction language: English
Reconnect with nature in this sound healing yoga retreat. You'll stay at an eco-sanctuary located in a very sacred part of the island known as the home of the owl, which is in the middle of a tropical jungle and surrounded by waterfalls.
The daily schedule includes a 2-hour morning yoga practice, Aerial Yoga and Sound Healing sessions. Plus, delicious gourmet plant-based world fusion vegetarian breakfast and lunch.
Afternoons are free to visit some of Maui's most sacred places, chill on a beautiful beach or receive optional healing sessions.
This yoga retreat is suited for all skill levels and the yoga styles are Hatha, Kundalini and Aerial. The program also includes 6 nights of accommodation and a complimentary illustrated retreat journal.
*Cover image credit: Maui Healing Retreat
---
Want to become a yoga instructor in one of the most paradisiacal places on earth? There are many options for yoga teacher training in Hawaii!