The Best Yoga Retreats in Fiji Islands
The go-to resource for planning your yoga retreats & holidays. Find all you need to know about destinations and take your practice to the next level.
Discover Yoga Retreats now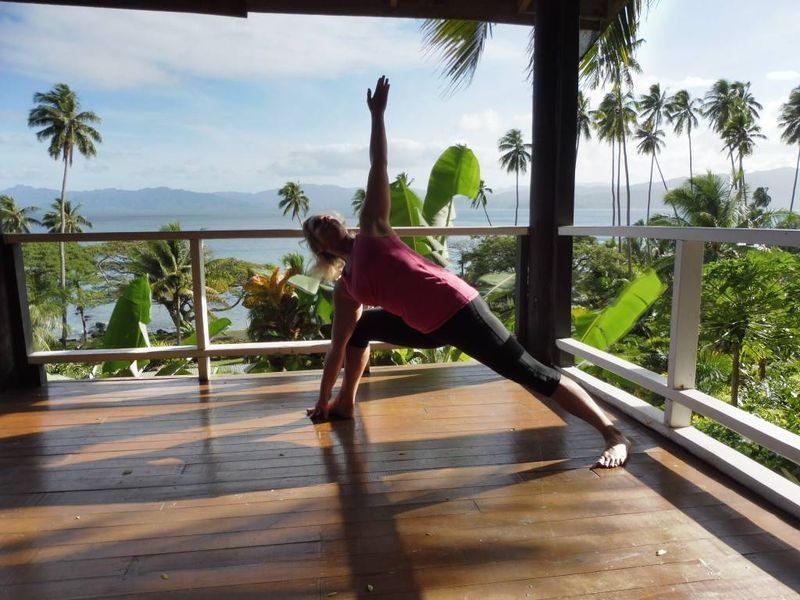 Famous yoga instructor Sharon Gannon once said, "You cannot do yoga. Yoga is your natural state. What you can do are yoga exercises, which may reveal to you where you are resisting your natural state."
These well-spoken words are quite true for today's era. People are advancing towards their professional life and resisting their natural state. This phrase by Sharon shows us how impetuous we are towards our health, body, and mind. We all need to surrender ourselves to nature for a while and yoga can be the best getaway for you to opt for. And make no mistake, you won't find a better place to do so than Fiji!
Why so?
See, there are two benefits:
The first is, you can take a break from your hectic modern lifestyle and relax your anxiety for some days.
It can be a great vacation trip. You can choose a yoga retreat in Fiji and calm your mind for a jiffy.
Where?
Fiji Islands, or The Republic of Fiji, are located in the Pacific Ocean, which is like a holy grail for those who are seeking the natural beauty of our Mother Earth. With so many places to run off to, you will find a peaceful and friendly environment in the country land.
During a retreat in Fiji, you will not only find a peaceful environment but also several resorts where you can opt for an exotic yoga holiday to calm yourself down from the over exaggerating lifestyle of your home city.
Have a look at these places in Fiji and embrace its beauty!
Yoga Retreats In Suva, Fiji
Being the largest metropolitan city in Fiji, there are many resorts offering yoga retreats programs. It also has a harbor built on a peninsula reaching out the ocean, which makes it a great place to enjoy a yoga holiday on the beach.
Here in Suva, you can enjoy yoga moves at sunset, kayak, and snorkel. There are many island resorts where you can take daily yoga classes, coral gardening, and many other activities to restore you from your stress. Or you can immerse in the typical culture and traditions of Fiji.
Yoga Retreats in Coral Coast, Fiji Islands
Coral Coast in Fiji is situated on the southern shores of Viti Levu. This coast stretches up to 80 km on the Island. These coral coasts not only provide wonderful snorkeling and underwater experiences but also they ease your eyes with it an exotic view.
Coral Coast is just beyond perfect for a yoga retreat. These coastlines are soothing for your soul and they will provide you with an excellent environment for doing yoga and getting rid of stress. Here on the coral coast, you can surf, do snorkeling, scuba diving, and kayaking.
The best yoga retreat in Coral Coast, Fiji is the 6 Days Beachfront Yoga, SUP and Surf School Retreat. This holiday gives you daily surf lessons, yoga classes on low tide and some mesmerizing memories of surfing, wipeouts, and yoga. Go for the 6-day accommodation and see for yourself how rejuvenating that can be.
Yoga Retreats in Savusavu, Fiji
Savusavu is located in Vanua Levu, the northern island of Fiji. It is famous for its hot springs and is an ideal place for Hatha yoga. You can opt for numerous ocean-view rooms in Savusavu, Fiji. Vanua Levu is known for its peaceful vibes since only a small fraction of the population live here and tourist numbers are also minimal.
Want to bring the whole family to Fiji? Get yourself a family yoga retreat in Fiji!