Why a Yoga Retreat is for Everyone: My First Yoga Retreat Experience
The go-to resource for planning your yoga retreats & holidays. Find all you need to know about destinations and take your practice to the next level.
Discover Yoga Retreats now
While I have been working in the yoga travel industry for a couple of years now, I have only just recently enjoyed my first multi-day yoga retreat! My experience at the retreat has since sealed one conclusion for me - that everybody should go on a yoga retreat, and especially so if you are a complete beginner.
On our trip to Thailand, my partner and I decided to join a 5 day retreat at Wonderland Healing Center in Kho Phangan, Thailand and I couldn't have been more happily surprised with what I got.
In short, the retreat was a paid shortcut to being completely at ease with myself.
A feeling of not having to do anything, not being pushed in any direction by feelings of either hunger, unrest or any other impulses. Instead, I felt a certain kind of tranquility that I haven't experienced before.
A state that I only imagine can be achieved more continuously by practicing mind-acrobatics such as reading self-help books, working with a therapist, regular yoga and meditation practice and/or general spiritual work. But now it was just there.

A day trip in Koh Phangan
During the retreat, I felt an effortless glide into a state of ease. Like how Yin yoga uses gravity to open your joints and stretch your muscles and all you have to do is release tension, the retreat allowed me to glide into calmness. I could do that because I knew that all was arranged for me. I didn't need any planning, thinking, logic, general 'survival skills' or goal-oriented interactions.
Yet, despite not needing to do much, the whole experience was also interesting enough to not get bored, sleepy or drowsy.
All in all, I experienced stable energy levels throughout the whole retreat. And to top it all off, I felt so much healthier coming out of it than going in. Physically stronger and more flexible, body nourished with healthy food and mind calmed.
Then I started rationalizing - perhaps after a couple more retreats I'll finally learn to stop rationalizing, but that point is still in the future - what are the 'ingredients' for this feeling of ease and tranquility? How did I get there and why was it so easy? After much thought, I think I've figured it out. Here are the key ingredients to feeling at peace on a yoga retreat:
1. All Basic Needs Fulfilled

The pool, amongst other facilities available within the accommodation
Included in the package was a super comfy accommodation as well as 3 very tasty vegan meals a day, so all the basic needs were taken care of.
It made me very aware of the effort you have to put into just basic things like cooking, or otherwise finding a place to eat and making your selection. Here it was all taken care of and you didn't need to think about it.
2. Healthy & Tasty Vegan Food
Then, the type of food was more than healthy. There were lots of fresh vegetables, fruits, salad, coconut milk and various herbal teas to choose from.
Everything that was served was vegan, with no alcohol, coffee or sugar. With the variety of great vegan dishes, I experienced no cravings for any of those substances either, probably because it was just all so tasty.
3. Yoga Classes At Just the Right Level (As Long As You Do it At Your Own Pace)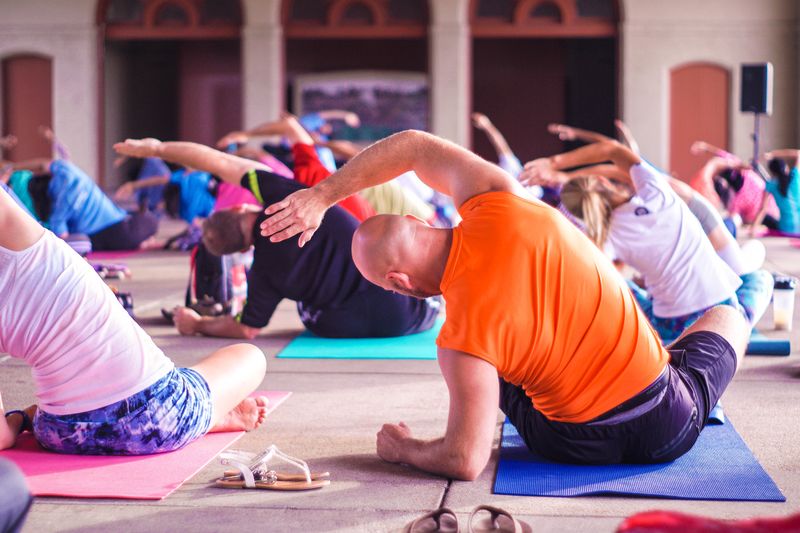 We had the choice of 3 yoga classes and 2 meditation classes daily, all optional, often with different styles of yoga and different teachers. I decided to take the 8 am and 4 pm classes every day for a total of 3 hours of daily yoga.
Having that structure helped me not think about which class to join and which one to skip. My general feeling after a yoga class was of accomplishment. The classes were difficult, but with lots of emphasis on following your own pace and going as deep as you should go without forcing anything.
After each class, I felt a combination of increased flexibility and openness, combined with severe soreness. First in the legs (day 1), then in the arms (day 2), then the upper back and shoulders (day 3) and lastly on the 4th day the lower back and abdominals joined in on the fun, leading to a sore body overall. However, this added to my overall feeling of accomplishment.
4. Peaceful Sleep

The crickets live here. Along with about 1000 frogs and 3 cows.
Sleeping gets easier after a day of yoga exercise, which was helped by the comfy beds, cooled rooms, and background noise (crickets). Also, there was a steam bath on the terrain, which helped in getting sleepy in the evenings.
5. Friendly & Interesting Company
Lastly, the guests, teachers and general staff were all very international and interesting to talk to. People from the UK, Japan, France, Ireland, Israel, USA, Australia, etc were all together sharing experiences and ideas about yoga, personal development, and cultural differences or ideas. My social needs had been fulfilled too.
Conclusion
In the end, what really stuck with me is that feeling of ease and tranquility that I had never experienced before, and knowing the possibility that I can be like that and it can be like that. Maintaining that state of ease in a world that needs a constantly shifting focus and attention requires for one's mind to be very balanced.
Yet, the retreat gave me this feeling without effort, because the retreat itself was balanced. Between active and restful, between being by myself and being amongst others, between hot and cool, between spiritual and physical.
While I cannot vouch for all retreats, I would recommend that everybody go on a yoga retreat and experience a state of physical and mental health that will start serving as a spot on the horizon as well as a compass to get there from then on.
For beginners even more than for the experienced, as the beginner will have an even stronger experience of something completely new and exciting that (though may sound clichéd) truly has the potential to change your life.
---
This article is also available in Spanish.
Ready for a life-changing yoga experience where all your needs are covered? Why not treat yourself to an all-inclusive yoga retreat?