Yoga for Weight Loss: 5 Poses to Build Your Fitness
The go-to resource for planning your yoga retreats & holidays. Find all you need to know about destinations and take your practice to the next level.
Discover Yoga Retreats now
Spring has sprung and with the increase in degrees outside our anxiety for showing more skin also increases. What's there to do? Build our fitness with yoga!
The debate on whether yoga can help with weight loss has been going on for decades. Many argue it's not fast-paced enough to burn calories while others swear by it to lose weight. What's the truth?
All yoga types are effective to help detox your body, burn calories, build muscle tone, and improve flexibility. But if you are interested first and foremost in weight loss, some yoga types and poses are better for it than others.
The vinyasa flow is one of them and the following five poses help you increase your heart rate and challenge your body. Start by learning them and then do them with a faster rhythm as you progress.
Half Lift
The half lift is an easy pose, suitable for beginners. It calms the brain, reduces fatigue and anxiety. It helps release stress and headache.
Start with your feet together

Hinge forward at the hips

Place your arms on the shins

Lift your chest

Draw your shoulder blades together to flatten the spine
Plank
The plank pose tones the abdominals, as well as strengthen the arms and the spine. It is part of the sun salutation and is often used as a transitional pose.
Place your arms under your shoulders

Straighten your legs

Press your palms and draw your front ribs up

Squeeze your legs
Chaturanga
Chaturanga, also known as a low plank, strengthens important muscles and promotes good form. It is also part of the sun salutation.
Start in the plank

Keep your core active

Move your elbows close to the ribs as you lower halfway down

If you cannot hold it like this, then put your knees on the floor for an easier variation.
Upward Facing Dog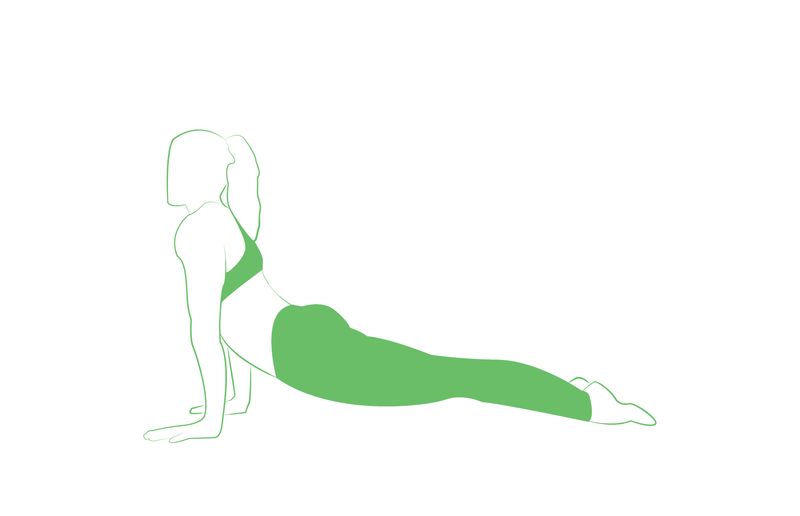 The upward-facing dog lengthens and strengthens the spine, torso, and arms. It is also part of the sun salutation and can be used as a strength builder.
From chaturanga, press down through your palms

Squeeze your shoulder blades together
Downward Facing Dog
The downward-facing dog is excellent to restore energy when you are tired. It also strengthens and shapes your legs, as well as stretches the hamstrings and calves.
Stand with your feet hip-distance apart

Press through your palms and widen your upper back

Pull in your belly button and front ribs

Heels on the floor
These are the best yoga poses for weight loss, and if you practice them several times a week you will start seeing results before the month is over. If you are looking for a more challenging routine, check out this 10-minute video, which includes all of the above-explained poses.
---
If you want to learn more about how yoga can help you stay fit and lose weight, why not book one of the yoga and weight loss retreats?