A Yoga Love Story: An interview with Kate Osman and Gaurav Malik
The go-to resource for planning your yoga retreats & holidays. Find all you need to know about destinations and take your practice to the next level.
Discover Yoga Retreats now
As a devote yogi, you've probably heard a hundred times that "yoga means union". The union of mind, body and soul; of conscious and unconscious; of yourself and the divine. But does it also include the union with your loved one?
Gaurav and Kate are two teachers who offer yoga retreats in India. They own Ashtak Yoga School on Arambol Beach, Goa and have been united largely because of yoga. They're a living example that yoga also represents the union with your significant other and here they share their love story with us as well as some advice to deepen your relationships through yoga.
How did your love story begin?
Kate – I was living in Sydney in an office job in a Marketing Agency and one day I quit and go on a 7–month adventure around South East Asia and India.
Gaurav – That's when I met Kate in Goa where I was teaching Yoga. We started a friendship that went on for a while.
Kate – I traveled around India for 3 months and I think I spoke on the phone with him every day. I met him for lunch once in Delhi before I left and it was our first official date, but I guess neither of us was sure if it was actually a date or not. When I returned home to Australia, we kept on talking, for hours. One day he told me 'say it!' and I said 'say what?' I knew what he meant, so I called him that same night, told him 'I love you' and immediately hung up.
Three weeks into a new job I quit and moved to India. I have been living in India for 2.5 years and we have started the Ahstak Yoga School together. It is the best decision I have ever made.
Gaurav – Later I asked Kate to marry me in Australia because it's the place she grew up and she has emotions and feelings associated with that place. I wanted to propose to her there so she remembers it as something special.
How has yoga affected your relationship?
Gaurav – It has definitely improved our life together, work, everything. Both of us are enjoying running the school, we both have our part and we don't have any problems with it because we are working in Yoga. Yoga is about connecting to our true selves, we practice together and live it together so it is truly creating a union between us. Every day we are getting closer and everyday we understand each other more. Every single day is a special one. I wake up every morning more excited about our life together.
Kate – Definitely Yoga has enhanced awareness in our relationship. It can also be tough because of all the emotions it brings up and the growth you do as an individual. But I think I have been so lucky to have Gaurav in my life for love and support along the way. It also makes us more independent in the relationship, I know I am continuously going away by myself for weeks to complete various Yoga and meditation courses, which I really enjoy and I think that's important. Some things can only be done by yourself.
Do you do Partner Yoga?
Kate – We are continuously helping each other stretch out and go deeper into postures. Any posture which can be done with your partner can be soothing and helps to develop stability and trust with each other. I love Gaurav helping me with hip openers and I often get him to stand on my thighs in Baddha Konasana, so I can go deep into the posture, and it looks cool as well! If I had it my way, he would be doing Partner Yoga with me for every posture all the time. I love it. Sometimes I fly on his legs like in Acro Yoga and bend down for the kiss.
What is your advice to yogis who want to start this practice with their loved ones?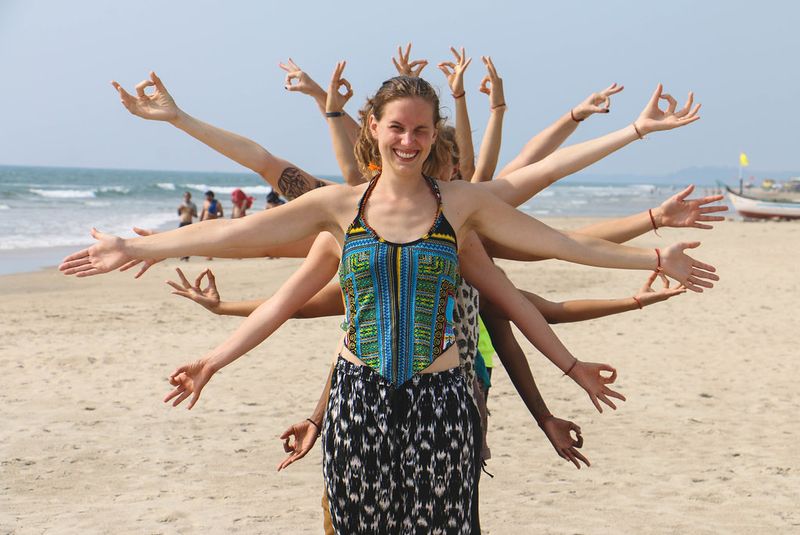 Gaurav – A firm, trusting, comfortable and loving touch is so important in adjustments and partner yoga. It is great to begin practicing with your loved one, it helps you learn how to provide this support for the other person and to build trust and awareness for each other. You get better at it with time and it's amazing to be able to have flow in movements and communicate nonverbally about where each other needs support and strength.
What pose is recommended to start practicing with a partner?
Kate – I would just start with simple poses which you could include your partner in, especially if you're new to yoga. Wide-legged forward bend is a good example, everyone could use a hand with this one, you can even sit feet to feet and try and hold each other's hands. You can begin to encourage your partner into your practice by asking them to assist you in postures during your regular self-practice and then ask if you can do it to them! Slowly and steady!
Another good one is having your partner lie with their back on you, sacrum to sacrum in Paschimottanasana, one person gets a deep forward bend and the other a nice backbend stretch.
Besides yoga, what do you enjoy the most as a couple?
Kate – We like cooking and trying different foods. We are so fortunate, we get to travel around the world holding Yoga Retreats and Yoga Teacher Training. We go to Greece, Thailand, Bali and India and there is no coincidence that these places have some really amazing food!
Gaurav – Everything. We like going for a drive around our village on our scooter, taking naps and talking about our experiences. Just sharing time together.
Tell us more about the picture below. How does it relate to your teaching style?
Gaurav – This is us at a yoga teacher training course in Goa. We're celebrating Holi – the festival of color which is a lot of fun. Yoga for us is joyful, creative and a celebration of life and existence.
It should not be serious, I am continuously reminding my students to keep a smile on their face during yoga postures and encouraging them to make their practice more joyful. If you are doing something with joy it becomes effortless. I remind them that they always have a choice, 'You can live logically or you can live magically'. (SadhGuru)
---
Thanks for taking the time to read this post! If you happen to be searching for a significant other or a partner who is also as passionate about yoga as you are, a Partner Yoga retreat is a perfect way to do so!