Top Yoga Destinations to Visit in January
The go-to resource for planning your yoga retreats & holidays. Find all you need to know about destinations and take your practice to the next level.
Discover Yoga Retreats now
In January, we're all tired and with a budget that has yet to recover from the holidays. Still, January is the cheapest time of the year to travel.
Sure, it's cheapest to travel to colder destinations but even sunny and warm ones aren't going to cost an arm and a leg.
Ideally, you want to book your stay in advance, although last-minute offers may also be a great option to save money.
So, where should you travel in January if you have yoga on your mind? We've taken a look at the data from our readers and we've also decided to focus only on winter sun this time, read on, pack your bags, and enjoy the warmer climates this January!
January is prime time for wildlife watching in Costa Rica. Head to the Pacific side and in the central areas to see the lovely birds and animals. Plan for a night hike! Oh and now it's the best time to see the sea turtles, too!
Costa Rica is also a great destination for surfing. The winter cold fronts pushing into the Caribbean create consistent waves. Puerto Viejo is a particularly good choice for big and mean waves. If you prefer tamer waves, then Guanacaste is a good option.
If you have a yoga retreat in Costa Rica on your mind, you are spoiled for choice. Many retreats take place in eco-resorts, are located by the ocean, and include surfing, too. Tamarindo and Santa Teresa are two of the most popular places where you'll find yoga retreats.
January is one of the best months to travel to Costa Rica. The weather is great across most of the country. It is the dry season, which means high temperatures and low rainfall on the Pacific side.
But being a popular month to travel – especially for those who want to escape the colder climates – the prices are high, and you should look into booking your stay and flights in advance.
The average temperature in San Jose is 18C /64.4F, while in Puerto Limon is 25C/ 77F.
There are quite a lot of things to do during the cold season in Thailand. It's the time to see the amazing flowers in bloom, especially in Northern Thailand.
Hiking is also a great choice for this time of the year. Thailand's highest peak, Doi Inthanon in Chiang Mai offers cold temperatures and lovely views. There's no snow, though, but the mist is an incredible sight.
Of course, hitting the southern beaches is a must. The weather is not too hot or humid and it isn't rainy either. Phuket has some nice, quiet beaches, while Krabi has unusual sea views.
Planning for a yoga retreat in Thailand is very easy as there are a lot of amazing options. Koh Samui is one of the most popular islands and there are great choices in Chiang Mai, too.
The weather is great in January in Thailand. There's a lot of sunshine and little to no rain, which makes January peak travel month for the country. No destinations are off limits in the country, but you should book in advance if you want to visit the most popular places.
Early January is peak season for any of the islands in Thailand. The popular ones – Ko Phi Phi, Ko Tao, etc – often fill to capacity, but the lesser known islands – Ko Muk, Ko Phra Thong – can be good alternatives to avoid the crowds.
The average temperature in Bangkok is 26 C/78.8F, in Chiang Mai is 21 C/70F, and in Phuket is 27 C/80.6F.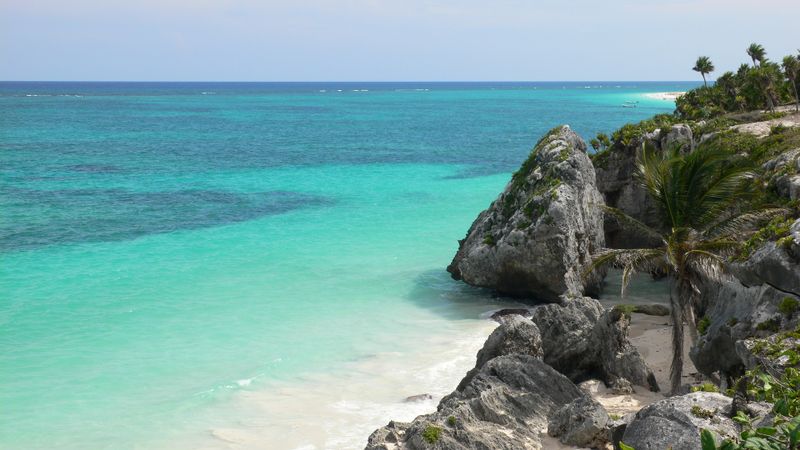 Winter is the most popular time to travel to Mexico and for good reasons, too. The weather is perfect and a good excuse to escape the colder climates. While the weather is not hot everywhere and even the beach destinations but get a cold snap, it's still a way better choice than being stuck in a country where it snows.
But Mexico in winter is known for something else, too: colorful and interesting festivals. January 6 marks El Dia del Reyes (The Kings Day). In the Christian calendar, this day marks the Epiphany, when they commemorate the arrival of the Magi or "Wise Men" who had gifts for the Christ Child. In Mexico, children receive gifts on this day. Even after the Christmas festivities are over, other festivals will also entice your senses. For example, Fiestas de Enero take place for 3 weeks in January in the town of Chiapa de Corzo, Chiapas.
How about if you want to go on a yoga retreat in Mexico? You are spoiled for choice and you are guaranteed fun and good weather in a beachfront location. There are a lot of choices on the Riviera Maya, with Tulum being a very well know choice for yoga retreats.
January is one of the best months to visit Mexico. The sea temperature is comfortable for swimming and the weather is slightly cooler thanks to the dry season. The Yucatan peninsula is the most popular tourist destination. January falls outside of the hurricane season, making this month a very popular one to visit Mexico. As a result, the prices tend to be higher so book in advance.
The average temperature in Merida is 23C/73.4F, while on Isla Mujeres is 25C/77F.
---
Sick of the cold weather? Pack your bags and head to a yoga retreat in the Caribbean! There are plenty of countries and activities to choose from.