What Is a Yoga Alliance Certification?
The go-to resource for planning your yoga retreats & holidays. Find all you need to know about destinations and take your practice to the next level.
Discover Yoga Retreats now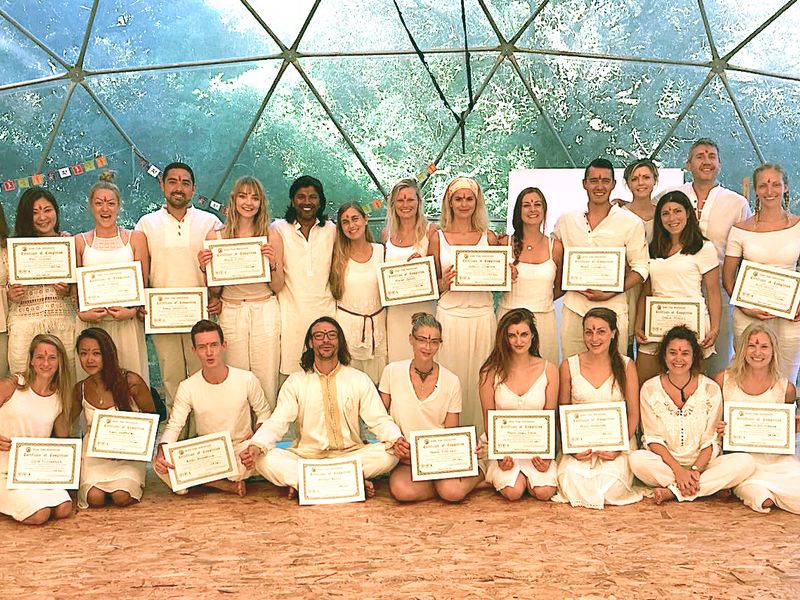 Yoga Alliance is a nonprofit organization representing a big part of the yoga community in the world. It's based in the United States and it has about 60,000 yoga teachers and 4,000 registered yoga schools.
This organization determines certain standards for yoga professionals and yoga teacher training programs to ensure that they're of good quality. The instructors and schools that meet these standards can voluntarily register to Yoga Alliance to get an internationally recognized certification.
Becoming a Yoga Alliance certified yoga instructor will enable you to teach in many parts of the world. However, it also offers some special benefits for its members, such as discounts for continuous education, liability insurance, legal services, online workshops, and yoga apparel, just to mention a few.
A short history of Yoga Alliance
Image credit: Parahita Alam Bali
It's the nineties, an ancient Indian practice is quickly spreading around the western world (particularly in the United States). Numerous schools and teachers emerge every day, but there's nobody who can assure that this practice called yoga is being taught in a safe way.
So, around May 1997, several practitioners voluntarily start to write some guidelines for yoga teachers and schools. Later on, a group of yogis from different lineages and traditions organize two groups to set the standards, one is called Ad Hoc Yoga Alliance, and the other Unity in Yoga. A couple of years later, in January 1999, members of both groups hold a meeting where Unity in Yoga offers to roll its 10-year-old charity over to Ad Hoc Yoga Alliance; hence, the Yoga Alliance is created.
Yoga Alliance doesn't give teacher training courses itself, but it has a large list of teachers, schools, and international continuing education providers, all endorsed by them.
While Yoga Alliance is one of the most recognized associations in the world related to yoga, it isn't the only international organization that exists. Along with it, the International Yoga Federation (IYF) is also quite popular around the world.
It's possible to find organizations that include the words "Yoga Alliance" in their names. However, they aren't the same as Yoga Alliance or Yoga Alliance Registry; they're normally regional associations that are not affiliated to the original one.
>>READ MORE: What to expect from your yoga teacher training?
Types of Registered Yoga Teacher (RYT) Programs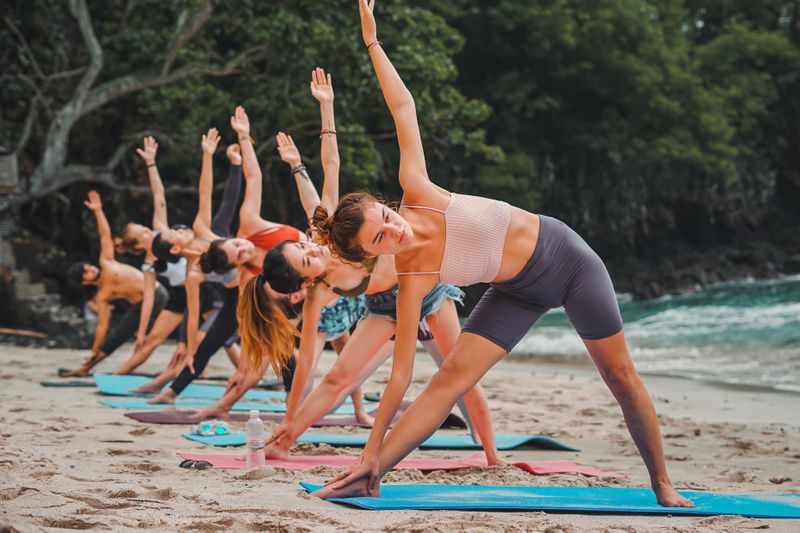 Image credit: Bali Yoga School
Yoga Alliance offers several certifications. The most popular one might be the RYT 200, but there are also programs of continuing education and special certifications for experienced teachers. Here's what you can do with them:
200-Hour Yoga Teacher Training (RYT 200)
Considered the first step to becoming a yoga instructor, on a 200-hour RYT course you'll get a broad introduction to yoga. You'll dedicate a long time to refining your technique through guided repetition and analytical training.
The aim of this course is to help you understand the benefits and purpose of each pose. You'll also learn how to structure your own classes and add Pranayama and meditation techniques to your practice.
By reading the Sutras and other relevant texts, you'll discover the philosophy behind the practice. You'll also study the ethical part of being a yoga teacher and the responsibility a yoga instructor has towards the students and the community.
The program includes a module about anatomy and physiology where you'll learn about the functioning of the body systems, the mechanics of the asanas, and how to apply this information in a way that maximizes the benefits of the practice.
In addition, you'll work on finding your own style, learning how to guide a group of students, as well as the business aspects of being a yoga instructor. And before you finish the course, you'll get to practice being the instructor of a class and help other classmates in the process.
>>READ MORE: How many hours to choose for your yoga teacher training (200, 300, 500, or something else?)
300-Hour Yoga Teach Training (RYT 300)
The 300-Hour course is known as the second level yoga teacher training course and comes after you've finished the 200-Hours course. It is often referred to as "Advanced Yoga Teacher Training".
It will further your education and help you grow both as a student and a teacher.
It has a different curriculum than the 200-Hour course and it will deepen your knowledge of asanas, as well as teach you advanced ones and dive deeper into anatomy, philosophy, and physiology.
For 50 hours you'll study techniques, training and practice, which includes asanas, pranayamas, kriyas, chanting, mantra, meditation, and other traditional yoga techniques.
At least 30 hours are dedicated to Practicum, which includes practice teaching, receiving and giving feedback, as well as assisting students while someone else is teaching.
You also study teaching methodology (5h), where you'll focus on communication skills, how to address specific needs of individuals, teaching styles, and more.
The anatomy and physiology (15h) module delves deeper into the human physical anatomy and physiology and its application to yoga practice, while the yoga philosophy, lifestyle and ethics for yoga teachers (30h) module deepens the study of yoga philosophies and traditional texts
In total, the course must include 300-hours. Out of them, 270 hours must be contact hours, that must take place in the physical presence of a faculty member.
After the completion of the 300-hour certification, you can register as an RYT 300.
500-Hour Yoga Teacher Training (RYT 500)
A 500-hour is the most complete course you can take as a yoga instructor. Once you have a 200 RYT certification and have completed 100 hours of teaching, you can do a 300-hour teacher training to complete the 500 hours.
While this is the most common path to becoming an RYT 500, there are also programs where you can do all 500 hours at once. Such a retreat takes about 50-60 days but there are some intensive options that take only one month.
A 500-hour course develops the same aspects of the 200-hour training (technique, philosophy, anatomy and teaching methodology). The difference is that all concepts are studied more in-depth and you can develop your own teaching style by choosing whichever category you want to focus on. There's a holistic approach to yoga in which you're encouraged to experience and transmit the yogic lifestyle on and off the mat.
Other certifications
Yoga Alliance also offers other certifications such as children's yoga teacher (RCYT) or prenatal yoga teacher (RPYT). They are good options for instructors who want to specialize in these specific areas. Besides, Yoga Alliance gives certifications for experienced teachers (E-RYT), which allows the instructor to train new aspiring teachers.
To get certified as an E-RYT 200, you need to have a minimum of 1,000 hours of teaching experience; and for an E-RYT 500, you'll need at least 2000 hours of teaching.
What options are available for online training?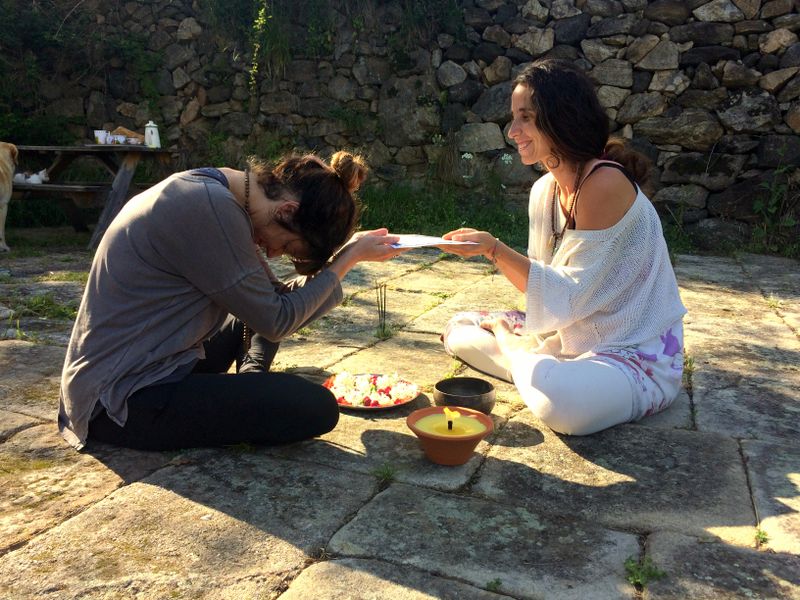 Image credit: Yogaji
There are three different paths to become a yoga teacher. One is to look for a registered school in your hometown and attend all the classes required by the program. This could take up to 12 months to complete.
Perhaps the most comprehensive option is to go on a retreat where you'll practice intensively for about 3-4 consecutive weeks. You get to meet fellow yogis, have direct interaction with your instructors, and get a chance to learn many things beyond the mat.
And there's one last option that's very convenient as well. You can join an online yoga teacher training and become a Yoga Alliance yoga instructor from the comfort of your own home. This will save you plenty of money and time, and it's the perfect choice for those with a busy schedule.
An online program can either be self-paced training or a full-time course. For the self-paced training, you'll only need to set aside a special time during the day for the practice itself. It normally lets you complete it in up to 12 months. On the other hand, a full-time online teacher training requires that you fully commit to the course calendar of about 3 to 4 weeks, but it gives you the opportunity to have live sessions with other classmates.
>>READ MORE: What type of online yoga teacher training is best for you?
What does the syllabus and schedule of a Yoga Teacher Training look like?
Image credit: Yoga Union
Whether you opt for a 200-hour or a 300-hour course, the standards to get a Yoga Alliance certificate are divided into 5 main areas:
Techniques, training, and practice
Teaching methodology
Anatomy and physiology
Yoga philosophy, lifestyle, and ethics
Practicum
This is an example of how your schedule looks like if you decide to do it full time, whether it is face-to-face or online:
06:00 Meditation and pranayama
07:00 Yoga practice
09:00 Break
10:00 Philosophy and anatomy class
11:30 Asanas, methodology and teaching practice
13:00 Break
16:00 Workshops
17:30 Yoga practice
19:00 Meditation and pranayama
Note that this is just an example of how your schedule might look like. Each program is different. Please contact the instructors of the yoga teacher training of your preference for more information and details.
---
Want to truly take the plunge and become a 500 RYT right away? Join a 500-hour yoga teacher training!
*Cover image credit: Green Yoga International