10 Gorgeous Yoga Accessories You Have Never Heard Of
The go-to resource for planning your yoga retreats & holidays. Find all you need to know about destinations and take your practice to the next level.
Discover Yoga Retreats now
You can practice yoga anywhere and at any time no matter what level of practice you're in because it requires no equipment. Yoga seems to be a hard practice to many people, but once you venture into it, you will be amazed by the fact that anyone is capable of doing it.
Its charm lies in the fact that you can begin to engage with yoga regardless of your age if you feel the interest in it. As for any other type of exercise, you can always benefit from additional accessories. A big plus for yoga, though, is that this set should be minimal.
Of course, yoga practice is not a mere walk in the park. Like anything else in life that takes effort, it has a learning curve. Still, with the right accessories, you can give yourself an added bonus to get there faster, or you can simply enrich your yoga practice with more fun. Here are 10 accessories that you probably never heard of before:
#1. Bed of Nails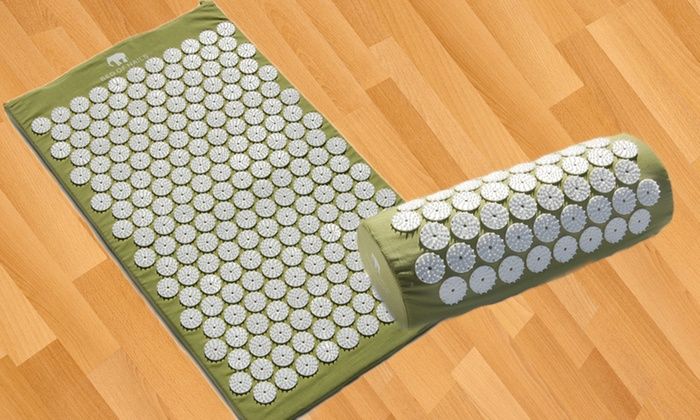 A bed of nails is a unique bed designed to massage your body after a yoga practice. This accessory will give you the best post-yoga practice experience especially if you are that kind of a person who fears any pain, for it will lend you a way to avoid acupuncture. The bed of nails is not only excellent but also inexpensive, so it is one of those deals that you would not want to miss out on.
You can use this before you retire to bed and you are bound to sleep better as compared to before. In addition to this, it will help in relieving you of headaches and muscle soreness and will be of good use to you if you use it repeatedly. Also, this method is very useful as well for women who have cellulite.
Therefore, instead of going for an expensive massage, why don't you opt for this cheaper alternative?
#2. Omni Gym Swing
This is a swing used in yoga that's both unique and super easy to install. It is fun to have one for it will make your yoga practice quite impressive as well as help you in decompressing your spine or merely having a relaxed feeling. In addition to the above, this swing will serve you best if you need strength training or therapeutic purposes.
#3. Toe Socks
Photo credit Smilygrl on Flikr
These are adorable variations of the toe socks which are perfectly designed for the yogis to put on, though you can also have them on around the house. These classic toe socks are more stylish than the ordinary pair. They are made for both genders, the men's type is like the regular socks, but now they have grips on the bottom.
#4. Yoga Towels
Frankly, yoga towels are cool for use in yoga practice. The reason is that these towels will never slide over your mat when you move around. The corners are wrapped around your mat to keep it in place. Yogis who use these towels always have beautiful practice. It is also important to note that they come in a few different colors for one to choose.
#5. Plank Yoga Mats
The Plank designs of mats are the best yoga mats on the market. You should work at having one of these rather than the plain generic looking black mats which most people own. These plank mats are fantastic to have your yoga practice on them mainly due to their beautiful features such as; the super imagery on them, the high standard texture which surpasses the average yoga mat and the firm grip which is guaranteed by the heat-activated surface. This firm grip helps you to maintain your poses and not merely to sink into them. These mats are suitable for beginners, though, of course, you always have to aim high to be the best yogi.
#6. Incense Holder
An incense holder is not commonly used, but yet vital for you to have for your yoga practice session to be a refreshing one. You can get one with all the colors you love, in order to add to the aesthetic value of your practice room. Also, you can get your favorite scents or even choose to blend your favorite scents to cleanse your yoga space, hence making the place a lovely one to be in.
#7. Strength and Flexibility Kit
Photo credit: Gaiam
This kit helps to keep yourself fit without yoga practice. Yoga always works hard to test your strength and flexibility. Therefore, this kit will always help you when you cannot have your yoga practice because of illness, or even when you have taken time off or vacation. If you are a full-time yogi, it is prudent to give your body a chance to rest, and it is during the break that this kit will prove itself useful.
#8. Shambala Rosewood Mala Beads
Photo credit: NatureBeads.com
The beads are essential in your practice sessions because they test your consciousness. They can do this by requiring you to do some counting chants and meditations without breaking your stream. To test yourself, you first have to close your eyes then start counting from the big bead and round the circle, bead after bead till you return to your starting point. It's fun having these mala beads as you could even have them around your neck, wrist or ankles. You can't have an access to the deeper levels of your rounded yoga practice without mala beads.
#9. Massage Balls
Self-tenderizing of muscles is an essential practice for yogis. During your practice sessions, you should not limit your potential. Instead, play with different sizes, engage in different levels of pressure and try all rolling techniques so that you achieve your desired consistency and firms. You should also try to contract your muscles between a bracket for one to three minutes or even longer than that if you are able to and you will soften the tough bits.
#10. Yoga Blankets (Bolsters)
This is a part of the three-course yoga class. It is an excellent session to cool down and relax your muscles, chill your nervous system by placing under your knees, behind your back or lying on it lengthwise and you can now enjoy and relax. These blankets otherwise called bolsters can save you if you ever get trapped overnight in a studio. Don`t you think it will be fun to make a single bed in a pinch? We're just kidding, of course, but the bolsters are definitely versatile and cozy.
Final Thoughts
By investing in some of these accessories, you won't just help advance your yoga practice, but you may even help set up a nice yoga space in your home. None of the items described above are usually expensive so they definitely made it on our own shopping lists for this season.
How about you? Did you learn about some gorgeous yoga accessories you didn't know?
---
Want to experiment more with your yoga routine? Why not try something more adventurous and fun? An aerial yoga retreat will recharge your energy levels for months to come!