12 Year-Round Yoga Retreats in Europe to Relax Anytime You Want
The go-to resource for planning your yoga retreats & holidays. Find all you need to know about destinations and take your practice to the next level.
Discover Yoga Retreats now
It's not always easy to find enough time to go on a yoga retreat, much less when you have to adjust to a specific date to do so. The good thing is that there are many options all over Europe with plenty of availability all year long.
Whether you want to bask in the cheerful vibes of Portugal, strike your yoga poses on the beautiful beaches of Spain, visit Greece's magnificent islands, be delighted by the French cuisine or relax in the Italian countryside, there's something for all tastes and schedules in the Old Continent.
Want a few recommendations? Here are 12 of the very best yoga retreats in Europe that you can join any time from January to December.
Note: BookYogaRetreats offers a flexible cancellation policy. Should you not be able to travel as scheduled, we'd be happy to help you to alter your booking with the same organizer or with a different organizer.
Duration: 7 days
Location: Valencia
Looking for a retreat that completely takes care of your needs while you just enjoy your time out? Based in Costa Blanca, a perfect location to unwind and recharge, this holiday is ideal to treat yourself to some well-deserved me time.
This all-inclusive holiday in Spain offers you the guidance of a full professional team consisting of a doctor, nutritionist, retreat director and staff. They'll take good care of you while you naturally detoxify by eating fresh, healthy, delicious food.
Aside from all meals, the program also includes an initial private health-check and a consultation, as well as one meditation class, daily yoga, complimentary use of the spa facilities and private airport transfers. All in all, a truly luxurious experience!
»READ MORE: 7 Most Popular Yoga Destinations in Europe
Duration: 8 days
Location: Tenerife
If you are looking for a re-energizing detox and yoga retreat in a magical destination, look no further!
This luxury soft detox retreat focuses on an alkalizing diet detox, a gentle detox based on healthy, fresh, and alkalizing foods.
You'll stay at Hotel Tecina. The rooms are spacious and the views are amazing. Or you may choose a luxury house, that offers a more private experience while still offering the sea views and the amenities available at the hotel.
Your arrival day is Sunday, but the retreat starts on Monday at 7:45 a.m. You'll be on a liquid-only diet from Monday morning to Saturday after the morning yoga class. On Saturday morning you'll start reintroducing foods in your body and enjoy light breakfast, lunch, and dinner.
The program includes daily yoga classes, as well as three traditional massages and excursions on the island.
Whether you fly into the island or take the ferry, the transfer to /from La Gomera is included in the package.
Duration: 4 days
Location: Ariège
Nothing like the French Pyrenees to relax, unwind and breathe fresh air. And to make the experience even better, this retreat's program incorporates a Japanese method known as Shinrin-yoku (forest breathing), which helps you to clean your lungs and reenergize while immersing yourself in nature.
As you walk through the forest and along the river, you'll feel how your body gets rid of all the and your mind gains clarity. Your senses will completely awake, and you'll discover new sounds, feelings and tastes thanks to the practice of Taoist Yoga.
The program has many starting dates available all year long and it includes daily breakfast, lunch and dinner, 3 nights' accommodation and daily Tao Yoga sessions.
Duration: 3 days
Location: Maggiana, Lombardy
Unplug for a few days, forget about your daily routine and slow down nearby the calm waters of Como Lake on this yoga retreat in Maggiana, a charming medieval village in the foothills of the Grigna mountain.
You can choose any day you want to start your vacation and the program includes daily Ashtanga Vinyasa and Yin Yoga sessions, Pranayama lessons, meditation classes, 2 nights' accommodation, as well as brunch and dinner made with locally sourced ingredients, prepared by the famous Osteria di Sale e Tabacchi.
During your free time, it's a great idea to go hiking as this region offers some of the best tracks against the beautiful landscapes of Northern Italy. If you're interested, you could explore them with a local guide upon request.
»READ MORE: Affordable Yoga Retreats in Europe that Won't Break the Bank
Duration: 5 days (flexible)
Location: Campofilone, Province of Fermo
If your main intention is to gain mindfulness and bring that sense of calmness back home, this Kundalini Yoga retreat is what you need. With restorative yoga, Tantra, Nidra, Kundalini and Hatha, you'll feel like a new person after just a few days.
You'll be staying in a nice villa located 3 km (1.8 mi) away from the sea, an ideal place to connect with your inner self, balance your chakras, connect with nature and just be. The program includes daily classes of Nidra Yoga, mindfulness sessions, 2 daily Kundalini classes, a Buddhist psychology lecture, as well as brunch, dinner and snacks.
The starting date and duration are flexible. So, if you feel like you need more time to find that inner peace, you can extend your stay to up to 10 days.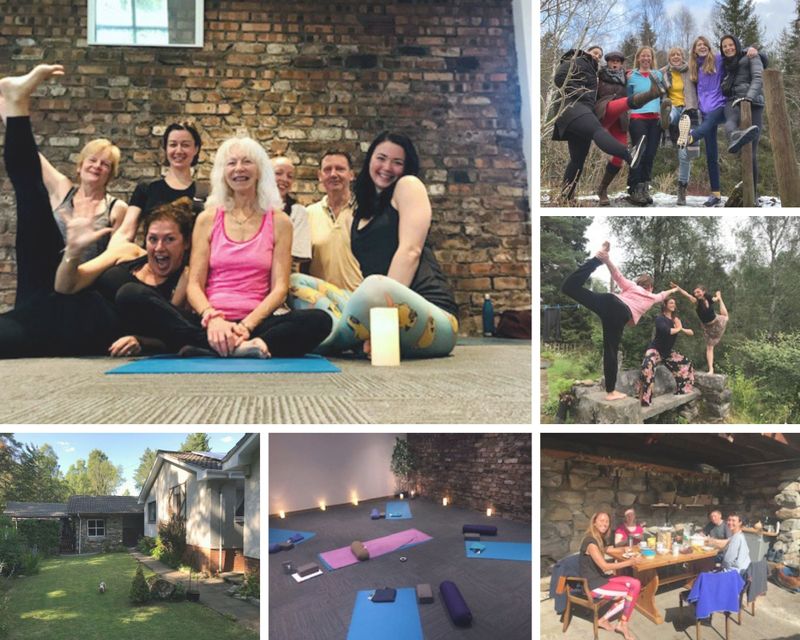 Duration: 4 days
Location: Pitlochry
Looking for a different style of yoga? Head to the Scottish Highlands and sweat it all out with Hot Yoga! This holiday offers you cozy accommodation in a chalet-style house nestled in the Black Wood of Rannoch, surrounded by abundant wildlife and amazing natural landscapes
The yoga retreat generally starts on Mondays or Fridays with several dates available all throughout the year. It includes 2 daily sessions of Hot Yoga, mat and towels, a bike tour around Loch Rannoch, shuttle service to Pitlochry's train station, as well as a full-board meal plan. In addition, you can book one therapy session or even a sailing trip around Loch Rannoch.
Duration: 8 days
Location: Aljezur, Faro
How about combining yoga and surf to double the fun? This vacation allows you to put both practices together for a truly unforgettable experience. And make no mistake, there's no better place to do so than Portugal!
The retreat starts either on Saturdays or Sundays of every month and the groups are kept to a maximum of 8 people, so you can truly take advantage of all lessons. And don't worry if you don't have any surfing experience, the program is suitable for all levels, and you'll start from the ground up with 6 surfing classes on the beginner-friendly Arrifana Beach.
It includes daily continental style breakfast, 6 buffet lunches, 4 evening meals, 1 massage, and 5 morning yoga sessions designed to connect both practices, as well as your body, breath and mind.
Duration: 6 days (flexible)
Location: Essex
This yoga holiday offers you the opportunity to get fit and kickstart a healthier lifestyle while having fun. The main purpose of its program is to solely focus on your wellbeing, getting rid of all tension, and pampering yourself with spa treatments, a plant-based diet, cryotherapy, yoga and exercise.
It's an all-inclusive program and you can start any day of the week you want. The recommended duration is 6 days, but you can also shorten it to suit your schedule or extend it up to 12 days to get the most benefits out of your stay.
It takes places in the Glass House, a beautiful lodging just a few kilometers away from London. It's close enough for it to be an easy trip from the capital, but far enough to avoid the noise and bustle of the city.
Duration: 6 days
Location: Corfu
All passionate travelers should aim to visit the Greek island of Corfu at least once in their lifetime. So, what better way to cross it off your bucket list than by going on a yoga retreat?
The goal of this holiday is to help you deepen your practice while being inspired by the astonishing landscapes of Corfu. That's why the program offers 2 yoga classes per day at the beach, daily meditation sessions, hiking tours around the island, snorkeling, daily breakfast and dinner, and complimentary airport transfer on arrival.
It is recommended that you arrive on Saturday, but if this doesn't suit your schedule, you could easily ask for a different starting date.
Duration: 7 days
Location: Athens
If you're really serious about committing your time 100% to yoga, this retreat in Athens is what you're looking for. With four hours of yoga every day, you can be certain that you'll take huge steps forward in your practice.
You'll learn different styles such as Power, Vinyasa, Yin, Nidra and Chakra Yoga, as well as meditation. You'll be guided by an experienced instructor with several certifications and training in India and different parts of Asia. She'll give you thorough advice on alignment, breathing techniques and philosophy so that you can gain in-depth knowledge of yoga.
The program includes daily breakfast catered for your diet, drinks and 6 nights' accommodation.
Duration: 3 days
Location: Almere
This year-round yoga retreat takes place in a fantastic location, close to the center of Almere, the eighth city in the Netherlands. You'll be a short distance from various nature reserves, where you'll experience nature walks.
The package includes three yoga classes and meditation, nature walks, and access to the hotel's wellness facilities. You'll also enjoy two breakfasts and a luxurious three-course dinner on the arrival day.
Throughout the stay, you'll also get a lot of attention, personal guidance, and support from the yoga instructor.
Duration: 3 days (flexible)
Location: Eastern Erzgebirge
Taking place in a very quiet place in the Ore Mountains area, surrounded by a magnificent forest and sprawling meadows, this yoga retreat is an excellent option to reset and reenergize among nature.
You'll stay at the historic Hotel Zollhaus, where you'll get daily yoga classes, 1 spa session with several saunas for you to choose from, 2 Ayurvedic 3-course meals, and daily breakfast. Additionally, during your free time you can go cycling, horse riding or hiking to explore the astonishing views of the mountains.
You can arrive any day you want, and if you need more relaxation, you can extend your stay to up to 6 days.
---
Do you think you're ready to become a yoga instructor? Find a yoga teacher training course in Europe!