12 Year-Round Yoga Retreats in the Americas to Reset & Recharge
The go-to resource for planning your yoga retreats & holidays. Find all you need to know about destinations and take your practice to the next level.
Discover Yoga Retreats now
The Americas is a vast majestic land full of wonders. From Alaska to Chile, you can find pristine beaches, serene mountains, arid deserts, lush rainforests, and many impressive natural settings that are just perfect for a yoga retreat.
As beautiful as these countries are, it's not always easy to find enough time to visit their vibrant cities, much less if you must adjust to a specific date to do so. The good news is that there are many yoga holidays in the Americas with plenty of availability all year long.
Whether you want to bask in Florida's sunshine, strike your asanas on the renowned beaches of Mexico, explore the unspoiled islands in the Caribbean, meditate surrounded by the diverse wildlife in Costa Rica, or embrace the yogi lifestyle in California, there are many options for all tastes and schedules.
Want a few recommendations? Here are 12 of the very best yoga retreats in the Americas with many starting dates from January to December.
Note: BookYogaRetreats offers a flexible cancellation policy. Should you not be able to travel as scheduled, we'd be happy to help you to alter your booking with the same organizer or with a different organizer.
Location: Guanacaste, Costa Rica
Duration: 6 days
A yoga retreat to truly disconnect and harmonize your body, mind and soul. With an infinity pool, delicious food, spectacular views of the valley and Tamarindo Beach nearby, you'll want to make it your permanent address after a few days.
The program includes 2 yoga classes per day, 3 daily gourmet vegetarian meals, diet and nutrition tips, free transfers to the beach and to Liberia Airport, chakra balancing meditation, and activities for all levels and ages.
The accommodation consists of spacious lodges with queen size beds, air conditioning and a large deck. You can choose any day you want to start your vacation from Monday to Sunday.
Location: Phippsburg, USA
Duration: 4 days
No better place to retreat and do yoga than Maine's renowned coastline. This holiday in Maine offers a nice cozy place to unwind, calm down and nourish your soul.
The program is quite comprehensive with 2 daily yoga classes included, as well as daily guided meditation sessions, Pranayama lessons, 3 meals per day, and excursions featuring outdoor activities such as hiking and the chance to do some forest bathing.
You can choose either shared or private accommodation with air conditioner, and the facilities offer hot tub, swimming pool, fireplace and a spa offering many different treatments.
The recommended stay is 10 days, but you can extend it to up to 20. With very few exceptions throughout the year, you can basically come any time you want.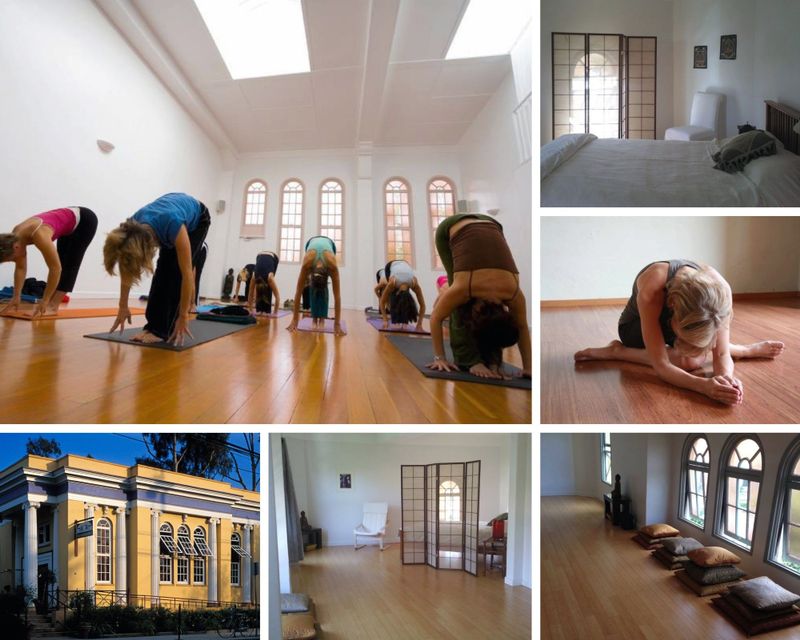 Location: Santa Barbara, USA
Duration: 4 days
This short, intimate getaway is ideal to deepen your practice in one of California's top yoga centers. It offers high-quality instruction in several different styles, such as Iyengar, Kundalini, Vinyasa, Yin and more with certified renowned teachers.
The program includes daily yoga classes and your own private space to practice. Additionally, you could get a massage, go to the sauna, book an acupuncture session, or visit the beautiful beaches, restaurants, shops and other attractions around Santa Barbara.
You'll stay at Santa Barbara Yoga Center, located in a historic building with 20-foot ceilings, skylights, a queen-size bed and full kitchen.
You can start your yoga vacation any day of the week depending on availability.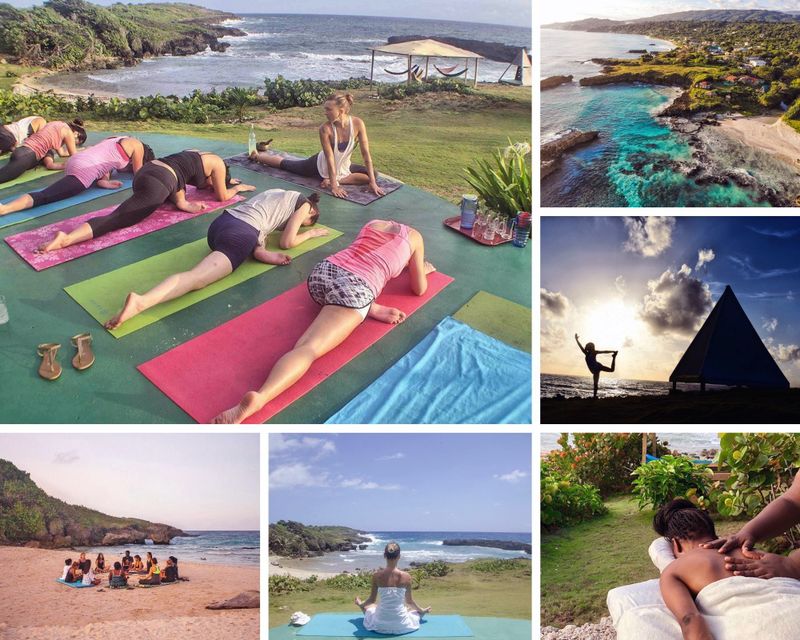 Location: Portland, Jamaica
Duration: 10 days
This all-inclusive yoga retreat in Jamaica is specifically designed to help you rejuvenate your body, reset and kickstart a healthier lifestyle. It offers a detoxing program to allow your body to naturally heal through fasting and other cleansing techniques.
The program includes a master cleanse regime with lemonade, pure water and herbal teas, 2 deeply detoxifying massages, 1 meditation session daily, 2 yoga classes every day, 1 workshop to help you understand the process your body is going through, and a trip to the waterfalls nearby. At an extra cost, you can also go surfing or rafting.
You'll stay at the Go Natural Sanctuary, an eco-friendly property situated right next to the sea, with impressive views and a large tropical garden.
The starting day is flexible, and you can start your detox holiday any day of the week depending on availability.
Location: San Juan del Sur, Nicaragua
Duration: 15 days
Have you ever dreamed about working feeling the sand in-between your toes, with a refreshing drink at hand? This year-round yoga retreat in Nicaragua is a great option if you work remotely and want to take your job to a beautiful location.
For you to be as efficient as possible, the luxurious bungalow where you'll stay and all the facilities have fast Wi-Fi. And for you to have 2 relaxing working weeks, the program includes 1 full-body massage, 14 Yin and Vinyasa Yoga classes throughout your stay, meditation sessions, daily vegetarian breakfast buffet and 3-course dinner.
You can arrive any day of the week based on availability.
Location: Puerto Vallarta, Mexico
Duration: 8 days
A one-of-a-kind transformative experience, this yoga retreat in the wonderful beach town of Puerto Vallarta is an excellent option to unplug and regain mental, physical and emotional balance.
You'll enjoy two yoga sessions daily in open studios, 1 deeply relaxing massage at the spa, 3 healthy gourmet meals prepared by a professional chef and snacks. Plus, you'll have the chance to participate in a cacao ceremony, take part in a variety of wellness workshops and go on 2 guided adventure tours.
The accommodation consists of luxury treehouse villas with ocean and jungle views. You can use your villa's private pool or any infinity pool in the facilities.
You can arrive any Saturday all throughout the year.
READ MORE: 12 year-round yoga retreats in Europe to relax anytime you want
Location: Puntarenas, Costa Rica
Duration: 10 days
Surf and yoga go well together like peanut butter and jelly. Both practices form a unique combination of fun, mindfulness and balance that makes this surf and yoga holiday in Costa Rica an amazing experience.
Don't worry if you've never surfed before, the program suits all levels and it includes 8 yoga classes, 6 surf lessons, photos and video of every lesson, daily fruits and water, and transportation to and from the beach.
For the accommodation, you can choose between shared room, private with shared bathroom or all private at the Pura Vida hostel. It is located just a few steps away from Playa Santa Teresa and it has a swimming pool for you to wind down.
The retreat is available all year round, just keep in mind that it has high season on Christmas and Easter. You're free to arrive any day of the week.
Location: Hershey, USA
Duration: Flexible
This yoga vacation in Pennsylvania is a great way to escape to the countryside in style. Here you can practice your asanas as you watch the horses gallop on green pastures, and relax in a quaint farm with cozy fireplaces and beautiful antiques.
The program includes 2 daily yoga lessons, breakfast, 24-hour refreshments and beverages, and the best part, a bottomless cookie jar for you to embrace the country lifestyle and spoil your inner child the proper way.
The farm has several different rooms, all with the utmost luxury. The suggested length of stay is 5 days, but you can extend it to up to 10 days.
Location: Cozumel, Mexico
Duration: Flexible
Cozumel is one of the most magical islands in Mexico; its shores are full of colorful reefs that make it a paradise for snorkeling, and its turquoise waters make a breathtaking landscape for a yoga holiday.
On this retreat, you'll have the opportunity to go on a boat snorkeling excursion, get a deep tissue massage, bike around the island, take part on 2 daily yoga classes and 1 meditation session per day, as well as a tour to a bee sanctuary. Plus, breakfast and dinner are included.
The accommodation consists of a family-owned natural space with a spring pool, temazcal, a beautiful garden, terrace and many more facilities for you to relax and have fun.
The program is designed for a 4-day stay, but you can prolong it to 8 days.
Location: Cocoa Beach, USA
Duration: 4 days
Want to challenge yourself with an exciting style of yoga? This year-round holiday in Florida is what you're looking for. You'll get the chance to strike your poses on a stand-up paddleboard feeling the breeze of the Atlantic Ocean in Cocoa Beach.
The program includes 2 surf and SUP lessons with a professional instructor, daily meditation sessions, and 1 private session of Reiki, chakra healing, herbal nutrition, advanced SUP Yoga or some other wellness options of your choice. Plus, 3 vegan and tasty breakfasts and 2 lunches.
You can choose to stay in a shared or private room, and you're welcome to join any day of the week, all year long.
Location: Santa Catalina, Panama
Duration: 7 days
On this surf and yoga holiday in Panama, you'll learn the basics of surfing and use them to become a better yogi. It includes 6 yoga sessions, 5 surfing lessons, 2 surf studio lessons and unlimited use of equipment.
You'll stay at an oceanfront surf oasis, nestled into the wild nature of Santa Catalina. It features a swimming pool, terrace, bar, yoga shala, restaurant and many more facilities to help you get the most out of your vacation.
In addition, you'll have meditation, mindfulness and breath practices, a standup paddle boarding experience at Santa Catalina Island, as well as daily breakfast, lunch, and dinner.
READ MORE: Why Go on a Luxury Yoga Retreat in the USA
Location: Alajuela, Costa Rica
Duration: flexible
A nice mix of yoga, adventure, alone time and relaxation, this year-round yoga retreat in Costa Rica is perfect to revitalize and restore your wellbeing surrounded by a natural setting that features forest trails that take you to a splendid waterfall.
This holiday includes daily yoga sessions with top-notch instructors, Thai and deep tissue massages, a Temazcal ceremony and body detox mud wrap, ionic foot detox, an initial consultation with a naturopath coach, 3 vegetarian meals per day, and a tour to an organic permaculture farm.
You'll stay in a private room in a boutique hotel, where you'll have unlimited access to a swimming pool, jacuzzi, volleyball court, and a yoga deck.
You can arrive any day you want, from Monday to Sunday, all year long.