Top Yoga Destinations to Escape the Winter Season
The go-to resource for planning your yoga retreats & holidays. Find all you need to know about destinations and take your practice to the next level.
Discover Yoga Retreats now
It's that time of the year again: frosty mornings, snowflakes falling, a cup of hot cocoa, cinnamon, pumpkin spice, and everything nice.
That's winter for you! And if you are fan of the cold weather, then nothing beats the sight of pristine, freshly fallen snow, and the scent of crisp air...
While we believe that every season has its charms, the cold weather is certainly not for everyone.
Prefer spending the winter someplace warmer?
We get it, sometimes, instead of embracing the winter, escaping it altogether is more appealing. Nothing beats waking up to the view of the ocean and enjoying balmy temperatures.
After all, practicing yoga on the tropical beach might be just what you need.
Here, we are sharing a list of our picks of yoga destinations ideal to escape the snowy winter. Keep reading and you're bound to find a retreat that brings up your happy spirit!
Note: BookYogaRetreats offers a flexible cancellation policy. Should you not be able to travel as scheduled, we'd be happy to help you to alter your booking with the same organizer or with a different organizer.
Photo credit: lets yoga
Thanks to its favorable location, just off the coast of Western Sahara, these Spanish islands offer a mix of tropical and desert climate. The temperatures around 63-68° F (17-20° C) in December create a perfect environment to enjoy some yoga in the fresh air, embark on a meditative volcano hike or do some surfing.
Join a beach yoga retreat in Canary Islands and discover this charming archipelago with its magnificent landscapes, lush vegetation and beautiful beaches.
» Read more: Your Guide to Yoga Retreats in the Canary Islands
Photo credit: BuddhiFool World
A plethora of leisure and wellness options make Hawaii a very popular destination both for American and international tourists, including yogis who adore this island for its positive vibes and breathtaking nature views.
With temperatures as high as 80° F (26° C) from November to February, Hawaii is a great destination to forget about the winter blues. However, since it's a rainy time and short showers are common, be sure to bring an umbrella!
On a yoga retreat in Maui, you can take part in sacred ceremonies and learn ancient meditation techniques in order to connect to nature on a deeper level.
» Read more: Embrace Yoga to its Fullest in Beautiful Hawaii
Photo credit: Sunra Yoga
Ancient pyramids, majestic temples, bustling cities, and idyllic beaches have always attracted visitors to Egypt. More so, the country has become a well-known warm winter destination, with visitors from colder areas heading here for sun fun & relax in the sun.
The country has three climatic zones and temperature varies slightly depending on where you head to. From the typical Mediterranean weather in the north – with balmy spring-like weather – to a scorching hot winter in the desert.
Photo credit: YogaEmotion
Small, balmy, and packed with charming places, Portugal is best known for its wines, amazing surfing, and gorgeous beaches.
It is also one the best European countries to visit for some winter sun. Faro enjoys temperatures of about 63° F (17° C) and quite a lot of sunshine. While the Azores are slightly warmer, with temperatures averaging 64° F (18° C) in December.
On a yoga and surf retreat in the Algarve, you will not only daily yoga sessions but also learn how to surf and enjoy its beautiful surroundings.
» Read more: Spice Up Your Yoga Holiday with Surfing in the Algarve
Photo credit: Yoga Bloom Wellness
Known for its world-class beaches, Hollywood, great surfing, and excellent wines, the superb state of California is also a great choice for a yoga retreat.
The laid-back culture and great awareness to live healthier means you'll be having a great time here while on a yoga holiday.
Everyone seems to be sporting mat bags, the vegan and vegetarian options are endless, and we can assure you that avocado toast is quite the norm, too.
And let's not forget the sunny and warm temperatures (unless you are heading into the mountains). The desert cools off and the sunsets are absolutely stunning!
On a yoga & meditation retreat in California you'll enjoy daily yoga classes (including paddleboard yoga session), meditation practices, and guided hikes.
» Read more: Northern California vs Southern California: Where to Go for a Retreat?
Photo credit: India Yoga Retreats
Home to some of the best spas in the world, the UAE offers plenty of wellness spots to choose from for a yoga and wellness retreat or holiday. With the air temperatures rising as high as 104° F (40° C) and the sea as warm as 82° F (28° C), you'll absolutely forget about the winter cold for a while.
Indeed, the best time to visit the UAE is from November to March when the heat is not as intense.
From wholesome body wraps and traditional Arabian baths to relaxing massages, an abundance of pampering procedures and top-notch service make the UAE a great choice for a relaxing yoga retreat.
Are you looking for a tranquil getaway in the heart of nature? Then join one of the yoga retreats in the middle of the desert near Dubai that offer a perfect escape into the wilderness.
Photo credit: Aava Resort & Spa
Thailand is known for its pristine white-sand beaches and crystal-clear blue water. The best time to visit the Land of Smiles is from November till March – exactly when most of the Northern Hemisphere experiences the coldest temperatures.
The mild yoga-conducive climate, strong spiritual vibes, and warm-hearted locals make Thailand one of the most popular destinations for a yoga holiday.
Are you looking to unwind and re-charge your batteries? A rejuvenating yoga retreat in Phuket offers a perfect balance of meditating, exercising, relaxation, and sightseeing.
» Read more: Affordable Yoga Retreats All Over Thailand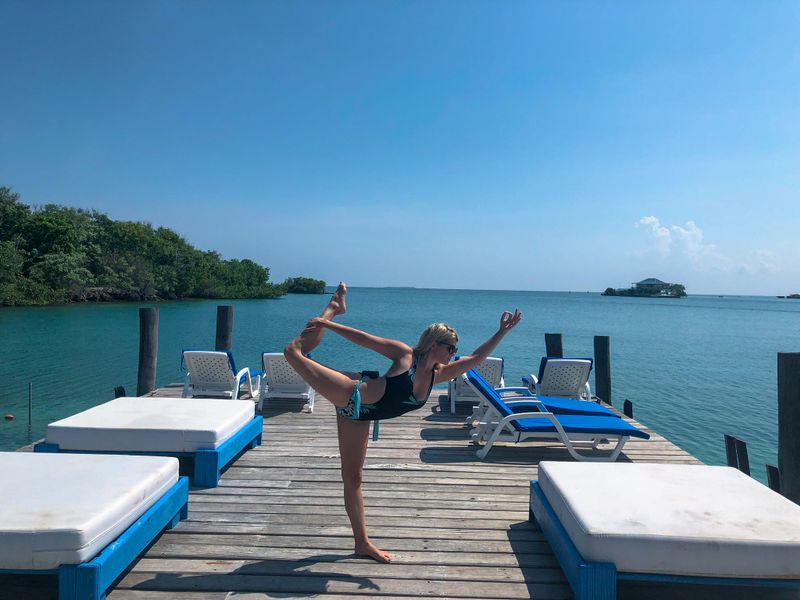 Photo credit: Clothe New World Inc.
If you'd like to get away from the winter freeze but don't want to wind up in a place where scorching sun would make you lightheaded, Colombia is a great option to consider.
This up-and-coming yoga and wellness hub has plenty of good places with mild spring-like weather conditions almost all year round. Plus, it has the second-highest biodiversity in the world, ancient cities, and rich spiritual culture.
You'll be pleased to learn that the best time to visit Colombia is from December to the beginning of March when the temperatures average around 68° F (20° C) throughout the day.
Does this sound like a great place for your next yoga retreat? Join a yoga & meditation retreat in Colombia and you'll enjoy daily guided meditations, yoga classes, and freshly cooked organic food in a nourishing environment surrounded by nature.
---
Not a fan of the cold winter weather but unable to travel? Join an online yoga retreat from the comfort, warmth, and safety of your home.