Top Yoga Teacher Training Courses in the USA
The go-to resource for planning your yoga retreats & holidays. Find all you need to know about destinations and take your practice to the next level.
Discover Yoga Retreats now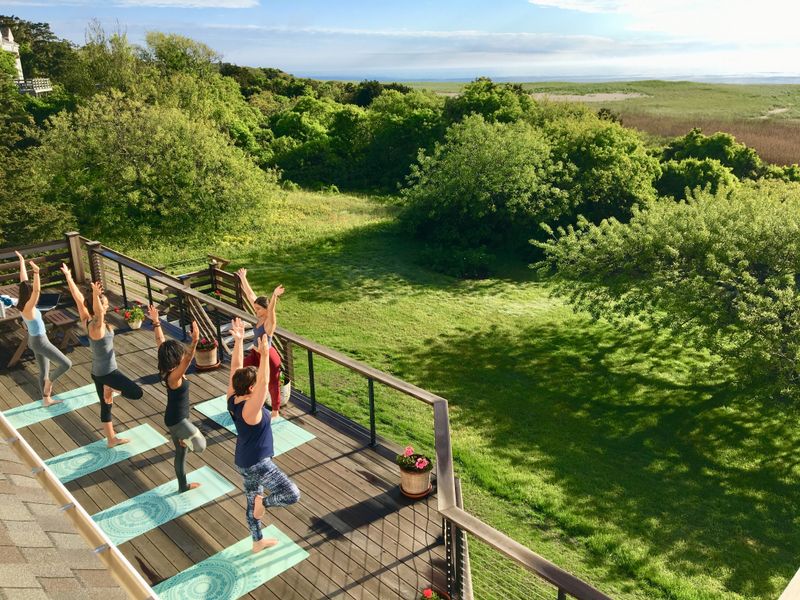 Big, bold, and beautiful, from coast to coast, the United States of America offers a wide variety of incredible places for yoga teacher training.
From stunning beaches and vast deserts to mesmerizing forests, incredible alpine meadows, and vibrant cities, if you are an American, you don't need to leave the country to take your practice to the next level. The USA has it all for a perfect yoga teacher training course.
Looking for some recommendations for your next training? Here are the top five yoga teacher training in the USA.
Note: BookYogaRetreats offers a flexible cancellation policy. Should you not be able to travel as scheduled, we'd be happy to help you alter your booking with the same organizer or with a different organizer.
But first, which are the best destinations for yoga teacher training in the USA?
Probably the best place in the Western Hemisphere to learn yoga, California mixes bustling cities like Los Angeles and San Francisco with charming small towns such as Laguna Beach and Avalon and stunning national parks to offer a wide variety of places for an incredible yoga teacher training course.
The almost year-round good weather might be enough to lure you into doing your yoga teacher training here. In addition to that, you'll also enjoy the charming architecture of Key West, plenty of historic sites and museums to check out, and great beaches to relax, practice water sports, and strike asanas.
The Aloha spirit aligns perfectly with yoga and you'll certainly achieve lokahi (harmony) in your life by choosing Hawaii for your yoga teacher training. Where else can you tour an active volcano, snorkel, sail, hike beautiful trails, or have a picnic near a waterfall?
»Read more: Your Guide to Yoga Teacher Training in the USA
Top Yoga Teacher Training Courses in the USA
Price: From US$3,997 for 14 nights
Availability: Select dates in October 2021 & May 2022
Location: Massachusetts
Certification: Yoga Alliance
During this fully accredited Yoga Alliance training, you will receive the guidance to live a balanced lifestyle and to create a yoga business and life that you love.
You'll be staying at Cape Cod Beach Retreat, a boutique luxury private villa located directly on Nauset Beach in Orleans, Massachusetts. It has floor-to-ceiling windows that provide astounding views of the ocean both from the room and from the yoga studio. While you do your asanas you can also enjoy magnificent sunrises.
Surrounded by pristine natural beauty, the stunning setting allows you to reconnect with your own natural rhythms, recharge and get clear and focused.
The course includes daily yoga classes, modern mindfulness training, asana and teaching labs, student teaching practicum, anatomy, yoga business skills, and career planning.
The package includes three daily meals and snacks. The food caters to a variety of dietary choices.
The closest airport is Logan International Airport (BOS) and the transfer is included in the price.
Price: From US$3,000 for 16 nights
Availability: Select dates in October 2021, April, July & August 2022
Location: Oregon
Certification: Yoga Alliance
Enjoy beautiful views of Mount Hood while you do a yoga teacher training that meets the standards of Yoga Alliance. Upon completion, you'll have the knowledge and experience to confidently begin your teacher journey.
During your stay, you'll join daily yoga classes and meditation sessions. You'll also study the history and business of yoga, anatomy, communication skills, and teacher qualities needed for the trade.
Your day begins at 8 a.m. with yoga practice, followed by breakfast, and a specific class (you choose). Lunch is served at 2 p.m. and is followed by another class (of your choice) and dinner.
The package includes only the meals for the first 3 days, and they cater to a lot of dietary choices. Do make sure to let the organizer know of any specific requirements.
During the rest of the time, you can prepare your own food in the fully equipped kitchen. Transportation to the stores to get groceries is provided by the organizer.
The closest airport is Portland International Airport (PDX) and the transfer is included in the price.
Price: From US$2,500 for 27 nights
Availability: Select dates in September & November 2021
Location: Florida
Certification: Yoga Alliance
White sandy beaches, palm trees, and balmy weather are waiting for you in Boca Raton. During your training here, you'll be able to gain more continuing education credits through additional certifications in Yin, Restorative, and SUP yoga, while you go through your 200-hour YTT.
The course comprises an in-depth study of yoga sutras, yoga anatomy and physiology for yoga teachers, as well as an introduction to the yoga business. The schedule includes multiple yoga classes, group discussions, and other training and bonding events.
You'll learn to teach three sequences: Ashtanga inspired Vinyasa, a gentle Hatha, and a Restorative flow. You'll also understand many different meditation techniques and practice pranayama daily.
Once you complete the training, you are eligible to register with Yoga Alliance. The organizer accepts students of all levels and the training programs will be capped at 12 participants.
During this training, you'll have the opportunity to detox. Zen Den Yoga School will give you all of your personalized ingredients for nutritionally balanced smoothies which you will have for breakfast and lunch. Dinners are on your own and you can cook in the fully equipped kitchen or eat at one of the restaurants within walking distance.
In-between classes, there's plenty of time to disconnect. You may enjoy time at the pool, bike to beautiful beaches, or go on a shopping spree. For additional fees, you may also join cooking classes, go snorkeling, and more. Some excursions and field trips will be included.
Both Fort Lauderdale–Hollywood International Airport (FLL) and Palm Beach International Airport (PBI) are close to the training center.
Price: From US$4,995 for 17 nights
Availability: Select dates in November 2021 & March 2022
Location: California
Certification: Yoga Alliance
Frolic in the forest, hike a magical peak, paddle majestic lakes, unleash your inner child, dig deep, connect, and study to become a certified yoga teacher trainer. Embark on an inward journey of self-actualization to find your true purpose through ancient yoga teachings, introspection, and self-love.
During this yoga teacher training course, you'll explore ancient teachings, combined with dance, painting, journaling, and Dynamic yoga.
The campus is Yosemite Bug Rustic Mountain Resort, which sits under a grove of oak and pine, in a small valley, with a stream. There are plenty of choices for accommodation, including hotel-style rooms in cabins, tent cabins, and house rentals.
Upon completing the course, you are eligible to register with Yoga Alliance as a Registered Yoga Teacher.
The course focuses on the Yoga Sutras of Patanjali and Light on Yoga by BKS Iyengar. You will work through sequencing and language for teaching classes, break down Hatha and Vinyasa asanas, and more.
Your day starts with morning meditation and pranayama. Then you'll join a yoga class. There will be five more classes throughout the day, with breaks to enjoy lunch and dinner.
Included in the package are some outstanding excursions and experiences: a mountain-top meditation, two days exploring Yosemite National Park freely, an eco hike along Bear Creek, and a yoga experience in the national park.
The course includes three vegetarian meals per day (except on weekends). The food is mainly regionally sourced, sustainable, and organic (where possible).
The closest airport to the retreat is Fresno Yosemite International Airport (FAT) and the transfer is not provided.
Price: From US$3,125 for 17 nights
Availability: All year round
Location: Maui, Hawaii
Certification: Yoga Alliance
Join an immersion intensive teacher training program that is dedicated to the lineage of the Ashtanga Vinyasa Yoga primary series.
To be accepted, the students need to have 1-3 years of Ashtanga primary series practice and/or a minimum of 3 years dedicated to another style of Vinyasa yoga practice (such as Iyengar, Vinyasa, Hatha, or Bikram).
The group size is small (3-6 participants) and accommodation is in guest rooms at Christina Martini Yoga. The rooms are not in the same place as the training site and you are encouraged to rent a car to enjoy the island.
Upon completion of the course, you are eligible to register with Yoga Alliance as a Registered Yoga Teacher.
The course emphasizes the traditional classical 8 limbs of yoga sutras and also integrates the Therapeutic Yoga Wellness approach to develop a holistic whole health practice that supports the physical, mental, emotional, spiritual wellbeing, resilience, strength, and mindfulness lifestyle.
This comprehensive yoga teacher training course supports and prepares you with the skills to work safely, ethically, appropriately, and intelligently with new and established students or practitioners.
The program is physically invigorating, as you will have two physical practices during training days. The morning practice (daily from Sunday to Friday) is at 6 a.m. and on some days there's a second practice, too. You'll also study teaching methodology & techniques, asanas alignment, and practice teaching.
Included in the course is also a weekend cooking class to learn how to prepare healthier meals. There are grocery stores nearby so kindly budget for self-catering as well.
During your free time, you can spend time at the beach, enjoy hiking trails, nature walks, visit waterfalls, or try waters sports such as kitesurfing, surfing, and windsurfing.
Kindly book your flight to Kahului Airport (OGG). The transfer is not provided.
*All prices are valid at the time of publication and are not guaranteed. They are subject to change without notice.
Featured photo credit: Harmony Yoga School
---
Unable to travel right now? Take your yoga teacher training to the comfort of your own home with an online teacher training course!