Top Yoga Retreats for Beginners
The go-to resource for planning your yoga retreats & holidays. Find all you need to know about destinations and take your practice to the next level.
Discover Yoga Retreats now
Being new to yoga can sometimes be intimidating. Especially when you look around the studio and find out that everybody seems to be performing the poses smoothly, except you!
Don't fret! That's totally normal. The good news is that no matter if you're a newbie or an expert to the practice, you still get all the benefits from it. But wouldn't it be nice to improve your skills in leaps and bounds?
There's a perfect way to do so. On a yoga retreat, you'll completely immerse yourself in all aspects of yoga for a few days, understand the proper alignment, adopt a healthier diet, and learn the philosophy that will help you kickstart a new lifestyle.
Here, you can find 5 of the best yoga retreats for beginners around the world.
Note: BookYogaRetreats offers a flexible cancellation policy. Should you not be able to travel as scheduled, we'd be happy to help you to alter your booking with the same organizer or with a different organizer.
Image credit: Yoga Vidya Mandiram
Duration: 3 days / 2 nights
Price: from US$99
City: Rishikesh
India is known for having a unique mystical atmosphere and some of the greatest gurus and yoga instructors in the world. Anyone who wants to enter the world of yoga should have it on their bucket list.
During this retreat, you'll feel as relaxed as you can be. Through a variety of traditional and modern practices, like meditation, pranayama, Yoga Nidra, Vinyasa Yoga, Hatha Yoga and other relaxation techniques, all the stress will go away.
There are daily yoga sessions and yoga philosophy classes that will help you understand the foundations of the practice. Moreover, you'll get the opportunity to change your diet with daily delicious vegetarian meals and healthy snacks.
To add a bit of adventure to the experience, you'll enjoy one guided excursion to the Himalaya's sacred temples and plenty of time to explore the holy town of Rishikesh, aka the yoga capital of the world.
Want to know what are the differences between a yoga holiday and a yoga retreat? Check this post.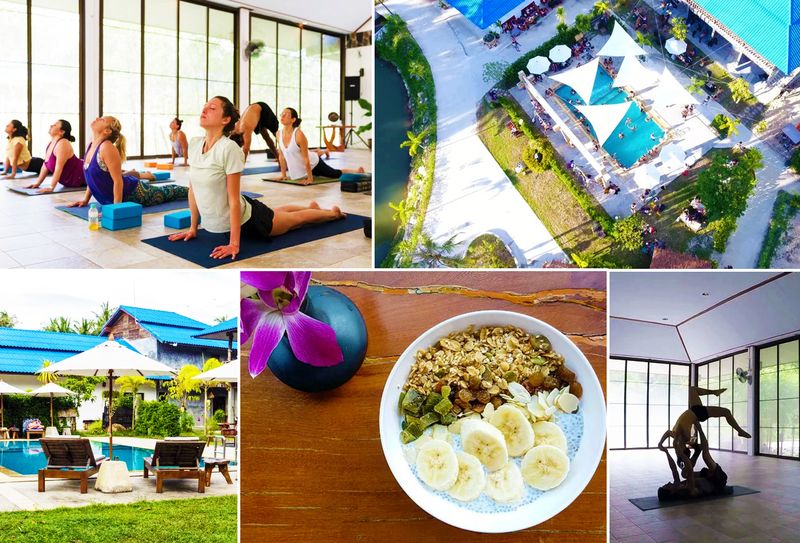 Image credit: Wonderland Healing Center
Duration: 8 days / 7 nights
Price: from US$464
City: Ko Pha Ngan
Thailand is the place where majestic Buddhist temples, charming villages, wild nature, pristine beaches and friendly people perfectly merge. There's also a spiritual feeling everywhere you go, making it easier for people to take the plunge into yoga.
With yoga and meditation sessions every day, this retreat has everything set to let you step into yoga at your own pace. The warm weather and humidity (that make you sweat a lot) will allow your body to get rid of all toxins. And combined with the vegan meals, refreshing juices and coconut water, you'll experience a total body restoration.
During your free time, you can walk in the beautiful gardens and contemplate the stunning mountain views, go to the swimming pool, use the herbal steam sauna or visit the treatment areas. You can also complement your experience by joining an optional extra activity such as getting a massage, experience mountain walking, trying Pilates or Reiki.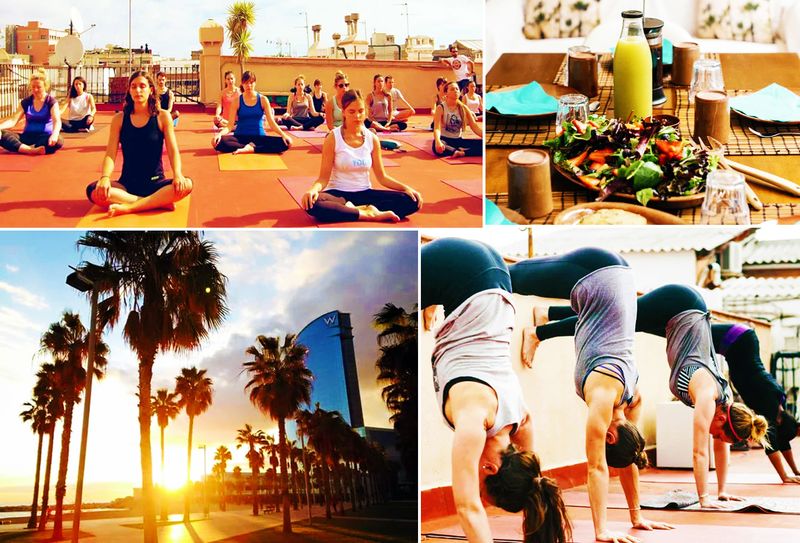 Image credit: Yoga Weeks Barcelona
Duration: 6 days / 5 nights
Price: from US$513
City: Barcelona
Located on the coast of the Mediterranean Sea, Barcelona is considered by many as the cultural capital of Spain. Due to its quaint streets, delicious food and the remarkable work of Gaudi printed all over the place, this city is a must for any traveler.
When it comes to yogis, there are amazing options for a holiday. Such as this retreat hosted in a beautifully renovated house right in the heart of the city where, unlike during a class in your local studio, you'll have plenty of time and guidance to go beyond the asana practice.
With the help of worldwide acclaimed teachers, you'll hit the ground running and learn yoga in a more holistic way. The retreat includes tasty vegetarian food and the chance to participate in a full moon special session with live music.
Are you still hesitant about going on a yoga vacation? Here's all you need to know about going on a yoga retreat as a beginner.
Image credit: Dfrost Almugar Surf House & Yoga
Duration: 8 days / 7 nights
Price: from US$891
City: Imi Ouaddar
Morocco is famous for having beautiful beaches, the Sahara Desert, the Atlas Mountains, unique scents, delicious food and rich history.
Experience the Moroccan culture and ignite your passion for yoga on this retreat. The organizers truly believe that "yoga is for everybody", which means that it isn't about being able to perform difficult asanas but about finding your inner peace.
This program is carefully designed to explain the fundamentals of all basic yoga poses, the steps for correct alignment and it gives the participants plenty of time to solve any doubts that may arise during the sessions.
You'll also have healthy breakfasts, snacks, fruits and dinner, plus unlimited water, tea and fresh juices throughout the day. In addition, you can make good use of your free time by getting a massage, going to the pool, sauna and jacuzzi or having a silent walk at the beach.
Morocco is also one of the best places to go on a yoga and surf retreat. So, if you want to add some adrenaline to your first yoga retreat this is a phenomenal option to do it.
Image credit: Beyond Yoga Retreat
Duration: 8 days / 7 nights
Price: from US$999
City: Puerto Vallarta
Mexico is a beautiful and colorful country located in North America, famous for having exceptional food, a vast culture, vibrant music, ancient pyramid, cheerful people, as well as some of the most popular beaches around the world.
Puerto Vallarta is a good example of such a beach, which is a favorite holiday destination and a popular spot for yoga retreats. Just by being in this fabulous place you'll have the chance to truly unplug from your daily routine and get to know people who have also fallen in love with yoga.
How does this day sound?
Start the day with the morning yoga practice, followed by meditation. Enjoy healthy-gourmet meals, go on snorkeling excursions, hike to stunning waterfalls, or soak up the sun on the beach. In the afternoon, take part in various workshops, learn to cook vegan food, and end the day with the afternoon yoga practice and dinner. You'll have ample time to lounge by the infinity pools, read a book, or journal. Or admire the jungle views from the treehouse you'll be staying in.
Well, you can have it all at this exclusive yoga, Ayurveda, and meditation retreat for beginners!
---
Want to explore the Old Continent on a yoga vacation? There are tons of yoga retreats for beginners in Europe!