5 Tips to Deepen Your Yoga Practice
The go-to resource for planning your yoga retreats & holidays. Find all you need to know about destinations and take your practice to the next level.
Discover Yoga Retreats now
When you start practicing yoga, an entirely new world opens up. For many, it feels as if you are rediscovering your body, mind, and heart for the first time. This shift occurs at different times for each practitioner, depending on consistency, engagement, and receptivity.
Yoga aims to shift our inner world by refining our physical, mental, and emotional bodies, and creating an inner balance (more peace, contentment, and love). This change can't help but radiate outwards. Personal growth and transformation are among the most rewarding aspects of consistent practice. However, this growth requires perseverance.
Yoga is a constant study of the self and requires us to be forever students. Yoga asks us to see our reality clearly and be willing to do the work to heal and better ourselves.
Here are a few tips that can help deepen (or re-invigorate) your yoga practice and achieve personal growth:
1. Return to a beginner's mindset
Remember the first time you stepped on the mat and the experience you felt as you moved your body with absolutely no expectations? For many students, the first few months (even years) of the practice are incredibly purifying and humbling. With so much "junk" (stress, trauma, etc.) to flush out of our bodies and minds, we are incredibly challenged to stay present with our breath in each asana.
It's always important to return to the very foundations of our yoga practice, and even more so once we feel strong in the asana and calm with our pranayama, in order to refine the experience within.
Just as with anything else, we can easily become conditioned. It's not uncommon for many practitioners to have incorrect alignment and flow through the poses without proper engagement or integration.
Even if you've been practicing yoga for a while, why not try a beginner's yoga retreat or class to revisit the basics? While attending, do your best to let go of any other knowledge you have acquired. Let yourself be fully present and open in order to be guided into your body, breath, and mind.
2. Try a new style of yoga
Trying a new yoga style is one of the most exciting ways to deepen your practice. Yoga is incredibly diverse, with various styles and teachings, but they all encompass the same underlying philosophy.
Don't worry, you won't be "betraying" your regular style/teacher/studio or forget what you've learned by trying something new. On the contrary, it will benefit your practice as you will learn new ways to access the teachings.
Any long-term practitioner will tell you that they enjoy aspects from many styles, and with time, you will use your learnings to fuse together a personal practice that is unique to you.
» READ MORE: Yoga Styles 101: An Introduction to Acro Yoga
3. Practice with experienced teachers
Yoga teachers are vital to the depth of our practice. They share their knowledge, but most importantly, they show you accessible ways to absorb the knowledge. Teachers should act as mentors (on and off the mat) and inspire us to practice with a sense of empowerment and accountability.
Everyone needs guidance in their yoga practice – and as your practice evolves, so should your teachers'. It's natural to outgrow teachers and have the desire to dive into other aspects of the practice. A true teacher (one who has your best interest at heart) will understand this and never hold it against you.
An experienced teacher will have years of consistent teaching and refined skills to guide students into the subtle depths of the energetic bodies through yoga philosophy, pranayama, meditation, and contemplation.
Do your research and compare different teachers until you find someone who can support your practice as it advances. If you feel that the studios near you don't provide a teacher you're aligned with, search for alternatives such as workshops with international and renowned teachers. If this is not an option, look for online yoga retreats, which can bring some of the world's top teachers straight to your living room.
4. Develop a personal self-practice
Developing your own home practice is one of the most beautiful aspects of yoga. The desire and ability to roll out your mat (anywhere, anytime) and intuitively guide yourself through movement, breath, and meditation is simply priceless.
A self-practice doesn't have to look a certain way; there is no fixed time/number of poses, etc. Nor is it not about "completing it", but rather about the consistency of getting on the mat, even if it's only for 5 minutes on some days. Your self-practice is your own and can be shape-shifted to align with your schedule and current physical/mental/emotional states. It gives you the ultimate freedom to create your own experience.
» READ MORE: Tips for Creating a Steady and Beneficial Yoga Practice at Home
5. Go on a yoga retreat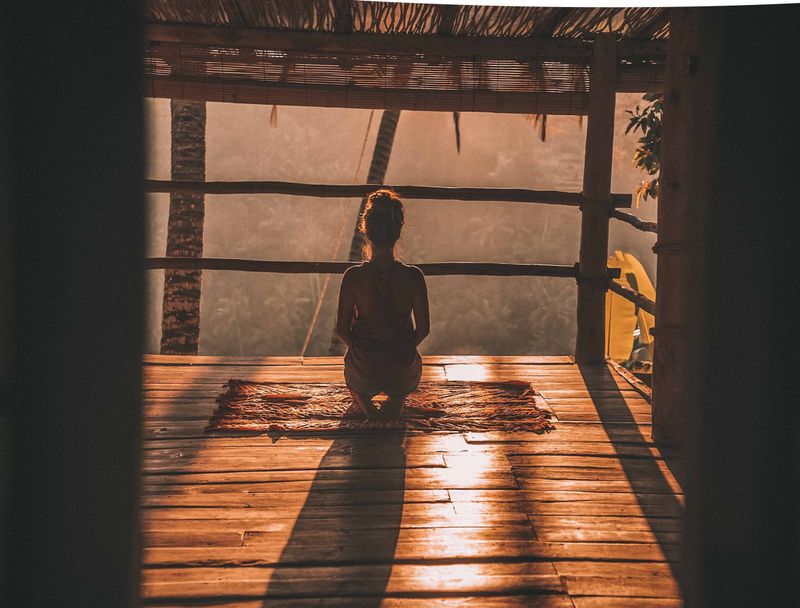 Yoga retreats are immersive experiences. You will live and breathe yoga through nature, self-reflection, a like-minded community, consistent practice, high vibe foods, and deep sleep – a recipe for transformation! Along with these aspects, any quality retreat will include a progressive program with the intention to deepen your practice.
A retreat is an intimate experience with ourselves, but also with our teachers, who guide us for an extended period of time, helping us to get to know our practice and refine it. Retreats give us the necessary space to disconnect from our daily lives in order to reconnect with what is truly important.
---
Looking to deepen your practice but can't travel right now? Join an online teacher training course to take your skills to the next level and get certified from the comfort of your own home.