8 Superfoods Your Body Can Benefit From
The go-to resource for planning your yoga retreats & holidays. Find all you need to know about destinations and take your practice to the next level.
Discover Yoga Retreats now
You've probably heard of Superfoods before, and even though they don't wear little capes and run around saving people, superfoods can have amazing benefits for your overall health when eaten regularly.
Food is just as important for your well-being as staying in shape through fitness. Superfoods are foods that pack a potent vitamin and mineral punch, even compared to other healthy foods. When combined with a healthy diet and regular daily exercise, superfoods can change the way you feel for the better. They can help with chronic illnesses, increase your energy, aid in weight loss, and fix certain vitamin and mineral depletions within the body.
Some superfoods are also known to have anti-aging and heart benefits, so why not add to your diet these 8 superfoods that your body can truly benefit from?
1. Cinnamon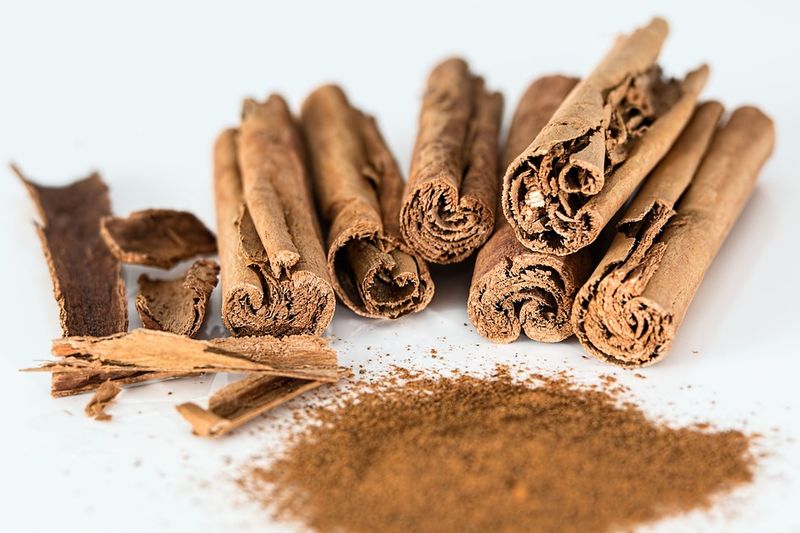 Cinnamon isn't just a holiday seasoning used in your pumpkin pies. In fact, cinnamon boasts many health benefits such as lowering the cholesterol, blood sugar levels, it fights inflammation, and can even improve PMS symptoms such as nausea, vomiting, pain, and excess menstrual bleeding.
Cinnamon is chock-full of antioxidants and you can get more of it in your diet by adding it to smoothies, sprinkling it on your yogurt, stirring some into your tea with honey, or adding it to your favorite hot cereal such as oats or farina.
2. Blueberries
These yummy little fruits contain a load of nutrients and most definitely fit the "Superfood" profile.
Blueberries contain high amounts of antioxidants, Vitamin K, Vitamin C, and Manganase which aids in cell regeneration, gives you healthy bones, helps to regulate blood sugar levels, and metabolizes fats and carbohydrates.
Blueberries also contain beneficial fiber to help keep everything moving along regularly.
Blueberries are a wonderful treat when eaten alone, or you can add them to smoothies, cereals, salads, your favorite yogurt and much more.
3. Salmon
If you want to be smart, eat Salmon! That's right, Salmon is a brain superfood. That's because it's loaded with essential fatty acids (Omega 3's, DHA, EPA) that directly affect the brain in a good way. These fatty acids also work to fight inflammation and lower the blood pressure.
Salmon is a heart healthy superfood that's also loaded with muscle building protein and it's high in all of the B vitamins.
Adding salmon to your diet twice a week can benefit you greatly. Try a serving of grilled salmon on a bed of fresh kale salad or enjoy with a side of steamed veggies.
4. Sweet potatoes
There are so many ways to eat this yummy superfood. Not only do sweet potatoes contain a lot of beneficial fiber, but they hold a wide array of vitamins and minerals such as manganese, Vitamin C, Potassium, and a whopping 769 percent of the daily recommendation for Vitamin A. Vitamin A keeps your eyes healthy, fights inflammation and gives your immune system a huge boost.
Dice a sweet potato and toss it in some olive oil and sea salt, bake until crisp and enjoy this awesome superfood!
5. Avocados
Avocados seem to be in everything lately, and there's a reason for that. These creamy decadent little fruits have some amazing heart health benefits and they contain a load of Vitamin C, Folate, Vitamin K, healthy fats, and they have more potassium than a banana!
You can enjoy a freshly sliced avocado atop your whole grain toast, add some to your salad, sandwiches, or even make a delicious guacamole dip.
6. Almonds
These oval shaped beauties are known as one of the most nutrient-rich nuts around. They are and excellent source of calcium, and are high in protein and Vitamin D. That's why almond milk makes a healthy dairy milk substitution for those who can't have dairy milk.
Almonds make for a great energy-boosting snack, so grab a handful and enjoy!
7. Kale
Kale is one of those "Love it or hate it" leafy greens. If you are lucky enough to be a kale lover, then you've got to know about the wonderful health benefits of this bitter leafy green. Kale is high in fiber, low in calories, and contains a great amount of vitamins and minerals too.
Kale has more iron than beef per serving. Iron benefits liver function, cell growth, and it aids in the transportation of oxygen to various areas within the body.
There are plenty of ways to squeeze some kale into your diet. Try some in your salad, make baked kale chips as a snack, steamed kale as a side dish or if you don't really like the taste of it, you can hide it in a green smoothie.
8. Flaxseeds
These tiny little super-seeds are gaining popularity and can be found in many baked goods, breakfast cereals and snack bars. Flaxseeds contain Omega-3 Fatty Acids which benefit the health of your heart, brain function, and can help protect you against diabetes and cancer.
Try adding some ground flaxseed to your morning smoothie for great health benefits.
Conclusion
There are so many superfoods that you can add to your regular healthy diet to give you the best chance at a healthy, happy, and energetic life. Aside from eating healthy, exercise is equally important for optimal health so, be sure you are getting in some type of daily activity such as yoga, walking, or running.
---
Are you craving a dose of health to turn a new leaf? A stay in a yoga health farm can be just the break you need for it.