Spirituality Made Simple: How to Infuse More Compassion, Love & Kindness into Our Lives
The go-to resource for planning your yoga retreats & holidays. Find all you need to know about destinations and take your practice to the next level.
Discover Yoga Retreats now
You've stretched and strengthened your body practicing various yogic postures more than a few times, sat down in a meditative position while watching the breath on occasion, and read several books describing the joys and benefits of becoming an enlightened being.
You have a general feeling, deep down, that something feels right and good about practicing 'spirituality' and being a 'spiritual' person, and endeavor, whole-heartedly, to embark upon your own personal journey through your yoga practice. Perhaps you feel you have already begun, or even made it pretty far along the road, so to speak. But, at the end of the day, what is all this 'spiritual journey' talk about, really?
So let's break it down, in a simpler way. In one of the Dalai Lama's brilliant quotes, he says very matter-of-factly: "The purpose of your life is to be happy... If you want others to be happy, practice compassion. If you want to be happy, practice compassion."
Being so intelligent we like to overcomplicate things, think a lot about the complexities of spirituality and what it means, but the truth of the matter is quite simple: love really is the answer, really.
"All paths are the same," says Don Juan. "They lead nowhere… The only question is: Does this path have a heart? If it does, then it is a good path. If it doesn't, then it is of no use." In fact, as we delve more deeply into this idea of compassion, or "loving-kindness" as Buddhists like to call it, it becomes clear that why you do your spiritual practice is more important than how or what you practice. After some time, as we journey further, a shift of perspective occurs.
This change happens when we begin to understand the inter-connectedness and relatedness of all things. At this point, everything we do starts to be for the benefit of all beings, rather than solely for our own welfare. This is what true love really means.
Defining compassion
What exactly is "compassion"? Simply put, it can be described as the genuine desire to ease the suffering of all beings, whether they be a plant, insect, animal, human or spirit. It is the openness of heart that fills us with the wish that we can never be the cause of another's pain, and instead that all beings be happy, peaceful and be free from suffering. That brings us to the fundamental point of all this, the thing most difficult to grasp and most important to understand: it's about compassion for all, and that means all, omitting none, no matter what they've done or who or what they are.
Compassion is a totally open field, all-encompassing. It is absolutely, completely and totally non-judgmental.
Now, just to be clear, being compassionate doesn't have anything to do with being a kind of loved-up zombie, expending all your energy giving away feelings of love and compassion while the whole world gets to walk all over you. Instead, compassion is utterly meaningless without its inseparable counterpart, wisdom. In fact, it is often said that true compassion is wisdom in action. But before you jump off your seat acting all crazy in the name of compassion, here's a useful little advice from the sage Dalai Lama: "Be kind whenever possible. It is always possible."
Keep these words forever in your heart, and you will never go astray. To the intelligent, sophisticated and highly complex thinking mind, this may seem far too simplistic a way to integrate spirituality into everyday life. But let's never underestimate the tremendous reserve of power and strength inherent in small, simple and regular acts of kindness and compassion.
Compassion in everyday life
So how else, you may ask, is this idea of compassion relevant to my daily life? In what other ways can it be practiced here and now? Here are a few more simple suggestions:
At the end of each day (or first thing in the morning), sitting or lying down, close your eyes, be comfortable, and start by sending feelings of love and kindness to yourself. It may help to visualize yourself and simply repeat these words in your mind: "May I be happy, may I be peaceful, may I be free from suffering." You may like to visualize the 'loving-kindness' you send as bright white or golden light surrounding yourself, entering into you. Then follow that up by sending loving-kindness to your friends and family, visualizing each in turn, with bright light coming from your heart center, reaching them one by one.
Continue by sending positive feelings of love to people that you have hurt (intentionally or unintentionally) that day, and to those who have hurt you, repeating the phrase "May you be happy, may you be peaceful, may you be free from suffering". You can end by sending loving-kindness to the whole wide world and all the beings in it.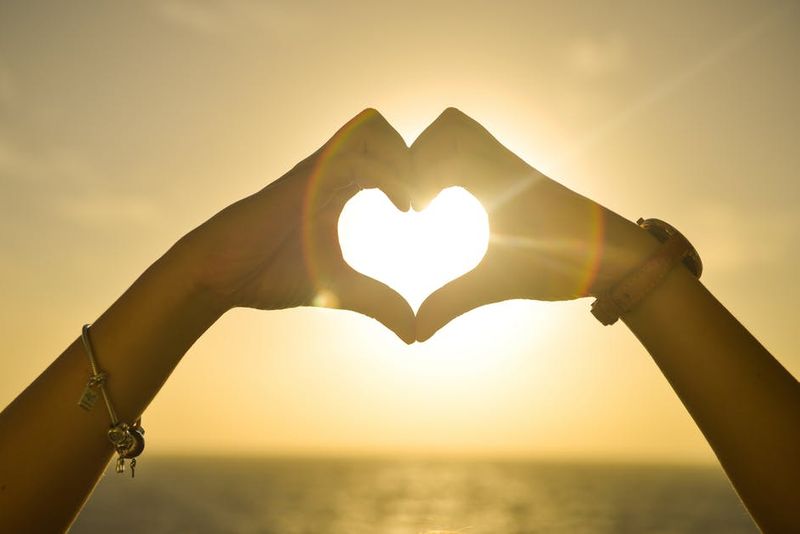 So there it is, a very simple karma cleanse. You can think of it like a daily detox for the heart if you like. Of course, as you start to do this simple little practice, you may find that it's not that easy. Perhaps you find yourself feeling anger or other negative feelings towards the people who have hurt you or even towards yourself, but that's totally okay, absolutely fine! If this happens to you, then just watch whatever feelings do arise and give yourself and those negative feelings a huge dose of loving-kindness too. Even negativity needs love.
In this way, this very simple practice done just for a few minutes every day over time helps us to remember our true purpose in life, enables us to open our hearts, and aligns us with all that is positive, beautiful and perfect in this world. And then, every now and again, don't forget to spend a little time just listening silently to your heart, especially after practicing loving-kindness. Perhaps there's an important message waiting for you there. After all, a loving heart, say the great bodhisattvas of compassion, is the beginning of all wisdom.
---
How do you practice spirituality in your everyday life? Are you looking to deepen your spirituality? There's no better way than to do so at a yoga & spirituality retreat!