Weekend Yoga Breaks in the UK
The go-to resource for planning your yoga retreats & holidays. Find all you need to know about destinations and take your practice to the next level.
Discover Yoga Retreats now
Want to spice up your yoga practice but feel like you don't have the time to attend a yoga retreat? Many people think you need a long time to do so. But the truth is, there's no need to spend more than 3-4 days to get all its benefits. Even a night or two could be enough!
Need proof of it? Here are some great options for a weekend yoga getaway in the UK, with plenty of availability all year long. Feel free to choose whatever suits your calendar better.
Note: BookYogaRetreats offers a flexible cancellation policy. Should you not be able to travel as scheduled, we'd be happy to help you to alter your booking with the same organizer or with a different organizer.
Duration: 2 nights
Starts from £ 350
This healing adventure is the ideal retreat to relax and reset your mind and body. Right on the southeastern shore of England, pretty close to London, you'll be fascinated by the spectacular countryside views and the sandy beaches nearby.
With daily yoga, healing meditation, breathing exercises and mindfulness practices, you'll truly be able to escape from the noise of the city. You'll also enjoy home-cooked meals and freshly-made detox juices. Also, you'll have the opportunity to attend a raw food nutrition workshop which will provide you with important dietary insights.
So, if you're the kind of person who's both into yoga and nutrition, this retreat is perfect for you!
Learn more about yoga travel in Great Britain in our guide to yoga retreats in the UK.
Duration: 2 nights
Starts from £ 595
Less than an hour away from London, this wellness and yoga experience takes place in a restored 600-years old building. It was originally a Kentish Hall House, an exclusive countryside setting.
During your stay, you'll have plenty of free time to meet the farm animals, go for a guided country walk, relax in the outdoor hot tubs, use the luxury sauna, or book a spa treatment (for an additional cost).
The retreat also includes daily energizing yoga classes. Plus, wholesome green, farm-produced, vegetarian and vegan meals. After a weekend here, you'll leave feeling refreshed, nourished and ready to start a new week.
Duration: 1 night
Starts from £159
Enjoy a unique surf and yoga holiday weekend in Newquay, Cornwall.
Whether it's your first-time surfing, or you are looking to improve, you will have a lot of fun.
The yoga sessions take place pre and post surfing, in a woodland environment, an ideal setting to unwind and re-energize whilst surrounded by nature.
The package includes 2 surf lessons, 2 yoga sessions, use of gear (yoga mat, wetsuit, and surfboard), a unique camping experience, and breakfast.
You need to bring are a sleeping bag, barbequing essentials (for an evening relaxed meal), your drink of choice, and warm clothes, suitable for the conditions. The campsite is set up in a working dairy farm, complete with a kitchen, and bar.
Duration: 2 nights
Starts from £ 695
This one-of-a-kind retreat for free spirits takes place in the beautiful Oxfordshire countryside.
You start the day with feel-good morning yoga, meditate, take pole dance fitness classes, and try cocktail yoga.
You are invited to make time for mindfulness, unlock the best version of yourself, and have a lot of fun.
The package includes 2 nights in a tipi, nutritious foods (all meals provided), as well prosecco and cocktails!
Your weekend in the blissful Oxfordshire countryside will leave you feeling accomplished, energized, relaxed, and inspired.
Duration: 3 nights
Starts from £ 450
This surf & yoga holiday takes place in Melvich, a tiny village in the Scottish Highlands, on the north coast of Scotland.
During just a weekend, you can surf, explore, eat, and enjoy yoga classes. Best of all? You don't need any prior surfing or yoga experience to join this retreat!
You'll be staying in a hotel just above the beautiful Melvich Beach, a sandy beach in a secluded bay backed by dunes. The hotel's garden looks down onto the sea and provides the best backdrop for outdoor yoga classes.
You'll take part in daily surf lessons, daily beach view yoga sessions, and take guided walks to landmarks close by, such as Varrich Castle or around Torrisdale sands. The wetsuit, surfboard, and yoga kit will be provided.
The package includes daily breakfast, a packed lunch, and wood-fired pizza and seafood barbecue dinners. If you have other dietary requirements, make sure to let the organizer know in advance.
Duration: 2 nights

Starts from £ 260
Looking to restore and nourish yourself inside & out? This idyllic retreat in York is made for you! Take some time off from the hustle & bustle of city life and press pause on the daily grind. It's time to regain some calm and strength in your mind, body, and soul in a gorgeous setting.
Enjoy a nice long weekend where you can focus on you and make new like-minded friends. You'll be treated with plenty of mindful yoga sessions, nourishing healthy food, downtime, meditation, and ample time to connect with your inner self. Doesn't it sound just perfect?
Note: While this retreat is available all year round, it's only available during certain weekends.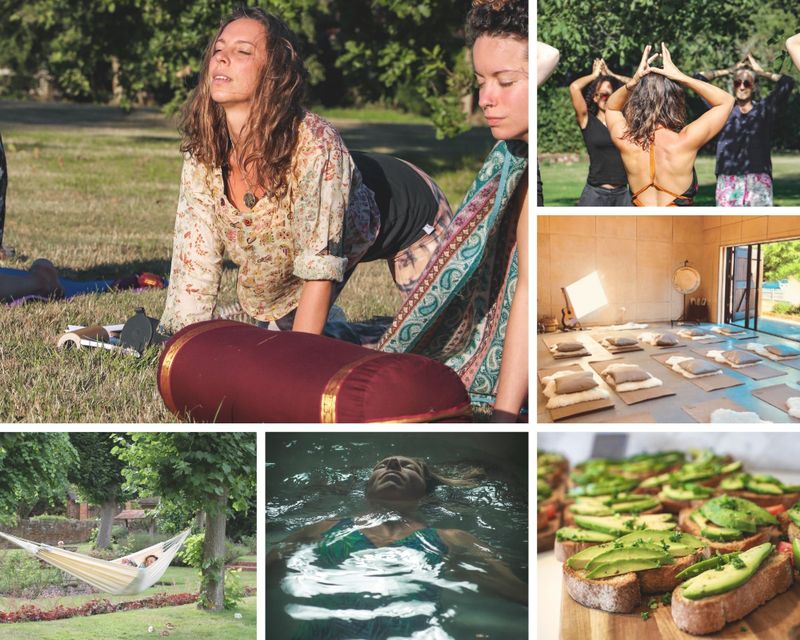 Duration: 2 nights
Starts from £ 450
This is a special kind of women's retreat, that will fill your inner well. It's a sacred time for healing, rejuvenation, and embracing more of the real true inner you.
You'll be staying at a luxury estate, set in the heart of the Kent countryside, within easy reach of London. All main meals are provided, and they are vegetarian.
The weekend program includes mindfulness movement, Hatha, Kundalini, and Nidra Yoga, sound healing, and more.
You'll also enjoy plenty of free time to explore the lovely surroundings, visit the nearby villages of Ickham and Wickhambreaux, or opt for a massage onsite.
Duration: 3 nights
Starts from £ 570
Would you like to know more about practical skills to maintain a healthy lifestyle in your daily life? This retreat is all you need! Get ready to experience the healing effects of Ayurveda at a deeper level and to learn how to transform stress into vitality.
During your stay, you'll get to use the hot-tub and infra-red sauna. And to make it even better, this program also offers individual Ayurvedic bodywork sessions, lifestyle evaluation and an Ayurvedic cooking demonstration.
*All prices are valid at the time of publication and are not guaranteed. They are subject to change without notice.
---
Want to go on a yoga holiday but can't afford it right now? There are plenty of budget yoga retreats in the UK!