Weekend Yoga Breaks in the UK
The go-to resource for planning your yoga retreats & holidays. Find all you need to know about destinations and take your practice to the next level.
Discover Yoga Retreats now
Want to spice up your yoga practice but feel like you don't have the time to attend a yoga retreat? Many people think you need a long time to do so. But the truth is, there's no need to spend more than 3-4 days to get all its benefits. Even a night or two could be enough!
Need proof of it? Here are some great options for a weekend yoga getaway in the UK, with plenty of availability all year long. Feel free to choose whatever suits your calendar better.
Note: BookYogaRetreats offers a flexible cancellation policy. Should you not be able to travel as scheduled, we'd be happy to help you to alter your booking with the same organizer or with a different organizer.
Duration: 2 nights
Starts from £ 325
This healing adventure is the ideal retreat to relax and reset your mind and body. Right on the southeastern shore of England, pretty close to London, you'll be fascinated by the spectacular countryside views and the sandy beaches nearby.
With daily yoga, healing meditation, breathing exercises and mindfulness practices, you'll truly be able to escape from the noise of the city. You'll also enjoy home-cooked meals and freshly-made detox juices. Also, you'll have the opportunity to attend a raw food nutrition workshop which will provide you with important dietary insights.
So, if you're the kind of person who's both into yoga and nutrition, this retreat is perfect for you!
Learn more about yoga travel in Great Britain in our guide to yoga retreats in the UK.
Duration: 2 nights
Starts from £ 595
Less than an hour away from London, this wellness and yoga experience takes place in a restored 600-years old building. It was originally a Kentish Hall House, an exclusive countryside setting.
During your stay, you'll have plenty of free time to meet the farm animals, go for a guided country walk, relax in the outdoor hot tubs, use the luxury sauna, or book a spa treatment (for an additional cost).
The retreat also includes daily energizing yoga classes. Plus, wholesome green, farm-produced, vegetarian and vegan meals. After a weekend here, you'll leave feeling refreshed, nourished and ready to start a new week.
Duration: 2 nights
Starts from £84
This yoga retreat takes place in the heart of Nottingham City in an urban cottage with a beautiful courtyard entrance of architect Fothergill. You'll stay in a private room during this retreat and, even though only breakfast is included in this package, there are plenty of nice restaurants nearby for lunch and dinner.
This weekend break gives you the opportunity to have a truly mindful experience with daily group chanting sessions, meditation and one-on-one personal yoga classes. The program is well suited for beginners and intermediates and the yoga style practiced is Hatha.
Duration: 3 nights
Starts from £ 667
Want to go on a private holistic holiday with your significant other? Relax together and deepen your relationship in the Lake District.
With daily yoga sessions, this retreat will enable you and your partner to practice yoga surrounded by some of the highest mountains and the biggest lakes in the UK. The program also includes daily brunch and dinner with an Ayurvedic-inspired menu, plus a two-hour couple massage session.
Now you know what to do for your next anniversary!
​
Duration: 2 nights
Starts from £ 350
Turn your attention inward and join a yoga retreat focusing on self-care. It will transform you in mind, body, and soul so that you can make positive changes in your well-being.
The retreat takes place in Suffolk, at Potash Barns, ideally located to escape the city life and explore the idyllic historic county.
During the retreat, you'll enjoy 3 yoga classes, a morning meditation session, a mindfulness and movement session, a creative content class, Pranayama lessons and walks in nature.
During your free time you can explore the Heritage coast and visit places such as Southwold, a pretty coastal town featuring multicolored beach huts; Aldeburgh, another charming coastal town, ideal for some shopping; Dunwich, where you can walk a pebbled beach; and Woodbridge, a market town bustling with shops and restaurants.
You can get to the retreat by train from London Liverpool Street Station. Your stop is Diss and from here you'll need to take a taxi.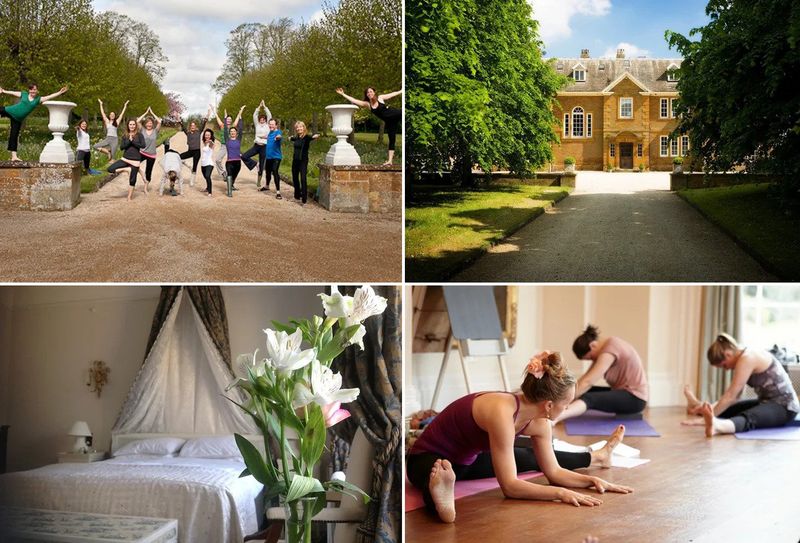 Duration: 2 nights
Starts from £ 427
Less than one hour away from London, this yoga retreat in Bicester is the perfect getaway to spend some time exploring the countryside around Oxfordshire.
Wake up to a morning silent walk, followed by a yoga session and a meditation class. Besides, there's the option to take part in a holistic treatment or take a guided walk in the surrounding area.
The organizers have been running this retreat for over 8 years. So, you can be certain that everything will run smoothly for you to have a soothing weekend.
Duration: 2 nights
Starts from £ 320
Located right in the center of England, Buxton is known for its mineral-rich water, its spectacular architecture, the Opera House and the Peak District –which is the world's second most visited national park!
With just a weekend here, you'll be able to unwind and re-energize. Just imagine bringing your best poses in the beautiful hotel's garden while contemplating the spectacular scenery.
Moreover, you'll have access to swimming and spa facilities, mindfulness activities and a walk through Buxton park and up to Solomon's Temple.
The program includes all meals from Friday evening to Sunday lunch, and optional spa treatments such as manicure, full body massage, facials, and more!
Duration: 2 nights
Starts from £ 450
South East England has quite a few retreats to delight any yogi. But if you like having your privacy, this yoga retreat for 1-2 persons will meet your expectations.
Whether you go by yourself, or with a friend, partner, or family member, the retreat will be tailored entirely to your needs and requirements.
It includes a 2-night stay in your own private luxury accommodation, 2 private yoga sessions adapted to your skill level and a personalized welcome wellness gift.
All meals are included and cooked to your dietary requirements. You can use your free time for woodland or lake walks, or book extra activities such as a life coaching session, massage and energy balance treatment, private sound healing session or, a private creative art workshop.
Duration: 3 nights

Starts from £ 260
Looking to restore and nourish yourself inside & out? This idyllic retreat in York is made for you! Take some time off from the hustle & bustle of city life and press pause on the daily grind. It's time to regain some calm and strength in your mind, body, and soul in a gorgeous setting.
Enjoy a nice long weekend where you can focus on you and make new like-minded friends. You'll be treated with plenty of mindful yoga sessions, nourishing healthy food, downtime, meditation, and ample time to connect with your inner self. Doesn't it sound just perfect?
Note: While this retreat is available all year round, it's only available during certain weekends.
---
Want to go on a yoga holiday but can't afford it right now? There are plenty of budget yoga retreats in the UK!