Why Rishikesh Is Considered The Yoga Capital of the World?
We're expert yoga travellers and we love helping you. BookYogaRetreats.com is the largest yoga travel website with 6795 unique listings in 251 destinations around the world.
Discover Yoga Retreats now
The Beatles put the spotlight on Rishikesh when they visited the small Indian city back in 1968, but the truth is that saints, yogis and students have been visiting the place for ages to practice yoga, seek solace, and even attain enlightenment.
Known as the World Capital of Yoga, Rishikesh is what the world looks at when it comes to learning and practicing yoga but very few have written the reasons behind the yogic & spiritual significance of the place.
In this blog post, I share why yogis from all over India and students from all over the globe visit Rishikesh to learn and practice yoga:
Ageless yoga tradition
Rishikesh is one of the holiest places for Hindus. That's why sages and saints who have mastery in yogic arts have been visiting the city for thousands of years. Reputed yoga gurus and spiritual leaders like Guru Vashishtha, Adiguru Nilkantha, Swami Shivanand, Swami Dayanad Saraswati, Jatawale Baba, Sri Sri Ravi Shankar, Swami Sukhdevanand, and Swami Aatm Prakash have chosen the place for spiritual practices. This is something that most yoga teacher training hubs across the world miss.
Overwhelming spiritual energy
Rishikesh is located on the banks of Ganga (or Ganges), which is a river of religious and spiritual significance. It is believed that the spiritual energy of Rishikesh is elevated on account of Ganga, or Mother & Goddess Ganga as locals refer to it.
Thousands of yogis and gurus have spent their lives of austerity here and all of them have added to the spiritual energy of Rishikesh that John Lennon, Mike Love, The Beach Boys, and the Prince of Wales have spoken about on many occasions.
Hub of yoga schools and ashrams
​
Because Rishikesh has such a rich yoga and spiritual heritage, it is home to some of the most reputed yoga schools and ashrams in India and all over the world. Whether you want to experience yoga by attending a couple of classes or getting a yoga teacher training certification, there is no dearth of options when you are in Rishikesh.
On the contrary, the problem might be having too many options. But if you're planning to come to Rishikesh, just do your research and you'll know how to choose the best yoga teacher program.
Nestled in the lap of nature

Located in the foothills of Himalayas, Rishikesh is home to lush greenery, pristine waters, and fresh air. Thankfully, local authorities have taken special steps to check pollution and make sure that the natural beauty of the city remains untouched.
Be it treks, climbs, meadows, camping, rafting, temples, or cultural fairs, the entire state is an amalgamation of many wonders. In short, Rishikesh is not just about yoga, but a wholesome experience for all.
While some yoga schools are located in the middle of the city, there are many well away from the hustle and bustle of crowds to provide the perfect environment for yoga enthusiasts to learn and practice in peace and calm amidst nature. And that's how it should be!
The currency advantage
Yoga lovers from across the world visit Rishikesh and stay for a long time to experience yoga, nature, and spirituality without having to worry about their finances. That's because foreign currencies – especially the Euro and Dollar – have a considerable advantage over the Indian Rupee.
So, expect lots of affordable yoga retreats in Rishikesh. Indeed, a month-long yoga teacher training that might cost more than $4000 anywhere else can be completed at less than half the cost here.
Diversity and visa friendliness
The status of World Capital of Yoga attracts tens of thousands of visitors every year to Rishikesh, India. With yoga enthusiasts from different cultures, countries, and backgrounds gathering in this magical place, it becomes a wonderful city to exchange ideas and learn from each other.
It is also not a secret that getting an Indian visa is relatively easy when you are traveling to the country to learn and practice yoga.
The most authentic yoga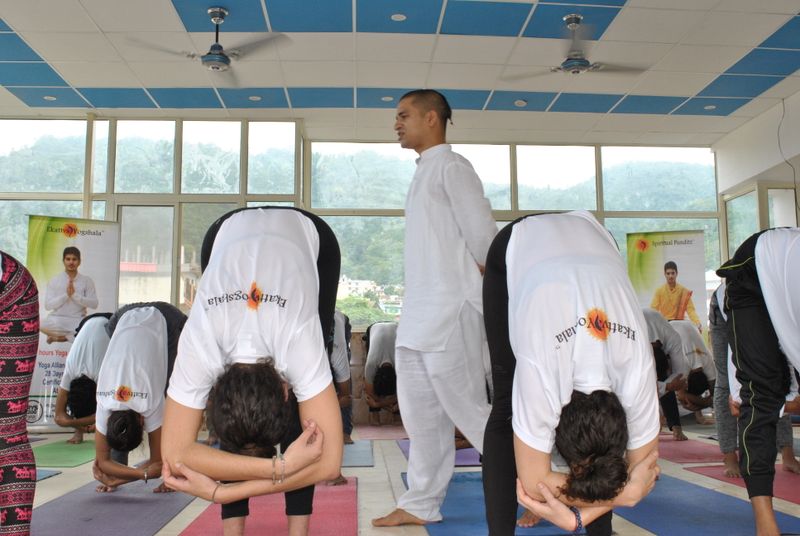 Highly renowned yoga teachers and practitioners consider yoga more than a medium to physical fitness and wellness. If that's what you're looking for, all yoga ashrams and schools based in Rishikesh practice the same ideology and inculcate the same.
Now you know why the mystic of this place has attracted so many famous personalities looking for self-improvement. It is simply the best yoga destination in the world!
---
Ready to visit this amazing place? Take the next step and take a 200-hr yoga teacher training in Rishikesh!