5 Reasons to Choose Panama for Your Next Getaway
The go-to resource for planning your yoga retreats & holidays. Find all you need to know about destinations and take your practice to the next level.
Discover Yoga Retreats now
Are you looking at destinations to travel to and can't make up your mind?
If you're looking to practice yoga and meditation while relaxing by the ocean, or explore waterfalls and the magic of a jungle filled with unique wildlife, and have a little adventure along the way, look no further – Here are the top 5 reasons for a yoga retreat in Panama!
1. The Beaches and the Weather
When you dream of getting away from the stormy weather in the winter or rainy cool season, you may be dreaming of Panama beaches. You know the dream. You're lying on the white-sandy beach, sipping fresh coconut water and staring out at the crystal-clear blue ocean waters. Lush green palm trees can be seen for miles along the shoreline and a tropical breeze passes over you keeping you just cool enough to relax and maybe take a nap. The beaches are pristine and picturesque. Even the now famous San Blas Islands were featured on the show Survivor because of their beauty. The weather is warm and sunny and favorable for any beach destination.
2. The People Are Happy and Welcoming
The people of Panama are warm and welcoming of tourists, and most speak English. According to the Happy Planet Index Panama is ranked 6th IN THE WORLD for being the happiest! That's pretty impressive for a country so small, but understandable when it's so beautiful. The people are rooted in a rich culture and the indigenous people are inviting of travelers. Panama is a proud independent country with hospitality and friendly faces – you'll be sure to have a great time.
Little known fact: According to Nigel Richardson, the indigenous people of Panama named "Guna" previously known as "Kuna" have representatives in the national parliament in Panama City and administer their own Comarca (autonomous territory), an archipelago of hundreds of islands stretching west for more than 200 miles from the border with Colombia. This makes the Kuna a rare, if not unique, example of an indigenous people who have not been marginalized, demonized and impoverished out of existence by the greed and power of others.
3. The Wonder of Wildlife in Panama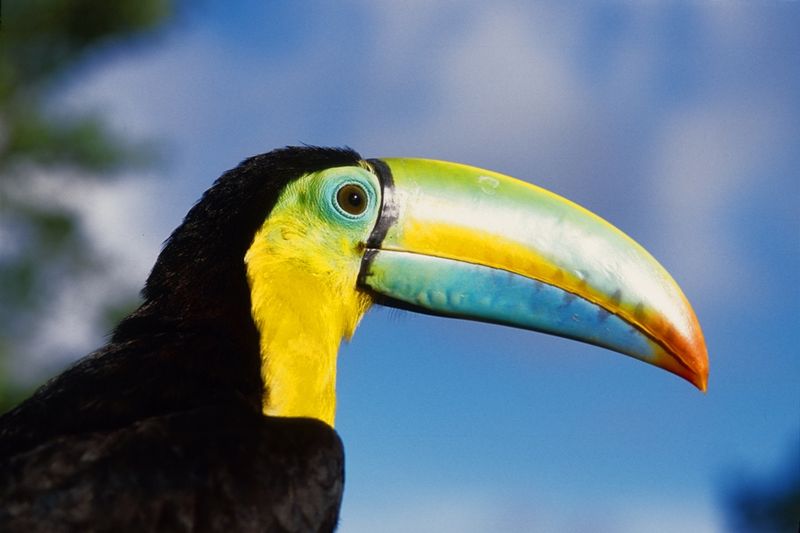 Between the jungle and the ocean, there's so much to explore and see! The more famously known howler monkey and sloth are very fun to spot for hikers, and you may even see some majestic waterfalls and definitely lots of birds like the Tucans and White-Necked Jacobins. Panama offers the largest population of bird species in Central America. You can spend days exploring the jungle wildlife – and why wouldn't you? There are so many unique creatures to see and experience within a short trek.
Equally as impressive is the abundance of ocean life. If you love to snorkel, paddleboard, dive, kayak, or swim in crystal-clear ocean water, Panama is for you. The shoreline protects the reefs and has fish of every color. You may also see some bottlenose dolphins, reef sharks, and sea turtles, (which people flock to from all over the world to see hatch eggs every year). Sparkling clear blue waters allow you to discover the unique marine life of Panama. Whatever your past time enjoyment, you'll be sure to find it here.
If you love to chase waves, Panama is one of the best for surfers in all of Central America. Whatever wave you're trying to chase, beach break, point break, hollow tubes, or long peelers, you'll be sure to find what you're looking for in Panama. Also, it's relatively easy to get around compared to other places in Central America. Four-lane highways can get you to and from wherever you like in Panama. Waves on the Pacific near Cambutal are especially great typically starting between 4-5 feet and up to 10-15 feet. Expect to get your surf on!
5. The Festivals and the Celebrations
During the month of November, there's an array of festivals and events happening throughout the country to celebrate Panama's Independence. Women, children, and men dress in their finest and celebrate with music, parades, and dance throughout the streets. Some of the women's more intricate pieces can take up to nine months to create and are cloaked with jewelry head-to-toe for the final touch.
Music and dance throughout the towns and streets, plentiful food and delicious decadent treats, and lots of warmth and fun can be expected when visiting Panama in November.
November 3rd celebrates Panama's separation from Colombia.
November 5th celebrates Panama's separatist flag from Colombia.
November 28th celebrates Panama's independence from Colombia.
---
Ready to visit the happiest counrty in South America? Check out our selection of hand-picked yoga retreats in Panama!