Private Yoga Retreats: Experience a Personal Yoga Retreat With Your Friends & Family
The go-to resource for planning your yoga retreats & holidays. Find all you need to know about destinations and take your practice to the next level.
Discover Yoga Retreats now
Imagine going on a yoga retreat where you can build your own program and share the experience only with the people that you want. It can be either with your partner, family, friends, or on your own.
Think about the personalized attention you'd get during this type of vacation. It's a great opportunity to truly improve your practice, work on proper alignment and deepen your yoga knowledge with one-on-one instruction. Plus, the tranquility of going at your own pace always brings some peace of mind; you can be certain that you won't be distracted by that advanced yogi who's doing all kinds of inversion poses.
Well, all of this is possible on a private yoga retreat!
Many of these retreats offer fully private accommodation in a house, cottage, or villa. Some others are held in a big center or a hotel where there might be other guests in the facilities. However, you can be sure that the yoga classes and the program activities will be just for you and your group.
Also, some private retreats allow you to choose between many yoga styles to personalize your experience even more. And most holidays include plenty of free time to spend quality time with your loved ones or doing fun additional activities to enjoy the beautiful surroundings.
If you're searching for a private yoga holiday to avoid crowds during the Covid-19 pandemic, look for the "safe & clean" tag on our site. This means that you can be absolutely certain that the organizer of that specific retreat is taking the necessary steps to ensure your experience is safe.
Need a few recommendations? Check out these top private yoga retreats around the world.
Note: BookYogaRetreats offers a flexible cancellation policy. Should you not be able to travel as scheduled, we'd be happy to help you alter your booking with the same organizer or with a different organizer.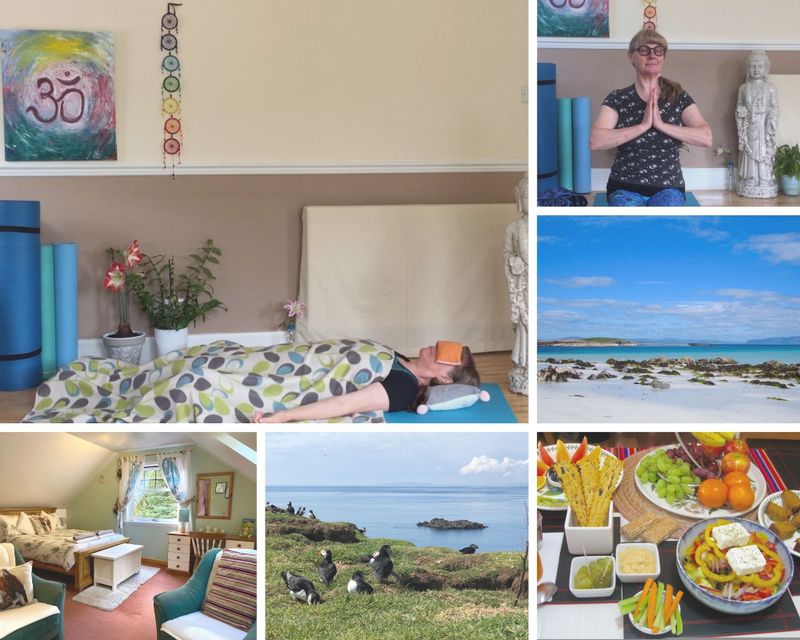 Image credit: You R Yoga Isle Of Mull
Duration: 5 days
Location: Isle of Mull, Scotland
Instruction language: English
Suitable for: couples, or a small group of friends
Find your calm in the company of the people that mean the most to you.
The Island of Mull is the perfect place to slow your pace, ease your mind, rest your body, and get away from it all.
Slightly off the beaten track, the Island of Mull is surprisingly easy to get to, whether you choose the bus, train, or ferry. This large Inner Hebridean island is full of things to do, whether you visit the charming town of Tobermory with its colored houses, explore the stunning coastline with amazing wildlife, or just chill at the retreat.
You'll be staying in Fuaran, in a quiet part of Tobermory but still only a 5-10 minutes walk to the beautiful colorful harbor. All bedrooms are ensuite.
This is an exclusive personal group retreat (up to 4 people).
You'll practice Yoga Nidra Meditation, which is suitable for people with or without a yoga or meditation background. The classes will provide you the tools to help you deeply relax, release stress, increase resilience, improve interpersonal relationships, and get more control in your life.
On the day of arrival, you'll join an evening introduction to Yoga Nidra class. You'll start the next day with a mindful movement class. After breakfast, there's another class focusing on intention. During the afternoon, you'll have free time to explore the island, before you join an evening class focusing on Yoga Nidra for sleep.
On days 3 and 4, you'll have a similar program when it comes to the number of classes, but the focus is different each time.
On the last day, you'll join the last class before breakfast. Check-out is at 10 a.m.
The package includes two vegetarian, vegan or gluten-free meals every day (breakfast and brunch), as well as hot and cold drinks.
» READ MORE: Luxury yoga retreats in Europe for a true wellness experience.
Image credit: Yoga Pilates Ibiza
Duration: 4 Days
Location: Santa Eulària des Riu, Ibiza
Instruction language: English, the organizer also speaks French & Spanish
Suitable for: individuals, couples, or a small group of friends
This yoga and Pilates retreat is created to suit your needs. You will get undivided attention from the experienced and intuitive renowned teacher, in an ideal peaceful location, only a few steps from the beach.
You'll stay at Agroturismo Sa Marina, a sea view eco-house, located in the magical surroundings of Pou des Lleó and Cala Boix. Kindly note that everyone is invited to respect the house and the environment, using water and electricity responsibly, changing towels only if necessary, non-smoking and alcohol-free zone in all areas. There's no wi-fi and the cell signal is, at best, spotty.
The package includes 90 minutes daily morning Sukhita flow yoga lessons, a new, highly inspiring method of Yoga that is putting our ability to "softly listen" at the core of the practice. In this style, the transitions between asanas, are just as important as the asanas themselves.
You'll also enjoy an evening Pilates lesson, 30 minutes daily morning mindfulness meditation sessions, and an evening silent walk and Lovingkindness meditation.
A vegetarian breakfast and lunch are included in the price. While breakfast is served at the accommodation, lunch is typically enjoyed with your teacher, at a nearby restaurant. If you have special requirements kindly let the organizer know in advance.
During your free time, there are plenty of beaches to explore, as well as the charming towns that dot the island.
Please book your flight into Ibiza Airport (IBZ). The transfer is not included. But a taxi would cost about 50 EUR.
Image credit: Hari-Om Yoga School
Duration: 4 Days
Location: Piedmont, Province of Alessandria
Instruction language: English
Suitable for: individuals or couples
If you're looking for some time away from the city, this private yoga retreat in Piedmont may be the best option. Surrounded by a quiet atmosphere in the middle of nature, this private holiday takes place in a farmhouse where you can see foxes, deer, squirrels and many kinds of birds close to the houses or in the small lake.
Every day, you'll enjoy one private yoga class, which you can choose from Vinyasa, Aerial, Yin, or Hatha. You'll also have a half-hour session of morning meditation and the option to spend the retreat completely in silence – if that's what you want.
The program includes three daily vegetarian or vegan meals as well as water and herbal teas. For your accommodation, you can choose between a private tent, private bungalow, or a private room in a shared house.
During your free time, you can go for a walk in the amazing surroundings, make use of the yoga studio to practice on your own, meditate, read, study, or book a holistic treatment.
Duration: 7 Days
Location: California, USA
Instruction language: English
Suitable for: individuals, couples, or a small group of friends
Are you ready to kickstart your health to achieve higher levels of self-awareness? Or perhaps you are looking for a complete mind, body, and soul reset in nature?
This private retreat offers one-on-one, customized yoga and meditation sessions, as well as other activities to achieve your goals.
You'll stay at the Fantasy Ranch House, featuring 2 bedrooms, 2 bathrooms, an indoor gym, dining room, kitchen, Wi-Fi, and a porch. You'll also have access to the on-property amenities including a salt-water hot tub, soaking pool, and more.
You'll attend yoga classes, meditation, and sound healing sessions every day. From day 2 to 5, you'll enjoy long hikes and walks from 9 a.m. to 3 p.m. Lunch, snacks, and drinks will be provided by the organizer on these excursions and will be enjoyed outdoors.
The daily hiking and walking will be tailored to your needs and will include trails located in Yosemite National Park and local areas.
The package includes three daily meals, snacks, and drinks. All meals are prepared using organic ingredients.
Kindly book your flight to Fresno Yosemite International Airport (FAT). The transfer is available for an additional fee.
» READ MORE: Why go on a luxury yoga retreat in the USA.
Image credit: La Pause Yoga
Duration: 7 Days
Location: Charente
Instruction language: English
Suitable for: couples or 2 friends
Nestled among the sunflowers in the beautiful and unspoiled French countryside, this individual 200-hour teacher training takes place in Ruffec, a common in south-west France in La Charente. The program is fully recognized and accredited by the World Yoga Alliance.
It's an intensive program that includes personal instruction in subjects like Pranayama and meditation, classical yoga sutra, the history of yoga, Vinyasa sequencing, anatomy and physiology, Yin Yoga, Yoga Nidra, Prenatal Yoga and all you need to become a yoga instructor in a very short period of time.
You won't only have personalized mentoring during the retreat, but you'll also receive guidance for up to six months after your training ends. Your teacher will help you develop your own business and support you during your first weeks as a brand-new yoga instructor.
The program includes daily vegan and vegetarian meals and seven nights of private accommodation. You'll also have a mid-course free day to relax and explore the local region. During your free time, you can deepen your connection with nature by hiking in the stunning French countryside or get yourself a massage treatment to fully relax.
*Cover image credit: Oceanyoga Fuerteventura
---
Would you like to become a yoga instructor without having to leave your home? Check out this great selection of online yoga teacher training programs.