The Plant-Based Diet to Enhance your Yoga Lifestyle
The go-to resource for planning your yoga retreats & holidays. Find all you need to know about destinations and take your practice to the next level.
Discover Yoga Retreats now
We all love how yoga makes us feel; light, energized, grounded, connected, euphoric.
Perhaps we have also noticed physical benefits as well; glowing skin, toned muscles, beautiful posture, increased confidence…
A regular yoga practice, even as a beginner, allows for an amazing lifestyle. But what if we can take our yoga practice and healthy yoga lifestyle to the next level through one of the most important decisions we make every day? Wondering what that is? I will tell you:
Our Food Choices.
Yes, this is the perhaps the single most important decision we get to take every day, that shifts the balance towards more or less healthy overall choices. How well we hold our ground reflects on how easy tomorrow's healthy choices will be, and in the overall greater good of the future. Choosing the healthier food option time and time again isn't only a service we do for ourselves, but also for others (through the power of example) and for the environment.
How Yoga and the Plant-Based Diet Helped Me
I first fell in love with yoga in 2000 and went on to get my Yoga Alliance Certification in 2005. Yoga eased my lower back and neck tension, toned my body and helped me relax after work. However, I still struggled to maintain a healthy weight and suffered from muscle stiffness, joint injuries, fatigue, headaches and skin problems.
In 2007 I transitioned to an 80% raw and plant-based diet and noticed dramatic changes in my overall wellbeing and a rapid improvement in my yoga practice. Now at age 41, after 11 years of juicing and raw foods, I look and feel better than I did at 21!
What is a Raw and Plant- Based Diet?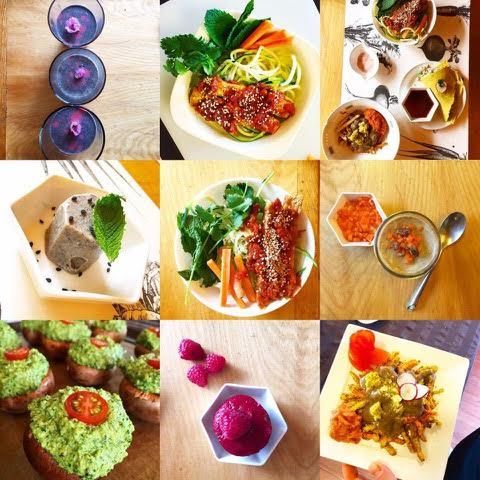 A Raw and Plant-based lifestyle is generally determined as 80% of your food and drink intake is raw vegetables, fruits and nuts including juices, smoothies, salads and superfoods. Think high nutrient density, lots of liquids and lots of live enzymes and whole foods.
The additional 20% is really whatever you are eating now. This means there is no deprivation and it is all about abundance and adding in healthy delicious fresh food. The main focus in on ADDING in the good stuff and letting the not so good stuff fade away.
To avoid frustration, you still get to enjoy your favorite treats, nothing is forbidden. It's just the positive shift towards focusing more on the really valuable nutrients that you should get more of, instead of negative things such as 'don't eat such and such'. Variety is one of the golden principles of any plant-based diet, and in practice it means that you should try to include as many different things as possible on your plate throughout the week.
For example, if you're eating carbs from wholegrain cereal, that's great, but why stop there? Make sure it's not just wheat and rice and the occasional oatmeal. Experiment with bulgur wheat, with rye, with buckwheat (buckwheat flour makes for delicious crepes) and all other grains you can get your hands on. The same goes for vegetables and fruits. Go beyond the comfort zone, or the usual rotation.
Some people try to add variety in their diets by aiming to include at least 3 groups of food colors in their diet daily. You can try doing that as well, the options are plenty!
There are red veggies and fruits to consider, here are just a few examples to get you started:
Raspberries
Red currants
Red apples
Strawberries
Cranberries
Red grapes
Grapefruit
Watermelon
Cherries
Red pears
Beetroot
Red skinned potatoes
Tomatoes
Red bell peppers
Chili peppers
Red beans
Red onions
There are also a few orange fresh foods to consider, though some people sum them up under the red label:
Carrots
Yams
Sweet potatoes
Honey melons
Pumpkin and squash
Oranges
Papaya
Mangoes
The yellow color is considered a distinct category of fruits and veggies. For ease, I also added the white ones here:
Yellow bell peppers
Mushrooms
Cauliflower
Potatoes
Parsnips
Yellow tomatoes
Corn
Garlic and regular onions
Lemons
Pomelo fruit
Pineapple
Starfruit
Quince
Pear
Banana
Yellow apples
Cantaloupe
You can also include nuts here, as well as light-colored beans
The green veggie and fruit group is particularly bountiful:
Broccoli
Avocado
Spinach
Peas
Green beans
Artichokes
Cabbage
All sorts of salad leaves
Cucumbers
Zucchini and courgette
Scallions
Green bell peppers
Kohlrabi
Asparagus
Green grapes
Green apples
Kiwi
Limes
Gooseberries
All aromatic herbs (basil, mint, thyme, cilantro, rosemary etc.)
Lastly, also consider the somewhat less generous group of blue-colored fresh produce, particularly rich in anti-oxidants:
Blueberries
Blackberries
Black currants
Plums
Figs
Dark colored grapes
Eggplant
Purple potatoes
Purple cabbage
Purple salad leaves
Black beans
As you can see, there are plenty of possibilities to enrich your diet and make it 80% plant-based. Just try to get as much variety as you can and you'll never feel bored with your food.
What Are the Benefits of Switching to a Plant-Based Diet?
There are countless studies that argue for a plant-based diet as a healthier option to any alternative. But these are the most important benefits to be gained, from my experience:
Increased flexibility
Decreased muscle and joint stiffness, pain and inflammation
Loss of excess body fat
Clear skin and clear eyes
Increased focus and concentration
Better muscle definition and tone
Greater sense of wellbeing
Increased Energy
Knowledge that your food choices are saving animals and helping the planet
Yoga Retreats with a Plant-Based Diet to Start Your New Lifestyle
Vida Mountain is a brand-new luxury resort and spa. It has ocean and mountain views as well as a salt water infinity pool and organic vegetable and healing herb gardens. Meals, juices and superfood snacks are prepared by a holistic chef and all ingredients are sourced from the organic gardens and local markets. Vida Mountain hosts Raw Food Retreats, Yoga Detox Retreats, Women's Retreats and Holistic Wellness Retreats.
All rooms have artisanal spring water, organic locally crafted body care products and a luxurious decor.
Live Pure offers beachfront Plant-based Raw Food Retreats and Holistic Wellness Retreats. Immerse yourself in a plant-based raw lifestyle and study the power of superfoods and whole food nutrition. Live Pure is a team of passionate Raw Food Chefs and Holistic Wellness Educators who love sharing gourmet raw food, holistic nutrition, juicing and delicious organic living with the world. They specialize in 8-day or 4-day Retreats in stunning locations and are the leading authority on organic foods and preparing them.
Driven by a passion for healthy living and raw foods, Bliss Body in Bali created this retreat to share and spread the knowledge and skills, while sustaining an Earth a better place to live and thrive. You will expand and flourish your knowledge about healthy nutrition with a new and healing perspective. The organizer is specializing in Raw Food Retreats and Divine Body Healing Retreats in Bali.
Their Signature "Art of Healing Retreat" is a 7-day holistic program designed to restore your power, connect to your inner self, transcend the limitations of the mind and empower you on the physical, mental and emotional level. They include guided juice fasting and organic plant-based meals.
Rejuvenate at this relaxing eight-acre oasis in the Sonoran Desert that features three walking paths with audio-guided meditation, including a labyrinth, prayer path, and Islands of Silence, each providing an opportunity for quiet reflection and contemplation. Rejuvenate with a cleansing retreat which is perfect for someone who wants to lose weight, get over an addiction to caffeine, sugar, or other poor energy foods, or just remove toxins from a period of unhealthy living. Gentle yoga, meditation, and sound healing make a wonderful combination of healing and centering in a stunning location. 100% vegan and organic.
---
Looking for more? Feel free to check out more plant-based diet retreats offered by Live Pure in other locations around the world.