12 Wishes: 12 Yoga Retreats to Celebrate New Year's Eve [Updated]
The go-to resource for planning your yoga retreats & holidays. Find all you need to know about destinations and take your practice to the next level.
Discover Yoga Retreats now
We're officially entering the home stretch of an intense 2019. And what better way to end the year on a high note than taking the time to reflect, meditate and being grateful for all the blessings that we've received over the past 12 months?
A yoga retreat offers the perfect setting for it. It is an excellent way to recharge, create resolutions and get ready to make 2020 memorable.
So, if during the 12 days of Christmas your true love doesn't give you a gift that you actually want or need, here are 12 New Year's retreats that will definitely bring you more benefits than a partridge in a pear tree!
Note: BookYogaRetreats offers a flexible cancellation policy. Should you not be able to travel as scheduled, we'd be happy to help you to alter your booking with the same organizer or with a different organizer.
1. Reflect on your year in Bali, Indonesia
Imagine a place nestled among acres of lush paddy fields. A place where you'll be greeted by friendly smiles of the staff at BaliTrees Retreats and warm vibes from your fellow retreat attendees.
At the 5 Days New Year Positive Transformation Yoga & Culture Retreat, you'll make the New Year celebrations about you and only you. Isn't it about time you do so?
Here, you'll prepare for the brand new year on a spiritual, physical and emotional level.
Relax, rejuvenate, and refresh yourself at this retreat that have been tailored carefully to cultivate a powerful shift in all areas of your life. There's simply no better way to kick off your 2020!
Duration: 5 days/4 nights
Price: Starts at US$599
2. Enjoy Nature in Kep, Cambodia
Be in nature and be natural on the Vagabond Temple's 13 Days Exciting Yoga Retreat in Cambodia. Here you'll find all the freedom to be yourself, laugh, celebrate, discover new things and live life to its fullest.
And to keep up the good spirit once you return home, the certified yoga teachers in charge of the retreat will give you the necessary tools and support to enable you to practice yoga on your own and stick to the practice throughout the whole year.
Duration: 13 days/12 nights
Price: From US$630
3. Do meditation in Byron Bay, Australia
Byron Bay and The Northern Rivers are two of the most beautiful and spiritually uplifting locations in Australia. Here, where Aboriginal rituals used to be performed, it's a perfect setting for a meditation retreat.
This UOCA retreat in Australia takes advantage of this mystical region to create an awesome program that will immerse yourself in pure and traditional yoga and meditation practices. Along with Ayurvedic meals, workshops, and holistic massage sessions, this holiday is a must for those looking to deepen and expand their spirituality.
Duration: 8 days/7 nights
Price: Starts at US$865
4. Rejuvenate your mind & body in Fuerteventura, Spain
Another year has passed and, for some, that's only a reminder of how we all get older. But on this New Year yoga retreat in Spain, you'll truly feel as if age was just a number. 7LemonsHouse offers regenerative activities, relaxing massages, meditations, and lots of workshops for you to reboot and start the New Year feeling younger than ever.
In addition, this retreat features bike tours to be amazed by the surroundings of Fuerteventura, healthy cooking courses, lots of yoga sessions, and the unique opportunity to walk in the crater of Calderon Hondo.
Duration: 8 days/7 nights
Price: From US$1360
5. Play in the snow in the mountains of Austria
If you're not the kind of person who shies away from freezing temperatures and prefers a snowy holiday season, this is the retreat for you.
At 1800 meters above the sea level, in the middle of Hohe Tauern National Park, MoaAlm Mountain Retreat is the ideal place to spend New Year's Eve building a snowman, hiking, skiing and, of course, performing your best asanas in the middle of a winter wonderland!
Duration: 8 days/7 nights
Price: From US$1371
6. Become more mindful in Koh Samui, Thailand
Love the beach? What if we tell you that you can have a mindful and a soulful journey to better know yourself on a gorgeous island? Sounds too good to be true? Well, this is exactly what you can do in Koh Samui during an 8 Days Mindful New Year Meditation & Yoga Retreat!
Imagine yourself spending ample time meditating and reflecting on the year that has passed while listening to the soothing sounds of the crashing waves. You will also be treated to daily yoga sessions that will keep you healthy and fit and ready to embrace the brand new year!
To complement this great experience, you also have the option to partake in community & dance classes, movie nights and enjoy delicious vegetarian meals to bring excitement to your life and step closer to achieving complete mindfulness.
Duration: 8 days/7 nights
Price: From US$729
7. Finish the year on the beach in Puerto Plata, Dominican Republic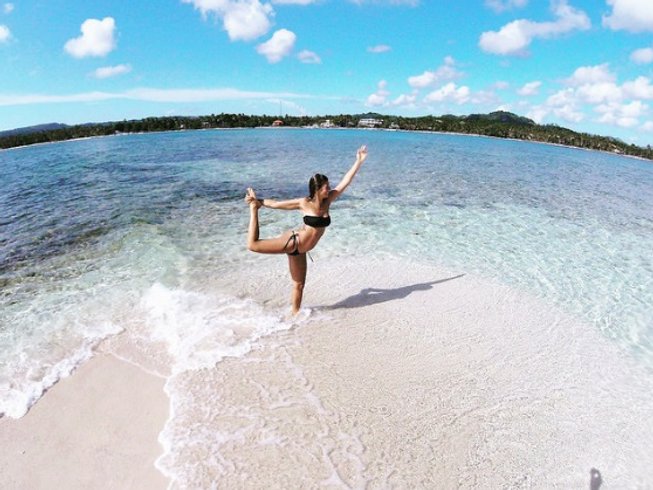 There's something magical about the ocean that just calms you down and allows you to feel as if your whole self was in perfect balance. The sound of the waves, the sea breeze on your face, and the warm atmosphere all combine to make beaches all over the world everyone's favorite place to celebrate New Year's Eve.
The Dominican Republic is famous for being home to some of the most spectacular beaches. That's why, The Yoga Loft has organized this week long Self Awareness New Year retreat to finish 2019 the best possible way with Acro Yoga, SUP Yoga, surfing, and many other activities that just feel better on the beach.
Duration: 8 days/7 nights
Price: From US$1,320
8. Do yoga, meditate, and have a swim in Cornwall, England
On this yoga and meditation focused holiday, you'll learn how best to live your year ahead with meditation principles, while having the opportunity to ask all your burning questions on this topic to the rest of the group and the certified instructor.
Over the course of 4 days, in addition to daily Yin and Yang yoga sessions, you will also be treated to a gut health workshop by Dr. Sebastian Senociain, leisurely walks along the countryside, and a swim in the sea! If these activities won't get you refreshed and excited for the year ahead, we don't know what will!
This fantastic New Year retreat in Cornwall by Viking Hit Camp includes meals, snacks, drinks, massages, and everything you need to be pampered the way you deserve!
Duration: 4 days/3 nights
Price: From US$639
9. Surf, Yin Yoga & Vinyasa in Ericeira, Portugal
Leave behind the noisy festivities and embark on a journey of transformation with this wonderful New Year & Christmas retreat in Portugal. Start your days with an active Vinyasa flow, get pampered with an afternoon massage, enjoy a coastal walk, and unwind at night with a restorative Yin Yoga class.
But a retreat in Portugal wouldn't be complete without surfing, and since Ericeira is a renowned destination for surfers, it is the place to take advantage of the professional instructors that will guide you during an optional surfing class, no matter your level.
Duration: 8 days/7 nights
Price: From $594
10. Embrace a deeper connection in Chacala, Mexico
Looking to begin the New Year on a high note? This all (yoga) level friendly 8 Days Yoga Retreat in Mexico will surely deliver!
Enjoy rejuvenating sessions of Yin & Vinyasa yoga, great music, as well as nourishing and delicious food while you meet and connect with like-minded minds at this breathtaking destination.
Learn to deepen your practice, become more mindful and open hearted while surrounded by loving group of supportive people who enjoys yoga as much as you do. You are guaranteed to leave the retreat feeling high on life, love, and yoga! Sounds like an amazing way to start the New Year, doesn't it?
Duration: 8 days/7 nights
Price: From $1,789
11. Do Pilates in California, USA
Why wait till the new year starts to get in shape? Finish off 2017 active and tone your body on a Pilates & yoga retreat in California!
Held in a picturesque mountain paradise, Sagrada Wellness is an acclaimed retreat due to its top-notch instructors and rich program with Pilates sessions, Vinyasa Yoga, restorative classes, Qi Gong, and a luxurious venue with jacuzzi and saltwater pool.
Duration: 5 days/4 nights
Price: From $1415
12. Set your New Year resolutions in Gers, France
This is the ideal getaway to kick back, relax and stay away from the noisy New Year celebrations of the city. This cozy yoga retreat in France does not only offer daily yoga and meditation sessions but also spirituality, nature walks, pagan poetry (amazing, right?) and journal goal-keeping just in time for the year ahead.
And to welcome 2020, there's a vegetarian feast with a little bit of dancing and hot cocoa, just to show some healthy cheer!
Duration: 6 days/5 nights
Price: From $628
---
Prefer to wait until 2020 to go on a yoga retreat? No problem! Why not go on a Easter yoga holiday instead?